The Centre for Public Safety and Well-being (CPSW) has partnered with the Office of Indigenous Initiatives to create the Gladue Principles program. Our team of curriculum developers and advisors have extensive knowledge of historical and contemporary Indigenous issues within the Canadian criminal justice system. 
Meet the Team
C. Jennifer Bolton (BA, MA)
Certificate Mentor
C. Jennifer Bolton grew up throughout Southern Ontario and is a member of Beausoleil First Nation.  Jennifer completed an undergraduate degree in criminology in which she focused on processes facilitating the overrepresentation of Indigenous peoples in the criminal justice system, restorative justice, and prison abolition. Following the completion of her BA, Jennifer worked as a Gladue Caseworker at Aboriginal Legal Services for four years while completing a MA in Political Science, where her research focused on Arctic sovereignty, self-governance, and land claim negotiation. In 2016 Jennifer joined the newly created Indigenous Justice Division at the Ministry of the Attorney General where her work was focused on the implementation of the Justice Calls to Action in the Truth and Reconciliation Final Report. Jennifer currently is a second year PhD student in the Department of History at York University. Her research fields are Indigenous History, Gender History and Canadian History.
Lisa M. VanEvery (BA, MEd)
Curriculum Developer
L.M. (Lisa) VanEvery graduated from Wilfrid Laurier University with a Bachelor of Arts degree (Honours) in journalism and criminology. She earned an Ontario College Graduate Certificate in public relations from Mohawk College and a Masters degree in Education from Nipissing University. It is the Indigenous knowledge education that was shared with her over many years by Indigenous Knowledge Keepers that has strengthened her as an Indigenous person and guided her to become an educator.

Lisa is Kanien'kehá:ka (Mohawk) from the wolf clan. She is proud to be from Six Nations of the Grand River Territory.

Lisa works for Aboriginal Legal Services in Toronto. She has written close to two hundred Gladue Reports for courts all over southern Ontario. In 2013, she assisted in helping develop the Indigenous Peoples Court (IPC) that opened at the Brantford Court in January 2014. Over the years, she has developed educational conferences for judicial personnel working in IPC, been a guest speaker at various lectures and developed programming like the Indigenous Knowledge Helpers Program that assists the Indigenous Peoples Court in facilitating sentencing conferences by having Indigenous Knowledge Helpers available to the court. In 2016, she became the coordinator of the Yohá:te ne kahsén:na (Road To Your Name Program), a cultural knowledge program that assists Indigenous people in the justice system who wish to strengthen their cultural connection.
Lisa also a current instructor in the Indigenous Studies program at Laurier.

Lisa is a life-long learner and you can always find her in a language class learning her traditional Kanyen'kéha (Mohawk) language. In her spare time, she reads books and watches documentaries.
Erin Hodson (BA, MEd)
Curriculum Developer and Advisor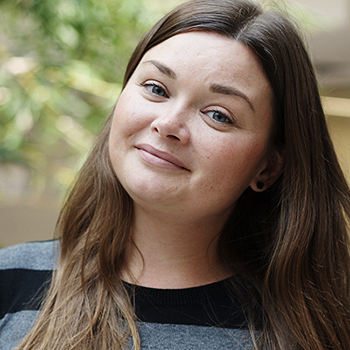 Erin Hodson is Wilfrid Laurier's Indigenous Curriculum Specialist. Erin is of Kanien'kehá꞉ka descent, and received her MEd with a focus on the Social and Cultural Context of Education from Brock University in 2017. For almost 10 years, Erin worked for the Tecumseh Centre for Aboriginal Research and Education where she created and taught courses focusing on Canadian history through the understanding of the Indigenous peoples of Turtle Island. Erin has been involved in several research projects investigating the state of Indigenous education in Canada. During her research, Erin has witnessed firsthand the benefits of engaging with Indigenous culture for both her own people's sense of self within mainstream education and for benefit of non-Indigenous people. Erin has been an outspoken advocate for including Indigenous content throughout all levels of education. For the last three years, Erin has been working with faculty, staff, students and community in the Kitchener/Waterloo area to create authentic space for Indigenous ways of knowing and being into their personal and professional lives.
Veronica Martisius (BA, MA, JD)
Curriculum Developer
Veronica Martisius (she/her) is of mixed European and Mohawk (Wolf) ancestry. She is a member of the Six Nations of the Grand River and was born and raised in Brantford, ON. Veronica currently resides, uninvited, on the unceded homelands of the xʷməθkʷəy̓əm, Skwxwú7mesh and səlil̓wətaʔɬ (aka Vancouver, BC). In 2019, she graduated from the University of Victoria Faculty of Law. At UVic, Veronica was an active member of the Indigenous Law Students' Association (ILSA), a co-op student at the Indigenous Law Research Unit (ILRU), and a participant in ĆELÁṈENEȽ: A Field Course in the Re-emergence of W̱SÁNEĆ Law. Veronica is currently an articled student with the BC Civil Liberties Association and looks forward to being called to the Bar.
Prior to law school, Veronica completed a MA from the Department of Criminology and Criminal Justice Policy at the University of Guelph. During the course of her graduate studies, she researched the over-incarceration of Indigenous peoples in Canada, the effect of s. 718.2(e) of the Criminal Code, and the advent of specialized courts, specifically, Gladue and Indigenous Persons Courts. Veronica also worked for a number of years as a victims' rights support worker with Victim Services of Brant and the Ministry of the Attorney General, Victim Witness Assistance Program. She also worked as a criminal courtroom clerk.
Veronica deeply passionate about the intersections between social justice, social determinants of health, land defence, environmental protection, sustainable development, and the Kayanerenkó:wa.
Lisa Monchalin (BSc, MA, PhD)
Curriculum Developer and Instructor (credit course)
Lisa Monchalin is a graduate of Eastern Michigan University where she obtained her Bachelor's degree in 2004 and her Master's degree in 2006, both in Criminology. In 2012, she graduated with her Doctorate in Criminology from the University of Ottawa. She is Algonquin, Métis, Huron, and Scottish, and driven by personal and family experiences, she is determined to reduce the amount of crime that affects Indigenous peoples through education. In 2016, she published The Colonial Problem: An Indigenous Perspective on Crime and Injustice in Canada, with the University of Toronto Press.
Abby Avery (LLB)
Practioner Advisor
Abby Avery is a proud member of Aamjiwnaang First Nations located on the St. Clair River, Sarnia, Ontario.  Abby completed two years of undergraduate studies in sociology at the University of Western Ontario and then graduated from the University of Western Ontario Faculty of Law in 1995 with an LL.B. She commenced her legal career originally working for a Native Friendship Center prior to opening a private law practice.  She practiced in the areas of family and criminal law, and was a representative for children through the Office of the Children's Lawyer.
In 2004, she left private practice to work for the Ministry of the Attorney General as an Assistant Crown Attorney in both the Hamilton and Brantford offices, moving exclusively to the Brantford office in 2008.   As an Assistant Crown Attorney Abby was actively involved in the Indigenous People's Court, participating in sentencing circles and working with judges, defence and accused, along with their families.
In 2019 Abby took a leave to join the Indigenous Victim Services at the Six Nations Department of Justice as their manager and lawyer. Abby has a commitment to justice and being a voice for the disadvantaged.
Abby's mother was a survivor of the residential school in Brantford known as the "Mush Hole".   
During her leisure time she enjoys hiking and travelling with her husband. 
Jean Becker (BA, MA)
Advisor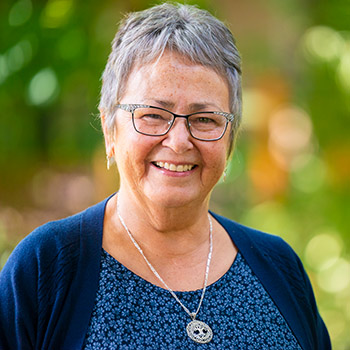 Jean Becker is Inuk and a member of the Nunatsiavut Territory of Labrador. A grandmother, Jean has lived in Ontario for forty years and has been involved in grassroots urban Indigenous community building throughout that time in Wellington and Waterloo regions. Jean is currently a member of the Mayor's Diversity, Equity and Inclusion Taskforce in Kitchener and a member of the Wellbeing Waterloo Region First Nations, Metis and Inuit Advisory and Advocacy Circle. She is the Senior Director Indigenous Initiatives at the University of Waterloo. Actively involved in Indigenous ceremonies and advocacy work for Indigenous people locally and nationally, Jean is passionate about her work to implement decolonization.