On Monday, March 7, Dr. Deborah MacLatchy gave a keynote address at the International Women's Day event hosted by Laurier and the International Women's Forum. The theme of the event was 'Celebrating Women Leading in the Arts' and featured three Laurier alumna who have careers in the arts.
I want to begin by acknowledging what is happening in the world right now. The Russian regime's invasion of Ukraine is a heavy world event to which to bear witness. Coupled with the ongoing challenges of COVID, and the many examples of extreme polarization we see in liberal democracies, it is clearly a difficult time that weighs on each of us in different ways.
Coming together to celebrate art at this time may feel naïve, or self-indulgent.

Art, though, is an integral part of humanity and through art, we express our emotions, feel inspired and comforted, and create collective memory.

Whatever the medium, people create in response to the world around them.

In the last two weeks we have seen some powerful examples of art moving the world
Saturday Night Live opened with a Ukrainian choir singing 'Prayer for Ukraine
Street artists have created beautiful murals to show their solidarity and support with the Ukrainian people

There are many ways that art can inspire and move us.

Even as a scientist, I have found my way to art, and continue to be inspired by it.

When people enter my office, in addition to the books, the first thing they usually notice is the amount of art, paintings, photographs, and crafts from around the world, that evoke the seashore.
For me, being on the coast by the water is my "happy place". This artwork not only reflects me, it provides a comforting and inspiring space in which to do my work.

Two summers ago, I took two of my nephews to Paris, France, to experience the history and culture.

It gave me great joy to see my nephew Joey, who is a computer science student here at Laurier, become so excited to see the Mona Lisa at the Louvre. In fact, we waited for hours in a line with 1000s of tourists from around the world to experience this "bucket list" moment for my nephew.

This encounter with a painting that was created 500 years ago became a life moment we will always remember experiencing together.
For me, the highlight of the trip to Paris was seeing Claude Monet's Water Lilies in the Orangerie. Monet actually helped with the architectural design of the building, along with the architect Camille Lefevre. No book or screen can do justice to rooms with eight panels, 2 m in height, spanning 91 meters in length, arranged in two oval rooms which form the infinity symbol. This was truly form and function coming together in the most vivid, emotionally evocative way.

There are so many ways that art permeates our lives and many ways people find a path to art.

While some are moved by visual art, others are moved by theatre, or the written word. For some, all of these mediums resonate.

How many among us love to read or watch films, to escape into novels to learn about the lives of others, and learn more about ourselves?

Reading fiction isn't just a way to unwind or relax, either.

There are studies that draw strong connections between reading fiction and increased empathy and social acumen.

I'm certain everyone here can recall at least one piece of literature they have encountered that has changed the way they think about things.

For me, a memorable read was Crow Lake by Canadian Mary Lawson, a book of memory, of family and sibling relationships, and of the harshness of the environment of northern Ontario reflected in the lives of the protagonists. That the storyteller was an academic zoologist might have resonated more with me than with others, but it is the kind of book that can literally change the way you view memory and perspective.

Finally, in talking about art, I have to highlight Laurier's own arts community.

The Robert Langen Art Gallery is Laurier's visual arts centre. Located in the library on the Waterloo campus, the gallery oversees art collections and organizes visual arts programming.

The current exhibit features the work of Quentin VerCetty, a multidisciplinary artist, educator, storyteller, and Afro-futurist, curated by Laurier's Suzanne Luke.

Laurier's Library has also been inspiring and building community through art during the pandemic, with special events such as Love in the Time of COVID and the Kindness Project led by Laurier's Isabelle Cisterna and Gohar Ashoughian.

In 2019, local Waterloo artist Pamela Rojas and Laurier students painted the 'Climate is Life' mural on the back wall of the Theatre Auditorium, adjacent to the walkway leading to the Fred Nichols Campus Centre. Kai Reimer-Watts, a Laurier PhD student in the Community Psychology program was the leader of the mural project.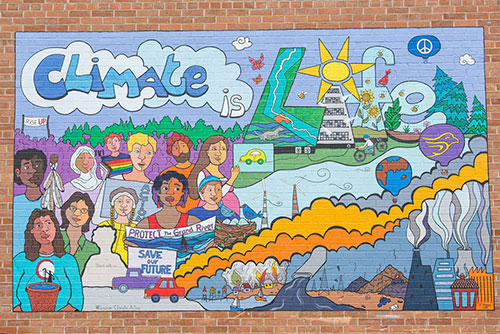 The mural pays tribute to Laurier's location on the traditional territories of the Neutral, Anishinaabe, and Haudenosaunee peoples and our shared connection to the Grand River watershed. The project was made possible through funding from the Sustainable Hawk Fund.

The Stay Golden mural outside the Welcome Centre on the Waterloo campus was created with the input of students, staff, faculty and alumni, who shared what Laurier means to them. Commissioned by Laurier's Recruitment and Admissions office, the mural was designed by Waterloo illustrator Stephanie Scott and was based on ideas from over 100 people in the Laurier community.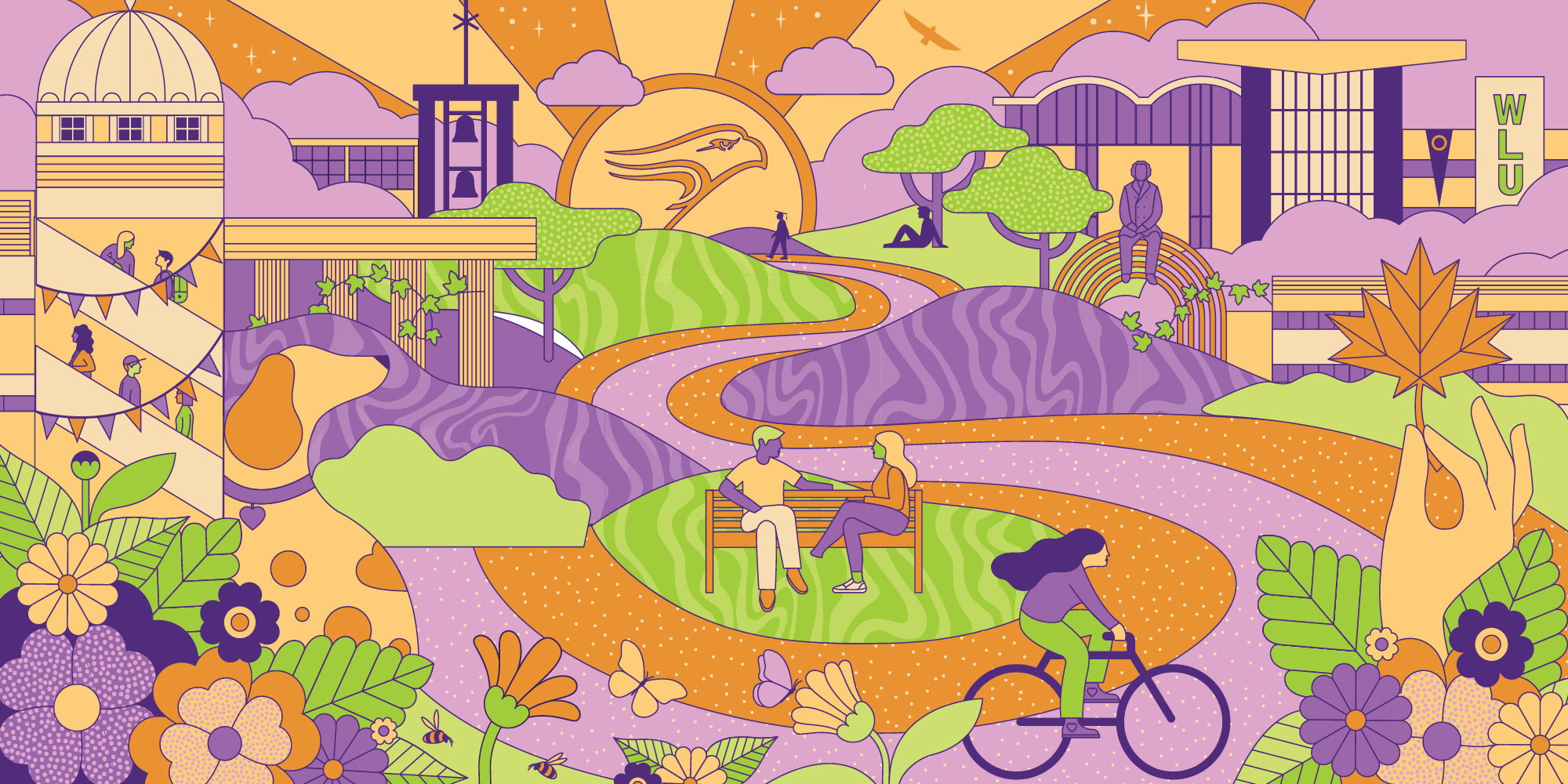 On our Brantford campus, the walls of One Market boast art from Laurier's Transformation Action Graffiti project. This Indigenous-led research project was the idea of Bonnie Whitlow, Laurier's Indigenous Special Projects Officer and coordinated by Laurier faculty and staff colleagues, the mural saw Indigenous and non-Indigenous youth work together to strengthen ties between local and global communities. Partners included Six Nations of the Grand River, UNESCU, federal granting agencies, and Chilean Indigenous partners.
I would be remiss if I did not acknowledge our very own Faculty fully dedicated to art – our Faculty of Music – home to talented faculty, staff and students who enrich our lives through music.

I have been inspired by our musicians, particularly through the pandemic, as they have built community and connections through their art.

In the 2020-2021 year, the Faculty of Music continued its Music at Noon Series in a virtual format, recording from Maureen Forrester Recital Hall and sharing the performances on YouTube.

Community music students created a virtual village with seniors in Waterloo, providing hour-long programming that included singing, poetry and conversation.

Surrealist painter Leonora Carrington said "there are things that are not sayable. That's why we have art."

Art is a way for us to celebrate, mourn, reflect, inspire and create a shared history.

It is an honour today to welcome the artists on our panel and to learn from them.

Thank you Melissa, Nelu and Larissa for joining us today.

I know I speak for everyone when I say that we are excited for you to share your knowledge and insights with us.