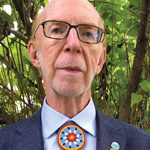 Acclaimed Huron-Wendat scholar Georges Sioui will launch his new book, Eatenonha: Native Roots of Modern Democracy, at an event at Laurier's Waterloo campus on Thursday, Nov. 28.
Sioui was the first Indigenous person to obtain a PhD in history in Canada and was the inaugural coordinator of the Aboriginal Studies Program at the University of Ottawa. He is also the father of Miguel Sioui, a Laurier assistant professor in the Department of Geography and Environmental Studies.
Georges Sioui's book launch and reading on Nov. 28 is co-presented by Laurier's Office of Indigenous Initiatives and Cold Regions Research Centre.
Eatenonha: Native Roots of Modern Democracy, is subtitled, "An Exploration of the Historical and Future Significance of Canada's Native Soul." According to the publisher, McGill-Queen's University Press, "Eatenonha" signifies "a land in which all can and should feel included, valued, and celebrated."
The book tells the story of a group of Wendat known as the Seawi Clan to show how the pre-European-contact Wendat Confederacy was at the geopolitical centre of a commonwealth based on peace, trade, and reciprocity, in which all were equally valued and respected – a true democracy.
The book launch takes place from 4:30 to 6 p.m., Thursday, Nov. 28, on the main floor of the Laurier Library. The event is free, with no registration necessary. For more information, contact Corri Daniels at codaniels@wlu.ca.
Sioui is also speaking at the Indigenous Day of Learning on Nov. 29 and the Indigenist Research Symposium on Dec. 4.