Convocation is a special time for Wilfrid Laurier University graduates, their families, faculty and staff. Although in-person convocation events will be at a later date, we still plan to celebrate the Class of 2021 this November – and we need your help!
On Nov. 2, the day when degrees and diploma are officially conferred, share a celebratory video or photo message with the Class of 2021 on Facebook, Twitter and Instagram. Be sure to tag Laurier and use the hashtag #ForeverGolden. When posting on social, search for "Laurier" under GIFs for convocation-inspired stickers and animations.
You can also visit Get Ready. Set. Celebrate!, a celebratory webpage on the Laurier Alumni website, that includes printables, a Spotify playlist, Zoom backgrounds and other materials to help our graduates celebrate at home. We know you'll find content here to inspire your congratulatory messages and well wishes.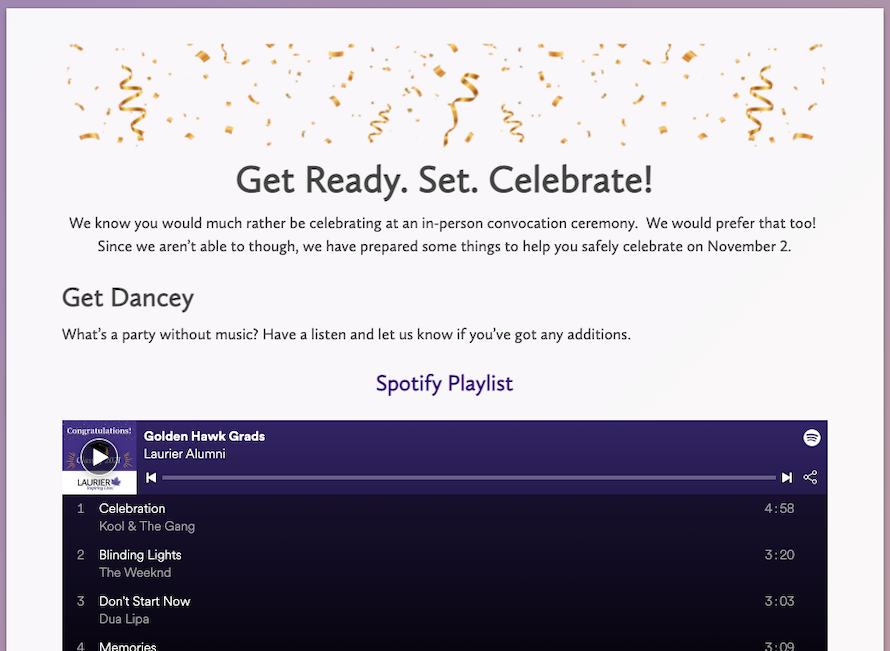 Nov. 2 Celebrations
Laurier's fall 2021 convocation celebration site will go live around noon on Nov. 2. The site will feature a video with remarks from Laurier's Chancellor Eileen Mercier and President and Vice-Chancellor Deborah MacLatchy. Graduates' names will be announced during a scrolling list in the video.
The site will also include information about the many benefits and supports graduates have as new Laurier alumni.
We look forward to celebrating the Class of 2021 and hope you do, too. Questions about fall 2021 convocation celebrations can be sent to convocation@wlu.ca.