It has been a challenging year for the 140 Laurier Bachelor of Education teacher candidates who completed their placements in 70 partner schools – online or in person – throughout the pandemic. It has also been a year of unexpected opportunities, as they found creative ways to teach, engage and support students in a challenging environment.
Laurier's B.Ed. students were a tremendous support to the schools' teachers, who juggled ever-changing safety protocols; enforced mask-wearing and physical distancing for students of all ages; washed and sanitized surfaces and hands throughout the day; and moved classes from online to in-person and back again.
"This year of constant change in education has demonstrated that our Laurier teacher candidates are truly committed to their profession and their prime concern is the well-being of children in schools," said Maria Cantalini-Williams, dean of the Faculty of Education. "I am very proud of their positive attitudes and ability to pivot their plans on short notice. We hope that this challenging year will develop resourceful future teachers and affirm their career choices."
As part of their training, teacher candidates spend one day a week in host classrooms, plus five block placements, ranging from two to 10 weeks, in schools throughout the two-year program.
This year, students were given the option of completing their placements in person, online or a combination of both. Though working in person meant accepting a higher risk, the chance to work alongside children still outweighed the negatives for many Laurier B.Ed. students.
"It was really important for me to get into the schools, even though it was a stressful situation," says David Cotton, who recently completed the B.Ed. program. "As a young educator, working hands-on with students, seeing how they behave and interact in person really helped me learn."
Getting Students Moving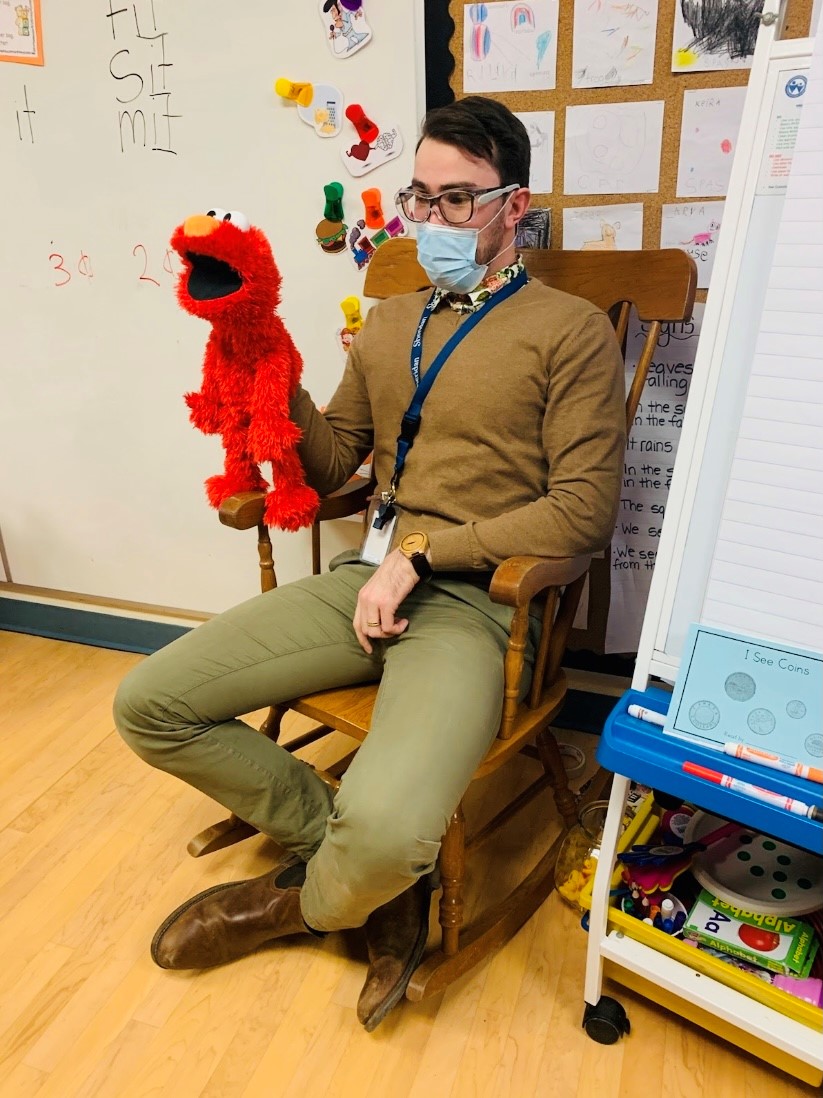 With his background in musical theatre, Cotton loves to get his students out of their desks, moving and interacting, but pandemic restrictions kept students at their desks, two metres apart, for most of the day.
"I felt like I was on my way to the kind of teacher I wanted to be before the pandemic started, one who'd make sure students got out of their seats and have fun while learning," he says. "With COVID-19, I really went back to square one. How can I engage each student who is by themselves at their desks and allow for rich conversation? That was a challenge this year, but I learned and grew from the experience."
Cotton planned breaks throughout the day for his Grades 2 and 3 class to move, dance and stretch next to their desks. He looked for ways to take lessons outdoors by asking students to measure objects outside, instead of at their desks, or to learn about science through nature. He also tried to make science experiments at the front of the classroom as big and engaging as possible, since students couldn't work together on projects.
One of the challenges for Jenna Westaway, a first-year education student, was reminding the students in her Grades 7 and 8 class to maintain a two-metre distance from each other, especially during recess.
"When kids were playing tag and got too close to each other, we'd say, 'Hey, are you being a T-rex right now?' And the kids would tuck their arms in like a T-rex," says Westaway. "Then we'd tell them that pterodactyls get to play, but T-rexes have to stay at home and work on the computer, so they'd throw their arms out to the side like wings."
Prioritizing Wellbeing
Though she kept her students laughing, Westaway noticed that with her mask and face shield on, students couldn't tell when she was smiling. She started telling students "I'm smiling" when they told a joke, a habit she sometimes catches herself doing even when she's not wearing a mask.
"We put the students' emotional well-being and happiness first," says Westaway. "That's something that we should ideally do every year. As much as learning goals and curriculum expectations are important, to really feel that care and understanding this year was awesome. I'm going to take that with me into my career."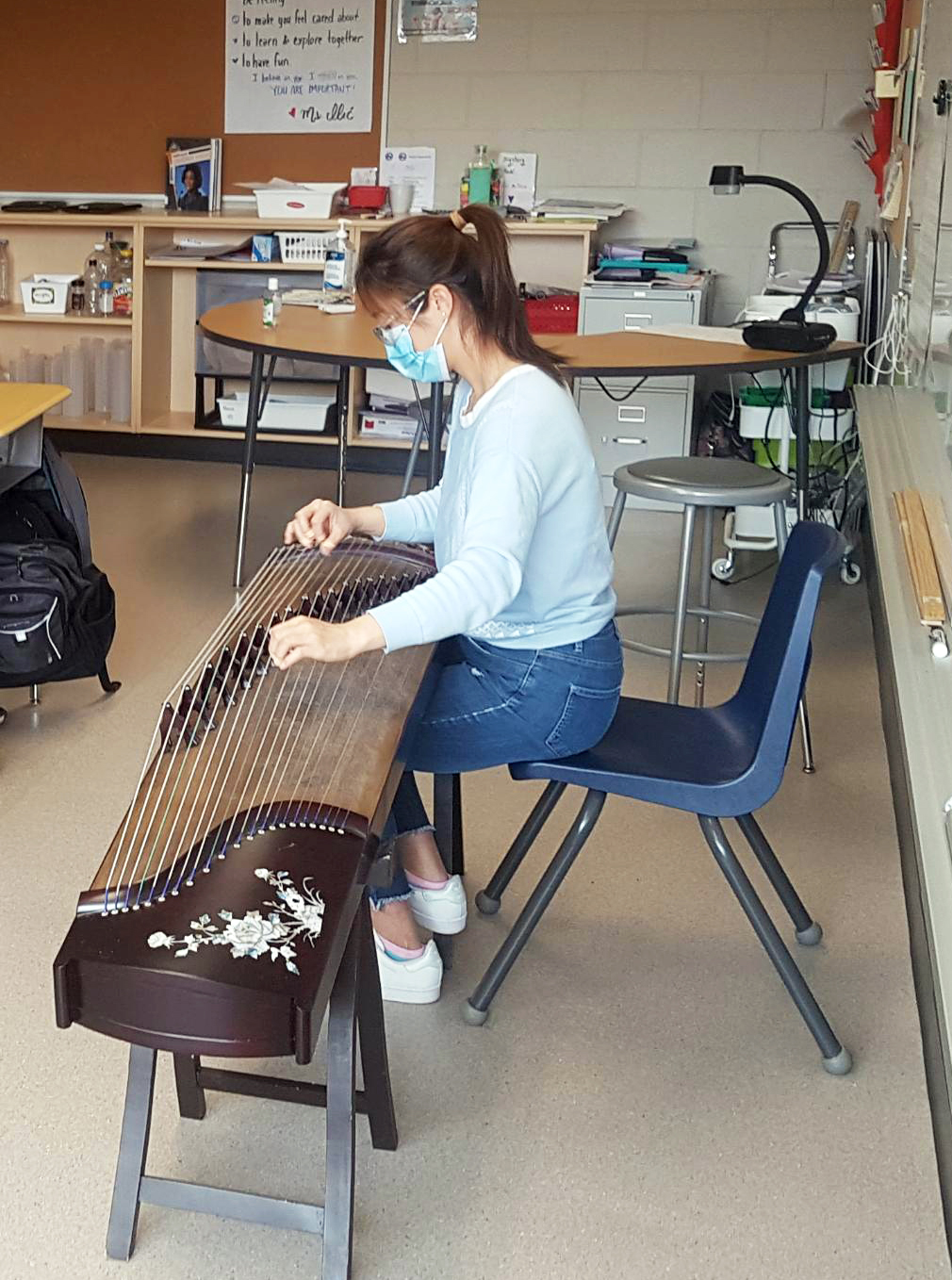 Peijun Shi, a second-year international student from China, brought happiness and traditional Chinese culture to her students by playing songs for the whole school on the guzheng, a traditional musical instrument.
"Some kids had tears in their eyes," she says. "Because of the pandemic, it had been a long time since they had heard live music. That was a really unique experience."
Most of the students Westaway, Shi and Cotton worked with over the past year showed remarkable adaptability. They quickly got used to hand-washing and physical distancing protocol; waiting every morning as each student took their turn hanging their coats up; waiting days for assignments to be returned so that they could be quarantined after teachers had finished marking them; losing team sports; and having desks and toys sanitized and re-sanitized.
"We made sure students really understood why they couldn't do something, why they had to be in the classroom for such a long time, or why they had to sanitize so often," says Shi. "Some of the students' hands were so dry from all the sanitizer, but nobody complained. We all tried our best to be positive and flexible."
The resilience students showed also helped teachers and teacher candidates stay positive too.
"As an educator, it was refreshing to look to them and see how unfazed they were," says Cotton. "They were so happy to be there at school, surrounded by friends. It was really amazing to see the energy they brought in every day and their excitement, even with the masks and the sanitizer and all the rules."
With the full support of Laurier's staff and faculty, Westaway tried out for the Olympics as a middle-distance runner, but she returned home with an injury and no future race opportunities in sight. Still, her students lifted her spirits.
"I was welcomed home by my placement students with excitement: 'Did you have fun? Did you see an alligator?'" she says. "Our students remind us of what's most important, don't they? They are naturally inclined to see abundance rather than deficit and, as much as we have to teach them, I think they have as much to teach us."
Future Opportunities
Because of COVID-19 restrictions, Shi couldn't travel home to visit her family in Korla, China during the summer or holidays. Instead, she filled her time with a part-time job as a math tutor and taught students online from all over the world, including India and the United States.
Now that she has finally returned to her hometown, she hopes to find work teaching at an international school which provides schooling for the children of foreigners living in China, as well as young Chinese students interested in studying abroad.
Early in the spring, Cotton received a temporary teaching certificate from the Ontario College of Teachers allowing him to supply teach. During the school year, many teachers were forced to call in sick or take time away to care for ailing family members. The certificate was introduced as an emergency measure to allow teacher candidates across Ontario to step in during the teacher shortage caused by the pandemic. Cotton was able to work full-time hours in schools across Waterloo Region, gain experience and earn money, all while studying at Laurier in the final weeks of his program.
Now that he's finished the program, he is waiting for the Ontario College of Teachers to turn his temporary teacher's certificate into a permanent one.