Researchers from Wilfrid Laurier University are sharing their scientific knowledge through art as part of a new online exhibit that aims to inspire and inform about global water issues. 
The Virtual Water Gallery – a project led by the Global Water Futures (GWF) program – launched April 29 and features science-art pieces by more than a dozen artists. The goal of the exhibit, which is free to the public, is to create a virtual space for artists, water experts, knowledge-keepers and the public to explore water challenges. 
"Art puts us all on a more equal level and can add an emotional dimension to otherwise cold scientific facts," says Louise Arnal, lead curator of the gallery. "This can in turn inspire and even instigate action."
Artists were paired with teams of GWF scientists to explore specific water challenges in various Canadian ecoregions and river basins, including the Arctic, mountains, boreal forests, prairies, farmlands, lakes and rivers. Two Laurier research teams participated in the project.
Life Support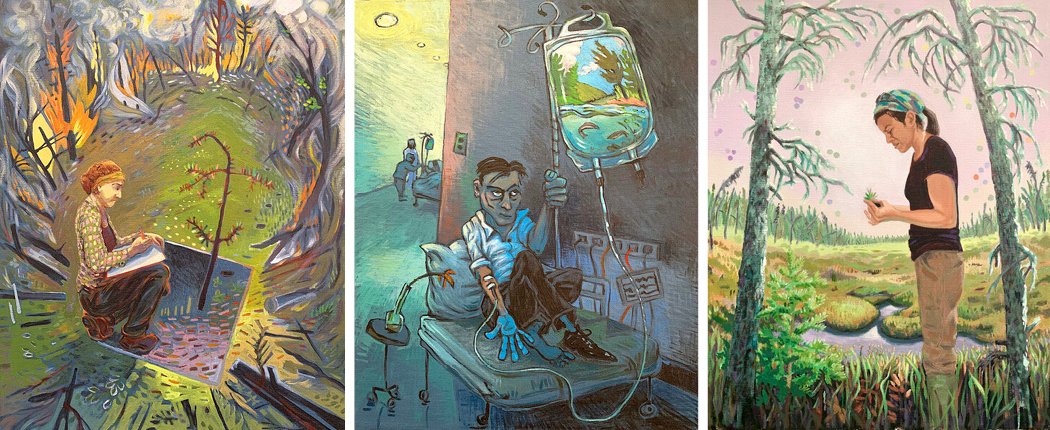 Left to right: Study After a Fire 1; Life Support; Figure Three, Ordination Plot. All by Rhian Brynjolson.
Jennifer Baltzer, associate professor of biology at Laurier and the Canada Research Chair in Forests and Global Change, partnered with visual artist Rhian Brynjolson on seven art pieces inspired by the idea of life support, making connections between self-preservation and the health of global systems. The acrylic paintings and pencil drawings are focused on Baltzer's work in the boreal forests of the Northwest Territories, where she studies the effects of permafrost thaw, wildfire and landcover change.
"It was such a pleasure having the opportunity to work with Rhian to translate some of what we do and see in the North into beautiful and impactful imagery," says Baltzer, who leads the GWF-funded Northern Water Futures project. "I am delighted by the way our study methods and systems have been captured in this artwork. Visual art is such an incredible way to share these urgent issues."
See Life Support. 
When Water is Braided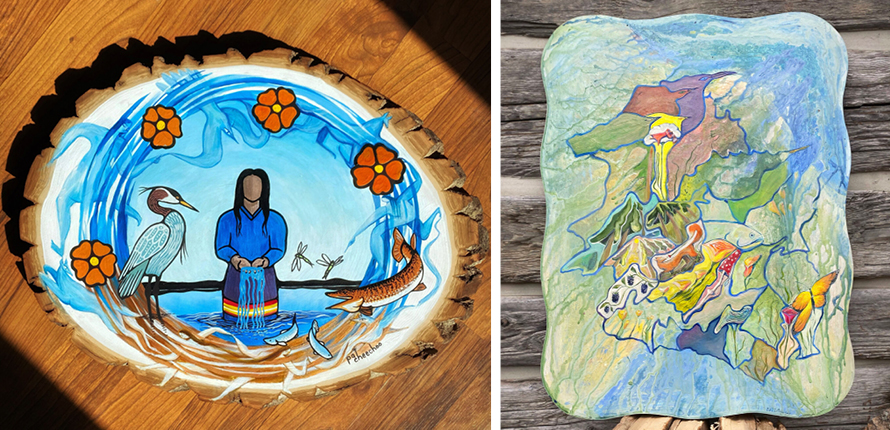 Left to right: Water is Life; 29 Watersheds. Both by Rebeka Ryvola and Patrick Cheechoo.
As co-principal investigator of the Matawa Water Futures research team, Laurier Professor Terry Mitchell collaborated with artists Patrick Cheechoo, who is Moose River Cree from Constance Lake First Nation, and Rebeka Ryvola on two art pieces dedicated to the principles of "braiding" together traditional Indigenous knowledge with western science.
Matawa Water Futures, also funded by GWF, is advancing the development of an Indigenous-informed water-monitoring framework. The combination of a changing climate and forecasted Ring of Fire development in northern Ontario has created an urgent need to protect watersheds within Matawa First Nations territories.
"Bringing together an Indigenous artist and a non-Indigenous artist to create the artwork represents our two-row research methodology," says Mitchell. "Their beautiful collaborative art pieces provide a visual confirmation of the possibilities when we bring together Indigenous values with Western science to advance Indigenous-informed water science."
Laurier is a proud long-time partner of GWF. Last fall, GWF invested in two Laurier water-security projects led by Baltzer and Assistant Professor Homa Kheyrollah Pour.