Who is responsible for harm caused by self-driving cars? How will consumers react to decisions made by artificially intelligent agents? Does self-image impact brand preference?
These are the kind of complex questions Tripat Gill tackled during his tenure as the Canada Research Chair (CRC) in Market Insight and Innovation. Gill, an associate professor of Marketing at Wilfrid Laurier University, focuses his research efforts on technology adoption and consumer interactions with artificial intelligence (AI). 
Gill completed his second term as a Tier 2 CRC in June, wrapping up 10 years in the prestigious role. To build upon his achievements as CRC, which included 16 publications in leading journals and the establishment of a state-of-the-art consumer research lab, Gill has been appointed as the Laurier Research Chair in Consumer Insights and Innovation.
"It has been wonderful to have this opportunity as CRC, which provided me with tremendous support for research and infrastructure and helped me to grow our Marketing PhD program for Laurier students," says Gill. "As Laurier Research Chair, I am going to continue exploring issues such as the moral complexities of autonomous vehicles and how AI is influencing our decision-making and day-to-day lives." 
As he embarks on his new role, Gill reflected on his work as CRC, his future research plans and his participation in an international effort to revolutionize the field of psychological science.
Consumer Research Laboratory
To enter room 3C30 on Laurier's Waterloo campus, one would think that they had stumbled upon an ordinary computer lab, unremarkable for its rows of individual computer terminals. The only hint that the space is home to leading-edge consumer research is a black curtain along the back wall, hiding a one-way mirror that seems straight out of an episode of Law and Order.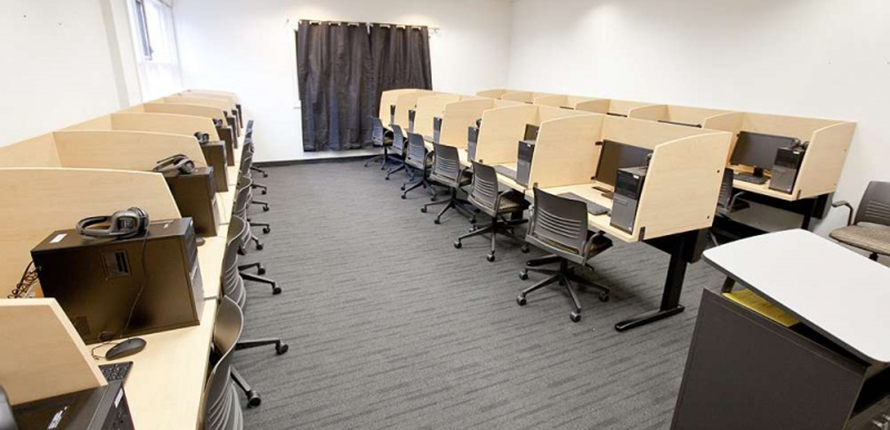 This is Laurier's Consumer Research Laboratory, a state-of-the-art facility that enables Marketing faculty and graduate students to conduct high-quality, controlled experimental studies. Gill opened the space in 2012 with funding from the Canadian Foundation for Innovation, the Ontario Research Fund and Laurier.
The lab's 20 computer terminals are equipped with specialized software for study design, online surveys, data analysis and measuring response times. It has equipment to record participants as they "think" aloud while performing specific tasks and behind the one-way glass is a small break-out room for conducting focus groups and other research tasks.
"I also purchased eye-tracking equipment, which will enable us to determine where someone's attention is focused when presented with stimuli, and I plan to add virtual-reality technology as well," says Gill.
The Consumer Research Laboratory was instrumental in Gill's work as CRC, which included two studies funded by the Social Sciences and Humanities Research Council of Canada (SSHRC). The first investigated how consumer interactions with service providers are influenced by ethnic stereotypes. 
"When we interact with a bank teller or a plumber, do we take into account their ethnic background when evaluating the quality of service?" says Gill. "Indeed, we found that stereotypes do factor into the equation. Sometimes in a positive way, but it's not always positive. Our findings also have implications for firms that may use ethnic background as a variable when assessing a potential employee." 
Gill's second SSHRC-funded study, which is still ongoing, is evaluating the role of emotions and moral judgements in consumer adoption of new technologies. His focus is on autonomous vehicles, or self-driving cars, and on consumer interactions with AI in medical and financial services.
"We have found that many people are unwilling to give away control to an autonomous agent," says Gill. "People haven't seen this technology working yet so their trust levels are low."
Moral complexities in using AI
Technology has always been a strong personal interest for Gill, who earned his B.Tech. in Electronics at the Indian Institute of Technology and a PhD in Management from McGill University. He recently published a paper in the journal Ethics and Information Technology which found that consumers are highly concerned by the ethical dilemmas inherent in self-driving technology.
"One of the thorny issues with self-driving cars is how they are going to distribute harm between passengers versus people outside of the car," says Gill. "For example, how close should it travel to a bicycle? If an accident is likely to occur, who should it protect? It's a pretty vibrant topic and has caught a lot of academic attention."
In his study "Blame It on the Self-Driving Car: How Autonomous Vehicles Can Alter Consumer Morality," Gill found that participants considered harm to a pedestrian more permissible with an autonomous vehicle than it would be if they were driving in a regular car. His findings suggest that self-driving cars can change prevailing moral norms and promote an increased self-interest among consumers.
Gill is currently evaluating the social and ethical issues associated with AI being used in the medical, financial and recruitment domains.
"AI-based algorithms are being used to determine whether or not you get approved for a mortgage or are shortlisted for hiring, and they are used extensively for medical diagnostics," says Gill. "As AI gets used more and more, how will consumers perceive or react to decisions made by AI agents versus humans? How will they assign blame when things go awry? This has created an interesting research opportunity."
The Psychological Science Accelerator
In 2015, the authors of an influential paper in Science attempted to replicate the results of 100 studies published in high-ranking psychology journals. They found that less than half of the original findings could be reproduced. Their conclusions fuelled an existing academic dialogue questioning the precision of behavioural science.
"One of the factors was that most samples tended to be small and concentrated on undergraduate students in North America," says Gill. "Another famous paper found that 90 per cent of psych studies have been done with 'WEIRD' populations: Western, educated, industrialized, rich and democratic. Phenomena that were observed in this population tended not to replicate in other populations, or even from one lab to another. It was a setback for the entire field of psych science."
In an attempt to bolster confidence in the discipline, Christopher Chartier, an associate professor of Psychology at Ashland University in Ohio, founded the Psychological Science Accelerator in 2017. He built a network of psychological science laboratories around the world – more than 500 to date – to collect data from a truly diverse, representative sample.
"The idea is that everybody conducts the exact same, standardized study and then the data is collated so that we can be more confident in the results," says Gill. "To begin with, we are trying to replicate the results of established studies. Our first project, published recently in Nature Human Behavior, re-tested the valence-dominance model and whether people are able to perceive certain characteristics just from looking at someone's face."
Gill is eager to continue his involvement with the Psychological Science Accelerator, which includes local data collection and manuscript writing, through ongoing projects related to moral decision-making and positive emotional interventions during the COVID-19 pandemic.
"We need to expand our studies beyond WEIRD populations because we can't generalize how humans think based on this one sample," says Gill. "I think more studies should use this 'crowd-source' model because it's definitely a step in the right direction. It feels great to be contributing to science and having a positive impact."