As the Canada Research Chair (CRC) in Global Migration, Alison Mountz was determined to look beyond government platitudes and media sensationalism to capture the true realities of political asylum and human migration. She worked to uncover hidden statistics and policies, as well as the stories and faces of people who were simply searching for a home.
"My work is about the ways that people seek safe haven and protection, what happens to them along the way and how the policies that govern those decisions are changing," says Mountz. "I am curious about the quieter enforcement practices that are not widely known to the public. Behind the shipwrecks and seemingly sudden border crossings that make it onto the front pages of newspapers are underlying systems that give rise to those big events."
After two successful terms as CRC, which included publishing two books and more than 65 journal articles, book chapters and essays, Mountz will continue her investigative scholarship as the Laurier Research Chair in Global Migration. In addition to her role as director of Laurier's International Migration Research Centre, Mountz's immediate research priorities include establishing a collaborative laboratory for migration scholars and beginning a new project called Asylum's Afterlives, which will follow displaced people who were once detained in island detention facilities.
"I am grateful to continue the collaborations that sustain my research with graduate students, colleagues and people who are searching for safe haven, with whom I have the privilege of talking to and learning about their lives," says Mountz. "The overarching goal of my work is to share their histories and to learn from them."
The Death of Asylum
In 2020, Mountz won the American Association of Geographers Globe Book Award for Public Understanding of Geography for her book The Death of Asylum: Hidden Geographies of the Enforcement Archipelago. Based on years of research into offshore detention facilities in countries such as Australia, Italy and the United States, the book details how governments use the inaccessibility of remote islands to curtail asylum seekers' human rights, far from the scrutiny of human rights groups, journalists and citizens.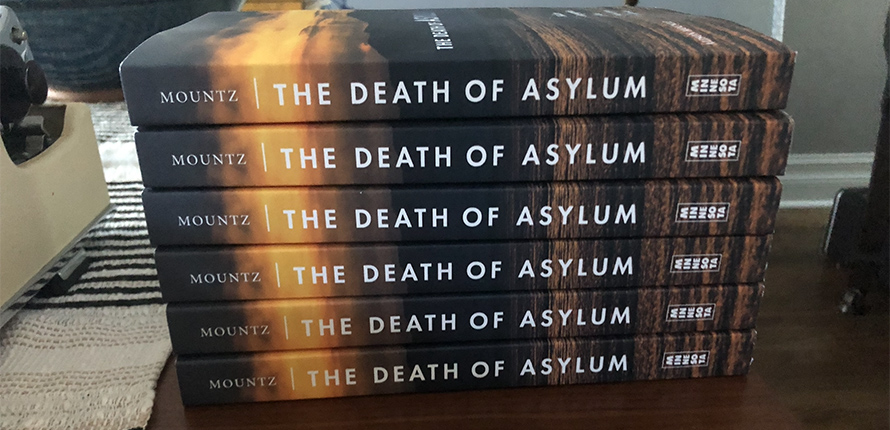 "Australia, for example, has an extensive detention system across its mainland territory yet invests significant resources in detaining people on others' sovereign territories before they reach the mainland," says Mountz. "It turns out this practice has its origins in the United States, beginning with interceptions and detention on U.S. naval bases in the Caribbean. These were happening in tandem, the development of mainland detention systems along with ways to contain people's mobility transnationally."
Mountz documented this history in her 2018 book Boats, Borders, and Bases: Race, the Cold War, and the Rise of Migration Detention in the United States, which she co-authored with Jenna Lloyd.
"It tells a geographical history of the U.S. detention system, which is the largest in the world," says Mountz. "The whole system is rooted in anti-Black racism against Caribbean nationals traveling by boat, particularly from Haiti and Cuba, to claim asylum in the U.S. Their detention planted seeds for what grew into this enormous incarceration system and the criminalization of asylum seekers to the United States."
Safe Haven
In contrast to those seeking refuge in the U.S., Mountz recently chronicled the journeys of Americans fleeing their home country in the feature-length documentary film Safe Haven. She gathered archival data and oral histories from two generations of war resisters who migrated to Canada, both during the U.S.-led conflict in Vietnam and more recently during the wars in Iraq and Afghanistan.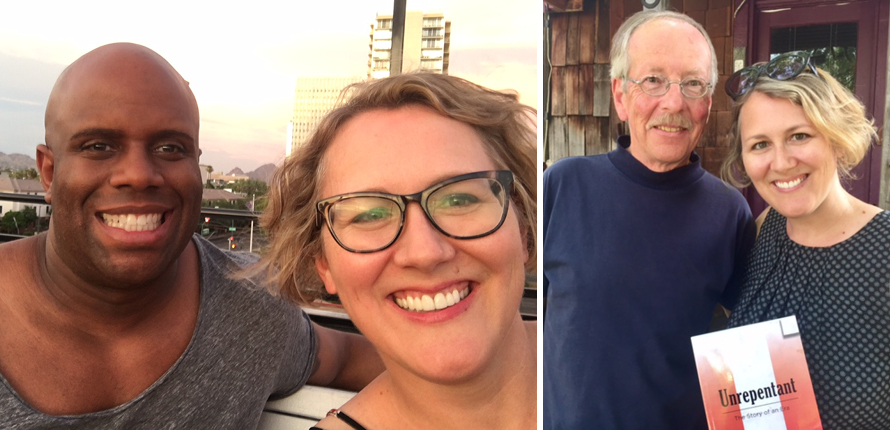 Mountz with two war resisters featured in Safe Haven: Linjamin (left) and Gary.
"So many people were offered safe haven in Canada during the Vietnam War, but most of the resisters who came more recently were turned down," says Mountz. "The film follows the different experiences of people who migrated and also the social movements that arose in Canada and across the border to support their resistance to war."
In 2019 and 2020, Mountz and the film's director, Lisa Molomot, began showing Safe Haven at film festivals across North America, but their promotional plans were put on hold due to the COVID-19 pandemic. As public health restrictions ease, they are eager to make plans for the film's distribution.
"It's really exciting when the audience watches this film and then the lights come up and before them are some of the people who are in the movie who have lived these incredible and tumultuous lives," says Mountz. "There is so much to learn from their experiences and their search for safe haven, so our plan is to restart those conversations and get the film shown to as many people as possible."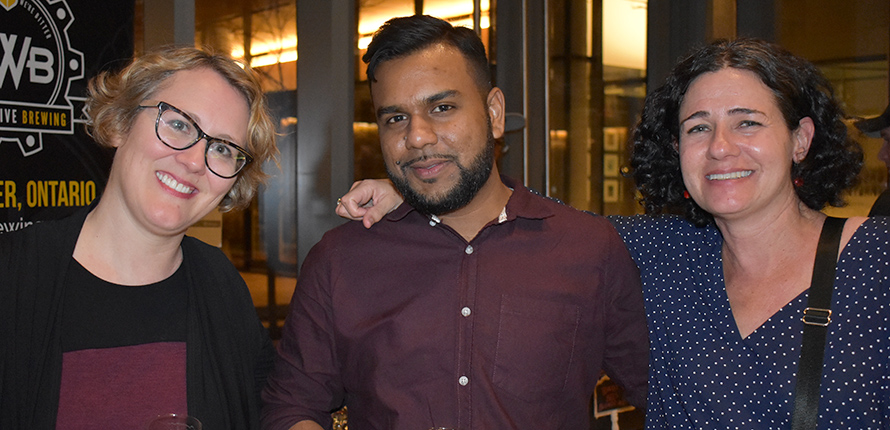 Mountz with collaborators Shiva Mohan and Lisa Molomot.
With the support of Connection and Insight grants from the Social Sciences and Humanities Research Council of Canada (SSHRC), Mountz is writing a new book about this subject and collaborating with recent Laurier alum Shiva Mohan to compile shorter, written versions of the resisters' oral histories in an edited collection. She is also working to assemble a cross-border network of refugee advocates and researchers to better understand the recent migration of people from the U.S. to Canada in search of protection, with funding from a SSHRC Partnership Development Grant.
State-of-the-art lab
One of the key outcomes of Mountz's tenure as CRC is Haven: The Asylum Lab, a state-of-the-art lab at the Balsillie School of International Affairs dedicated to the "preservation and liberation" of migration data. In the highly politicized field of migration, the lab will offer a haven for data sets assembled by Mountz and other scholars and will provide a physical space for her peers from around the world to gather and conduct research using cutting-edge technology.
"The information that I work with is the type of data that some governments might be reluctant to share, so it can be publicly available one moment and then disappear, leaving researchers like me scrambling," says Mountz.
Funding for Haven, which was provided by Laurier and the federal and provincial governments, will support the development of a high-tech security apparatus to protect the information housed there.
Haven is currently under construction, with plans to open in the fall. The room will have multiple workstations, a central meeting area for group collaboration and the latest hardware and software for comparative analysis.
"This is really an evolution of the work that I've been doing as Canada Research Chair, to build infrastructure that makes this kind of research possible and available to more people," says Mountz. "Laurier is already a great place for migration scholars across disciplines. Now, Haven and the International Migration Research Centre will serve as hubs where people come to do this kind of work."