July 16, 2021
Print | PDF
The Monaghan family bleeds purple and gold. Four family members from three generations have graduated from Wilfrid Laurier University and all find joy in helping others.  
The most recent Monaghan family member to attend Laurier, Jonah Monaghan (BFAA '21), graduated this year from the Game Design and Development program at the university's Brantford campus. His grandmother, Sandy Mader (née Hubbard), crossed the convocation stage 53 years earlier, starting what would become a family tradition.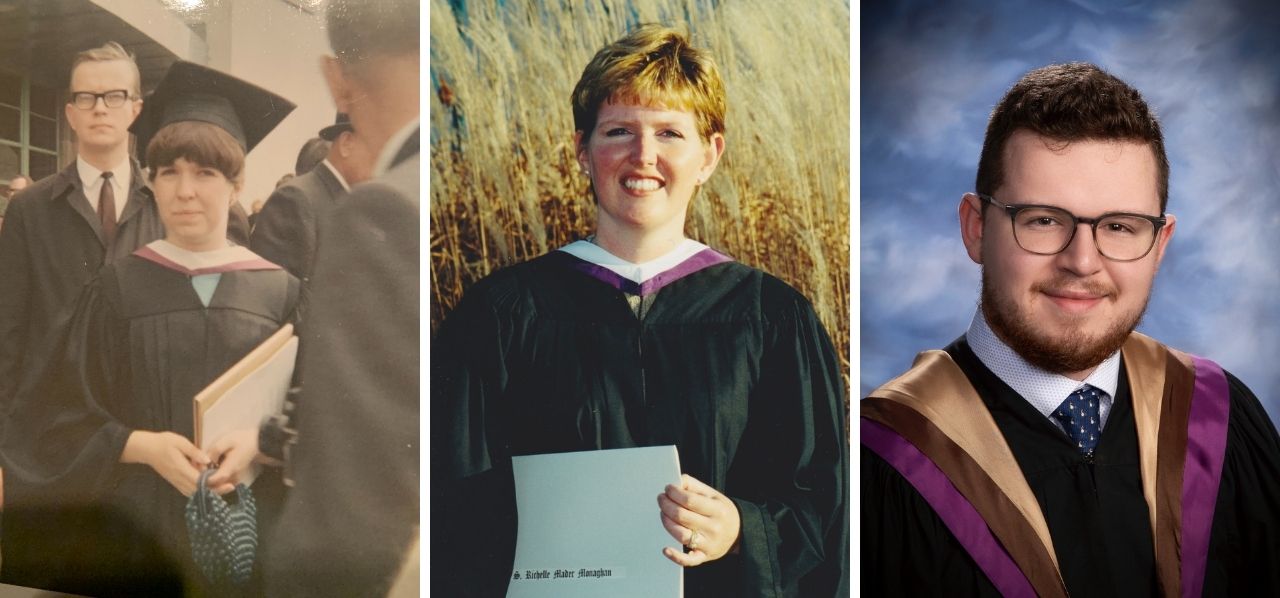 When Sandy (BA '68) was figuring out what she wanted to do after high school, she found the answer after getting off a Waterloo city bus with her transcript in hand.
"I walked up University Avenue and Laurier, which was Waterloo Lutheran University then, was the first school that took me," says Sandy with a laugh. "It was a small school and it was perfect because it was easy to get to by bus."
Sandy studied English and Psychology and later became a high school teacher and guidance counsellor. Her time at Laurier was busy. She remembers the difficult classes fondly, like those taught by Flora Roy, who served as department chair of English before her retirement, and Psychology Professor Frank C. Peters, who became the second president of Wilfrid Laurier University and is the namesake of the Frank C. Peters building on the Waterloo campus.
Sandy worked five jobs during university, splitting time between classes, teaching at a local high school, working as a receptionist at what is now Grand River Hospital and working with youth living with disabilities. However, before graduating, Sandy wanted to have the residence experience and became one of only two non-graduate students living in a graduate-student residence. It was also the first year that residence offered co-ed living.
"It was quite the time," recalls Sandy. "The doors had to be kept open if you had a guest; all feet had to be on the floor."
Between her five jobs and classes, Sandy also squeezed in many school traditions, including the Boar's Head Dinner, an annual social event that drew hundreds of people to the university. She also competed in the annual University Queen pageant, a tradition during Winter Carnival. While those traditions have faded over the years, other events Sandy participated in, like Shinerama, have endured.
"It was a wonderful time," says Sandy.
The Second Generation
Sandy's two children, Richelle Monaghan (BA'99) and Ryan Mader (BSc '05), also attended Laurier. Richelle is an associate professor of Community Health and Biology and the newly appointed vice dean of the Faculty of Science. During her time as a professor at Laurier, Richelle has received several teaching awards recognizing her innovative methods to engage students.
"I grew up just a few blocks from the university," says Richelle. "I knew a lot about Laurier because my mom had gone there and I used to go to the Laurier Library to study when I was in high school."
Richelle first attended Laurier as a part-time student while also running her massage therapy practice. At first, Richelle didn't study biology, despite being interested in the subject, and instead chose psychology classes that fit her busy schedule. She graduated in 1999, just a year after her son Jonah was born.
For a couple of years, Richelle continued her massage therapist clinic. But in 2003, Richelle rushed her four-year-old daughter Hope to the hospital after noticing asymmetry in her face. Within a day, Hope was diagnosed with terminal cancer.
After losing her daughter, Richelle found solace in going back to university.
"I actually went to school to cope with the loss of my daughter," says Richelle. "I dove into a field that I had very limited background in, cell and molecular biology."
Richelle later undertook graduate and post-graduate studies at the University of Waterloo and joined Laurier as a professor in 2012. 
"I never planned to go into graduate school, nor planned to be a professor, but I love being a professor because I can help students successfully navigate their university education, and it feels like I'm making a difference for them," says Richelle. 
The Third Generation
While Jonah knew about Laurier, he didn't plan to attend at first and wanted to study computer science.
"After taking a tour of the Brantford campus, meeting Professor Scott Nicolson – the program coordinator of the Game Design and Development program – and experiencing what the Game Design program was really all about, that's what changed my mind," says Jonah.
Jonah fondly remembers his time at Laurier, especially get-togethers with peers at Lonnie's restaurant after completing a big assignment and playing and working in the Brantford Games Network Lab. Jonah says he also enjoyed living in residence and meeting new people in the same program.
Jonah says he was inspired to focus his studies on accessible gaming after seeing a viral tweet by a person who created an accessible game controller for his daughter. His daughter, who lives with limited motor function, wanted to play the game Legend of Zelda: Breath of the Wild.
"There was this happiness that you could see in someone being able to play a game they've always wanted to play but couldn't," says Jonah. "On top of that, the controller was expensive to build, so I saw this barrier and realized that it would be terrible if I developed a game that someone couldn't access."
Jonah joined groups focused on accessibility and play. He recently won a design challenge held by The Playability Initiative that challenged students to rethink how to play popular games with just one button.
Richelle offered a lot of advice to Jonah, he says, helping him navigate courses and the complexities of university life.
"The best advice for any student is that you shouldn't worry about 'graduating on time,'" says Richelle. "It all depends on the individual. You get to decide what is the right fit for you based on all of the things you're balancing in your life."
Now that he has graduated from Laurier, Jonah is heading off to the Auckland University of Technology to complete his Bachelor of Education.
Sandy is very excited for Jonah and offered him some advice for the next chapter in his education.
"My advice is to enjoy what's in front of you because these are the best years of your life," says Sandy. "Make an adventure out of whatever you want to do."