As most employees at Wilfrid Laurier University transitioned to remote working scenarios in mid-March, the university's essential employees – those only able to perform their duties on-site as required – remained on campus to ensure that teaching, learning and other critical university operations continued amid COVID-19.
"We are very appreciative of the work and dedication of Laurier's essential services employees during these past months," says Pam Cant, chief human resources and equity officer at Laurier. "Without them, we would not have been able to successfully transition to a remote learning and working environment and do our part to flatten the curve. Their efforts and commitment have allowed the university to continue to operate, support our students and our academic mission."
Nearly six months later, Laurier's essential employees continue to keep the university's campuses safe and functional while working with campus partners to welcome faculty, staff and students to the 2020-21 academic year.
Read about the outstanding contributions of some of Laurier's essential services teams throughout the COVID-19 pandemic and celebrate their efforts during these challenging times.
Keeping Us Connected: Information and Communication Technologies Employees
Quickly shifting faculty, staff and students to fully remote environments has kept the Information and Communication Technologies (ICT) team more than busy.
While some ICT staff members remained on campus throughout March and April to provide technical support to employees and students, others strategically worked on enhancing the university's technology resources, expanding services to staff and faculty through the use of the virtual private network (VPN), providing access to various cloud software, and improving network security.
ICT also led Zoom tutorials for staff and faculty that involved more than 1,500 staff and faculty participating in over 110 workshops. Faculty and staff quickly embraced Teams and Zoom as primary collaboration tools, increasing Teams usage from an average of 8,000 messages per day to 23,000. Since March, more than 2.7 million Teams messages have been sent by the Laurier community. Using Zoom, the Laurier community has held almost 80,000 meetings involving over 400,000 participants who connected from more than 60 countries.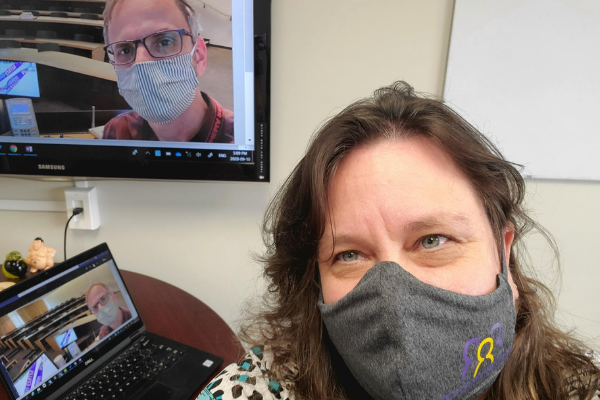 "ICT staff continue to go above and beyond to support the Laurier community," says Laurier's Chief Information Officer Nela Petkovic. "Our team has not only responded to the immediate needs of our community but is also strategically planning for future needs as we transition back to campus."
To support a largely mobile university workforce this fall, ICT staff are working to replace desktop computers with Laurier-issued laptops, which provide flexibility and mobility for staff as well as enhanced network security. ICT's privacy and security impact assessment (PSIA) team has also vetted and reviewed over 80 software solutions proposed by staff and faculty to ensure they meet the department's standards.
The PSIA team is also collaborating with campus partners, such as the Teaching and Learning team, to support resources required for remote course delivery. ICT staff are also collaborating with academic faculties, including support for the Lazaridis School of Business and Economics, to pilot of a flexible, hybrid course structure that gives students the option of attending sessions in the classroom, online or both.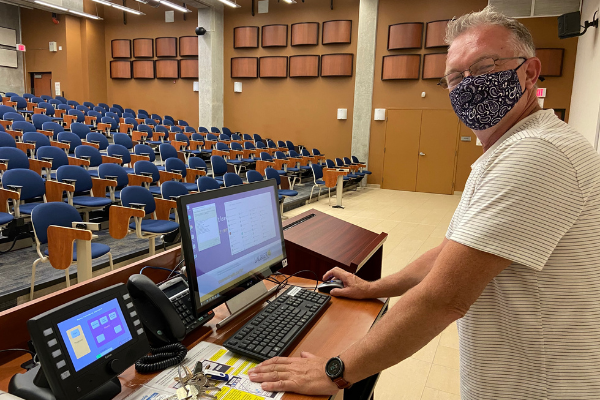 For the thousands of Laurier students learning remotely around the world, ICT has expanded software offerings, providing access to collaboration tools such as Zoom and Microsoft Teams. Laurier students will have unprecedented opportunities to connect and collaborate with their classmates and instructors during remote learning this fall.
Living at Laurier: Department of Residence
Moving out of residences looked different during the winter term and fall-term move-in will also be unique, but staff in the Department of Residence have no plans to let the pandemic dampen their enthusiasm for the upcoming academic year.
"It was all hands on deck as the students left, and everyone pitched in to do what needed to be done," says Laurier's Director of Residence Chris Dodd. "The team has been incredible, and they continue bring creativity and positivity to their work every day."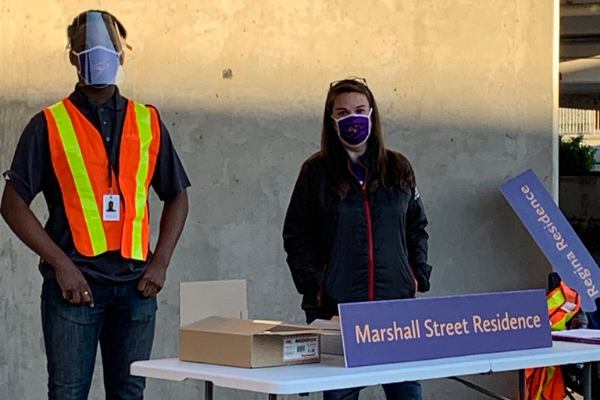 In mid-March, residence staff helped Laurier students living on campus move out within a designated 48-hour period. With residence rooms empty, residence staff assisted Laurier's custodial team to remove any left-behind items from rooms in preparation for deep cleaning.
But not all Laurier students were able to go home once they left residence. Dodd's team moved nearly 200 students into the Bricker Residence Building, where residence life coordinators remained on-site to check in on students and provide support as needed. By the beginning of May, students residing at the Bricker residence had assumed possession of housing off campus, making room for new guests – frontline healthcare workers from Grand River Hospital.
Residence staff resumed on-campus work in early July to prepare for the 1,200 students living in Laurier residences during the 2020-21 academic year. An extended, five-day move-in period, virtual residence life programming and a full staff of residence dons are just some of the measures Dodd's team has in place to ensure a safe and exciting first-year residence experience.
Safe and Sanitized: Custodial Services
Like all essential service employees at Laurier, members of the custodial team kicked their efforts into high gear as students and employees vacated Laurier's campuses.
Custodians responsible for maintaining Laurier's academic buildings joined forces with residence custodians to conduct a deep clean of the university's residence buildings after students moved out in mid-March. Once sanitized, all residence buildings were locked apart from the Bricker Residence Building, where frontline healthcare workers could temporarily reside.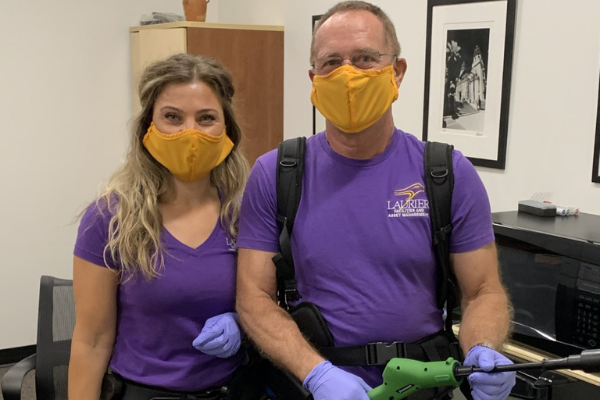 A team of seven senior custodial staff volunteered to clean the Bricker building while other custodians focused on maintaining clean and safe environments for Laurier's Special Constable Service, Student Wellness Centre employees and Facilities and Operations staff at both campuses.
"These are challenging times, but the custodial team has been really positive and supportive," says Jenna Lowe, manager of custodial services at Laurier. "Everyone is doing their best to keep our campuses clean and safe for students and employees returning in the fall."
In addition to cleaning and sanitizing, Laurier's custodial teams have contributed to the university's safe reopening plan, advising on the placement of COVID-19 signage and hand-sanitizing stations, and documenting additional infection control procedures. Custodians have also received further training on mask-wearing and the safe disposal of cleaners as they prepare for fall-term duties, some of which include increased cleaning of washrooms, residences, the Athletic Complex and the Student Wellness Centres.
Staying Well: Student Wellness Centres
Mid-March can be stressful for students during the best of times: mid-term examinations are in full swing, end-of-term deadlines inch closer and final exams loom. But throw in the complexities and concerns around COVID-19 this year, and for many, the stress was significant.
Laurier Student Wellness Centres have remained available to students at Laurier's Brantford and Waterloo campus throughout the pandemic, providing them with telephone and video access to doctors, nurses and counsellors.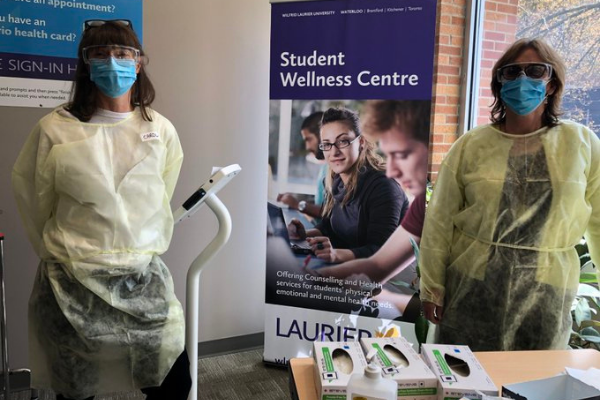 "We knew students were struggling with increased stress and isolation, but not everyone is comfortable reaching out for help in the same ways," says Sarina Wheeler, wellness education manager at Laurier's Waterloo campus. "We increased our online resources and workshops around physical and mental well-being and continually promoted them through our social media channels to let students know we were, and still are, here for them."
The Student Wellness Centres will continue to offer their wellness education workshops online throughout the fall term. The Peer Wellness Education program also resumes in the fall, providing undergraduate and graduate students with one-on-one online support from a trained Laurier peer for one hour each week.
Other health services including chiropractic treatment, physiotherapy and massage therapy will be available on campus this fall. Students requesting these services will be screened for symptoms of COVID-19 while booking their appointment and upon their arrival to the centre. Masks are required to access in-person services at both campus student wellness centres.
Delivering Exceptional Service: Distribution Services
While COVID-19 paused many services, mail and parcel deliveries continued and kept Laurier's Distribution Services' small-but-mighty team of eight shipping clerks and support personnel working around the clock at both campuses.
"We were back on campus quickly after shutdown to put processes and procedures in place to safely receive mail and other deliveries and get them in the hands of recipients," says Tara Velanoff, manager of Brantford Retail and Printing and Distribution Services (Waterloo and Brantford). "The team has been determined to get faculty, staff and students what they need during this difficult time." 
Wearing masks and gloves, Distribution Services' staff worked in small teams on rotating shifts to sort mail and parcels and notify recipients of their deliveries and how to safely obtain them. Pick-up locations were established at the receiving dock at 202 Regina Street on the Waterloo campus and at the Research and Academic Centre East on the Brantford campus, complete with gloves and hand sanitizer. Recipients could book private pick-up times to limit contact with other people.
Even with pick-up procedures in place, mail and deliveries quickly piled up. Distribution Services worked with residence staff to let students know that their items would be rerouted to their homes, and campus drop-off arrangements were made to get packages into the hands of waiting faculty and staff.
This fall, Distribution Services will continue to receive mail for students living in residence and contact them with pick-up procedures. Velanoff says the team is also exploring a contactless locker system that would allow residence students to pick up mail and parcels in the lockers through a smartphone app. Faculty and staff who are returning to campus this fall will have the option to pick-up their mail or have it delivered.
"We've worked hard to ensure that everyone knows how our processes work so that they can get what they need in safe and timely ways," says Velanoff. "I couldn't be prouder of this team."
Keeping Campuses Operational: Facilities Operations
Even a pandemic can't completely shut down Laurier's campuses. As a plant certified by the Technical Standards and Safety Authority (TSSA), Laurier buildings and their operating infrastructure, such as electrical, heating, ventilation and air conditioning, require coverage and maintenance.
Outfitted with personal protective equipment, Laurier's operating engineers have remained on-site since mid-March, making extra rounds to ensure campuses continued to hum along. Once Laurier's campuses had been cleaned and sanitized, Facilities Operations' 35 trades staff returned with additional safety measures in place, including staggered start times and physical distancing policies.
"Our team is happy to be back on Laurier's campuses," says David Siegers, manager of Facilities Operations. "It brings back some normalcy, but we certainly miss having faculty, staff and students on campus. They are our extra eyes and ears and are great about reporting issues when they arise."
The absence of extra bodies on campus has had its upsides though. Facilities Operations staff have been able to move easily through campus spaces to install plexiglass dividers, desktop protectors, safety signage and distancing markers. Staff are also installing hand-sanitizing station across Laurier's campuses with sanitizer locally produced by a moonshine distillery in Elmira, Ont.
"Everyone is pulling in the same direction so that we can help get things back to normal," says Sieber.
Sieber's team has kept sustainability in mind amid the pandemic. Plexiglass dividers have been installed in larger sizes so that they can be cut and reused in the future, and distancing markers are made from recyclable vinyl.
Staying Grounded: Grounds Services
Like their colleagues in Facilities Operations, Laurier's Grounds Services team have missed the energy that faculty, staff and students bring to campus, but are making progress on other projects in their absence.
"Without being able to support event set up and take down, the team has made progress on campus beautification projects," says James Emary, area manager for Grounds Services. "The team has been great and continues to get the jobs done."
One of the largest projects Emary's team has supported is the enhanced gateway to Laurier's Waterloo campus at the corner of University Avenue West and Albert Street. A wide concrete pathway has been poured, inset with a red maple leaf, at the corner of campus and grounds staff have been busy preparing and planting the surrounding flower beds.
Grounds staff have also pitched in to help campus partners, moving fitness equipment in the Athletic Complex and setting up additional dining space in the Senate and Board Chamber to allow for proper physical distancing.