Posted: March 19, 2020
Updated: March 30, 2020
In our local communities and around the world, the coronavirus crisis has led to stories of people lifting each other up and helping those in need amid trying circumstances.
Laurier's thriving community is doing its part and staying positive. Here, we share stories of sharing, helping and kindness submitted by members of university community.
If you have a story to share, email cpam@wlu.ca or tag Laurier in your social media posts.
Help for frontline healthcare workers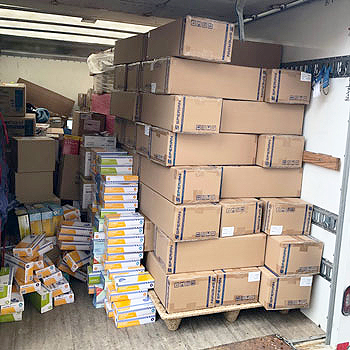 In response to a pressing need for personal protective equipment for healthcare workers during the COVID-19 pandemic, Wilfrid Laurier University has collected thousands of items from across the institution to be donated to Grand River Hospital and the Brant Community Healthcare System.
In total, the university is donating almost 12,000 N95 protective masks, 38,500 disposable gloves and 200 isolation gowns, along with surgical masks, plastic visors, goggles and hand sanitizer. The supplies were donated by Laurier's Student Wellness Centres, the department of Safety, Health, Environment and Risk Management and labs within the Faculty of Science.
Read more about Laurier's donations.
Students raise funds for food bank
Student members of an Enactus Laurier incubation team called Food Fight are working to address food security challenges in Waterloo Region during the COVID-19 pandemic.
The team – normally focused on reducing food waste – has organized a Go Fund Me campaign to raise funds for the Food Bank of Waterloo Region.
"The COVID-19 situation has had several adverse effects on many people in our community, with individuals losing their jobs or having to shut down their businesses," says the team. "This has led to increased strain on food services and availability in Waterloo Region. As a team, we believe that everyone should have access to safe and healthy food, especially in this time of need."
Visit the team's Go Fund Me page to make a donation.
An App to Help Flatten the Curve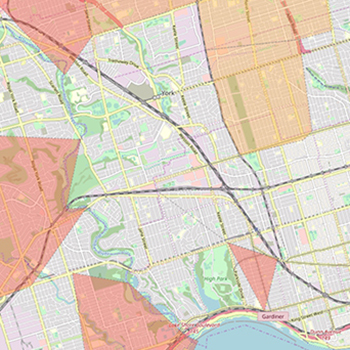 Two Laurier students – Surya Krishnan and Miraal Kabir – are working as part of a team of volunteers leveraging big data in the fight against COVID-19.

The team has created Flatten, an app that utilizes self-reporting information from citizens to understand the spread of COVID-19. The app launched on March 23 and so far has more than 9,200 responses.

"It is important to understand that this platform adds real benefit to this country," says Krishnan, who serves as a team lead on the Flatten project. "When as many citizens as possible fill in this anonymous form, we can accurately inform healthcare systems of the true spread."

The Flatten app allows individuals to self-report symptoms, helping accelerate tracking of COVID-19; view an infection "heat map" of residential areas where there is higher densities of individuals who have tested positive for COVID-19; and identify regions that have a high density of immunosuppressed and elderly citizens.

The Flatten team includes engineering, computer science, business and molecular genetics students from the University of Toronto, University of Waterloo, University of New Brunswick, McMaster University and Wilfrid Laurier University.

Krishnan and Kabir are both Business Administration and Computer Science double degree students at Laurier.

To learn more, visit flatten.ca.
Tulips to brighten the day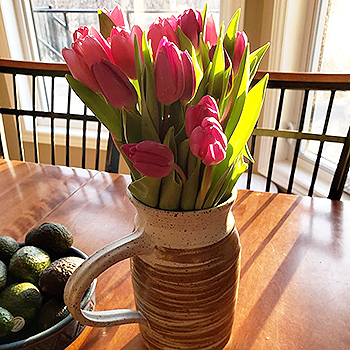 Laura MacGregor, an adjunct faculty member at Martin Luther University College, expressed gratitude for the kind gestures of her colleagues.
"The last two weeks since the university closed have been particularly difficult. In addition to dealing with the stress of COVID, self-isolation and moving my course to an online learning format, I have been caring for my medically fragile young adult son. On March 15, he was sent to hospital by ambulance with non-COVID pneumonia and has been on a ventilator in the ICU ever since.
"Luther has been nothing short of amazing as I try to juggle managing my teaching responsibilities with the challenge of caring for a very ill child in St. Mary's hospital during a pandemic. The faculty have offered virtual assistance and support at every turn and I am enormously grateful. Two days ago, I discovered a bunch of tulips on my front porch. They had been left there by a Luther friend, mentor and colleague. I cannot find the words to adequately express my gratitude."
Offering procurement solutions
A Waterloo Region-based software company and Laurier co-op employer is making it easier for organizations to source supplies needed during the COVID-19 outbreak.

Bonfire – which specializes in helping governments and public-sector agencies make quicker and improved procurement decisions – has made its procurement tool "Bonfire Strategic Sourcing" free until July 4.

The tool digitizes the procurement process, connecting organizations and suppliers while reducing the need for in-person meetings.

"To the extent that this can help people and procurement teams – government procurement teams, specifically – we thought, why wouldn't we just offer this for free?" Bonfire's CEO Corry Flatt tells Communitech News.

Read the Communitech News story.
Manufacturing Assistance During the
COVID-19 Crisis
Guelph auto parts maker Linamar, led by Laurier honorary degree recipient Linda Hasenfratz, is examining the possibility of shifting to manufacturing ventilators in an effort to help during the COVID-19 outbreak.

"We are hopeful that we can play a role in helping to deal with the consequences of this global pandemic," Hasenfratz told the Guelph Mercury Tribune.

Read the Guelph Mercury Tribune story.
Improving the Environment
A community-minded Laurier employee in the Faculty of Graduate and Postdoctoral Studies shared a constructive social-distancing activity she has been undertaking: cleaning up the neighbourhood.

"I've recently been taking walks around my neighbourhood and on a number of occasions noticed garbage close to and near the river and ravine where I live. On the weekend, the weather was good (ground dry, no snow, sunny day). I decided to take advantage and brought a couple of black garbage bags with me to do my part to help the environment, get some physical exercise and practice 'social distancing.' Not many people pick up garbage, so there wasn't an issue with being overcrowded!"

The effort yielded two large bags of garbage, as well as discarded items of clothing, a coffee table, an artificial Christmas tree and even an almost-new bicycle.
A Drawing to Brighten the Day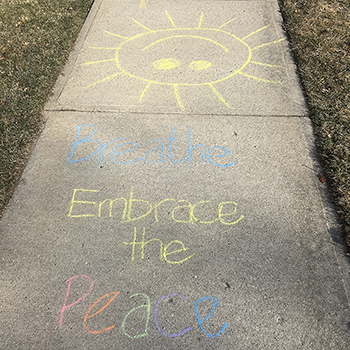 Christine Haywood, health and safety administrator with SHERM, shared a photo of a chalk drawing she noticed while out for a walk on Sunday, March 22.
"My husband, myself and our family pet Docket were greeted by some awesome positive vibes," says Haywood.
Spreading Gratitude
Despite the current challenges, there are many things to be grateful for: it's a message that Laurier's mental health advisory team wants to share with the Golden Hawk community. From March 23 to 26, students, faculty, staff and alumni are invited to share what they are grateful for during Gratitude Week. The annual campaign, which normally sees members of the Laurier community posting brightly coloured sticky notes bearing messages of gratitude around our campuses, has been adapted to an online format.
"People are feeling a lot of things so now, more than ever, expressing gratitude is important and beneficial for our well-being and the well-being of our community," says Nathan Reeve, wellness education coordinator at Laurier's Waterloo campus.
To express your gratitude, follow Laurier's Student Wellness Centres on Instagram or Facebook (Waterloo and Brantford) and reply to their story on Monday, March 23 or post a message to your personal accounts and tag Laurier Wellness.
Working to Help Healthcare Employees
A company led by Laurier alumnus Jeremy Hedges is working to help frontline workers during the COVID-19 crisis. Hedges is president of the Kitchener-based 3-D printing company InkSmith, which has shifted gears to produce face shields it hopes can be utilized by healthcare employees.
Meeting the Need for Hand Sanitizer
Laurier alumnus Neal McCarten serves as director of operations at The Dairy Distillery in Almonte, Ontario, which has shifted production from vodka to sanitizer during the COVID-19 pandemic. The company – which normally uses milk byproducts to produce a vodka called "Vodkow" – began considering how it could help after being contacted by local groups in need of sanitizer.
Sharing Ideas for Easy Meals
Thoughtful student staff members in the Brantford campus Dean of Students Office are working to support those who may be facing food barriers and food insecurity.
Staff and faculty are being asked to submit an easy recipe with minimal ingredients (or a link to an easy online recipe) to lbstudentsupport@wlu.ca. Include your name, job title and even a picture of the completed meal if one is available.
Starting Monday, March 23, recipes will be posted daily to the Brantford campus Dean of Student Instagram and Facebook pages.
"We hope that this initiative will virtually connect students with faculty and staff, while also providing some practical meal prep ideas that involve minimal ingredients. We are also providing local food bank information and daily activity ideas for getting moving!"
A Wonderful Way to Start the Day
Sarah Syrett, a Bachelor of Social Work field education coordinator and interim Wellness Education coordinator, shared a story about Stephanie Dinsmore, an accommodation consultant at Laurier who is running a daily morning yoga class on Microsoft Teams.
"Earlier this week, I received an email and calendar invitation for a staff-led mindfulness yoga stretch happening every workday from 8:45 to 9 a.m. Stephanie Dinsmore is the organizer and she kicked it off yesterday with an open invitation to all staff and faculty. Stephanie holds a lot of expertise in the areas of mental health and physical wellness, so it is wonderful to see her using her gifts to make such a positive impact on our Laurier team.
"This 15-minute practice has already proven to be a wonderful way to start the remote workday in terms of preparing my brain and body, but also for the social connection piece. It has been nice to start the day with people, even if only by video!"
Being a Helpful Neighbour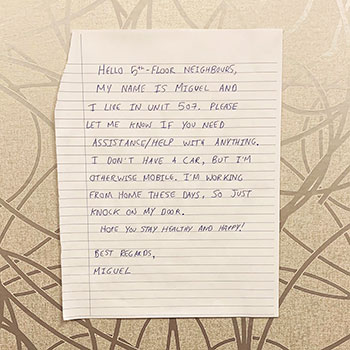 Instructor and PhD candidate Shiva Mohan shared a story about Assistant Professor Miguel Sioui, who posted notes around his apartment building offering assistance to neighbours.
"Dr. Miguel Sioui, my friend and colleague from the Department of Geography and Environmental Studies, posted these notes in his apartment complex. It's clear his attentiveness and kindness reaches beyond the walls of Laurier's classrooms. Small acts like this send reverberations of love, kindness, compassion and, most of all, hope! It is my sincere wish that highlighting this act inspires others."
Appreciation for those keeping Laurier's campus communities safe
Tammy Lee, director of Laurier's Special Constable Service, shared her gratitude and appreciation for Laurier's platoon of special constables who, as first responders, continue to keep the university's campus communities safe during these uncertain times.
"This is a stressful time for everyone around the world, but as first responders, there is not an option to step down when crises arise," said Lee in a March 19 email to her team. "Instead, we are called to lead, remain at our posts, and do our jobs to the best of our abilities. Thank you for your leadership and your continued commitment to our Laurier community."
Grateful Notes from Social Media
Thusany Puvanendran expressed thanks to Laurier's Global Engagement and Exchange team on Twitter.
Also on Twitter, Joel Robinson, educational technologies administrator at Laurier, expressed gratitude to the Laurier team.