An innovative twist on traditional borrowing procedures has allowed the Wilfrid Laurier University Library to restore access to some of its print and physical collections.
Books to Go is a contact-free delivery service available to faculty, staff and students at Laurier's Brantford and Waterloo campuses and Kitchener location. The service makes scheduled deliveries twice per week to the parking lots outside the Dr. Alvin Woods Building at Laurier's Waterloo campus and the Lyle S. Hallman Faculty of Social Work building in Kitchener. Access to collections for the Brantford campus community is provided in partnership with Brantford Public Library. Deliveries to the Brantford Public Library are also made twice per week.
Books to Go made its first delivery of more than 40 items to Laurier's Waterloo campus on July 23. The service had been in development since early May, when the library began receiving increased requests for print materials and other resources. Items delivered through Books to Go include all regularly circulating books, CDs and DVDs, educational kits and select government publications.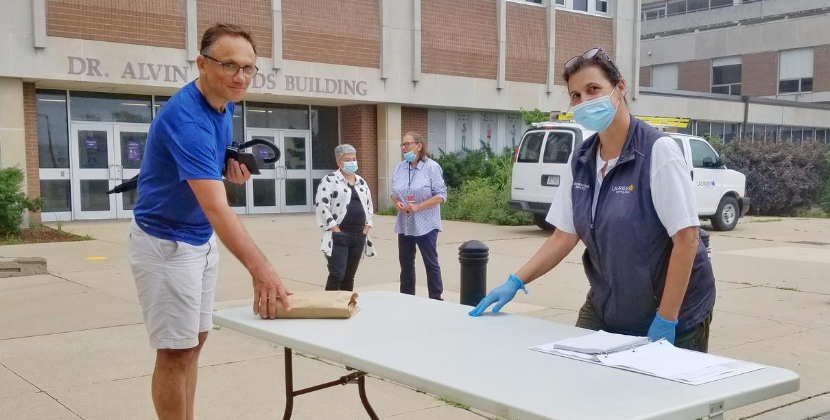 "Teaching and learning at Laurier didn't stop because of COVID-19 and our users needed access to more than digital resources," says University Librarian Gohar Ashoughian. "We had to get creative with our approach to ensure equitable, multi-campus access to our print collections in a safe environment for our community and staff, and the concept of a good old 'bookmobile' came to mind. As such, the Laurier Library is the only post-secondary library in Canada to provide multi-campus curbside access to collections using a 'bookmobile.'
Bringing a creative idea to life during the pandemic meant getting creative with available resources. The library acquired a delivery van from Laurier's Distribution Services team, which cannot use the vehicle for regular services during COVID-19. The van's cargo area was retrofitted to hold several book bins that can be easily loaded and unloaded at delivery sites by driver Eveline Escoto.
Providing safe, contact-free library services has been the driving force behind the Books to Go service. At delivery locations, users must follow on-site safety instructions and pick up their items from a folding table set up near the Books to Go van. Items are individually wrapped in packing paper by library staff, who wear gloves and face masks when preparing the deliveries. Escoto, who sets up the table, is also outfitted with gloves and a face mask and maintains a safe distance from users. The delivery van, table and bins are sanitized daily. Any items returned to the delivery van are placed in designated bins, where they remain for 72 hours before library staff return them to the stacks.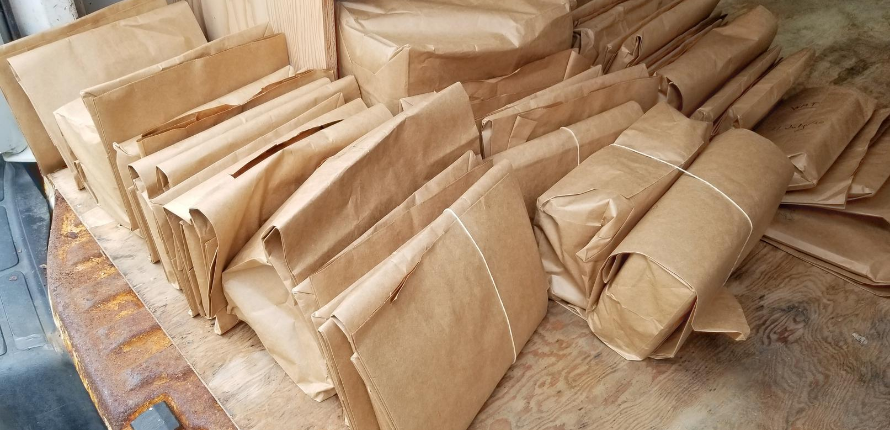 "The library is thrilled to be able to resume borrowing service at Laurier's campuses in a safe way," says Associate University Librarian Scott Gilles, who led the implementation of the service. "Early feedback from library users is positive and we are excited to see the service grow."
During its first week of operation, the Books to Go service saw a continuous uptick in demand. Ashoughian expects demand to rise as the fall term approaches and says the library will monitor requests and adapt the Books to Go delivery schedule as needed.
"Launching Books to Go is the result of incredible campus partnerships and collaboration at Laurier," says Ashoughian. "I extend my thanks to our project partners and Laurier Library staff for the hard work that made this project a reality."
For more information about the Books to Go service, visit the FAQ page on the Laurier Library website.