As Blue Monday and Bell Let's Talk Day bring attention to the importance of mental health, Wilfrid Laurier University student Sarah Hwozdyk is helping her peers combat loneliness and isolation with a timeless antidote: face-to-face social connection.  
Hwozdyk, a fourth-year Economics student, has partnered with not-for-profit organization the GenWell Project to launch a "human connection movement." In September 2019, she and her team of four fellow Golden Hawks launched GenWell Project Laurier, the organization's first university affiliation. 
The GenWell Project was founded in 2016 by Pete Bombaci, a Toronto-based marketing professional. He was inspired by his experience during a 2003 summertime blackout in Ontario, when a lack of electricity drew people out of their homes and into spontaneous gatherings with friends and neighbours. Bombaci was reminded of the restorative power of social connection and is now dedicated to helping Canadians build stronger and healthier communities.
GenWell's vision resonated deeply with Hwozdyk, who found herself feeling unmoored last fall when she returned to Laurier after a semester abroad in France.
"On my exchange, I got used to going out every night and regularly meeting new people," says Hwozdyk. "It was really difficult to come back to Canada, where we live to work and have built ourselves into isolated boxes. We just don't value socializing as a necessity. Meanwhile, it's the reason we are here and alive."
A mutual friend connected Hwozdyk with Bombaci, who had been hoping to bring GenWell to university campuses for some time. While most clubs are interest-based, Hwozdyk saw GenWell as a perfect opportunity to form a club that was open to any and all Laurier students.
Together with a few friends, Hwozdyk started setting up booths on campus to promote GenWell Project Laurier. While the initial response was slow, momentum has been building. The group's latest event – a cookie decorating gathering in November – drew 50 people.
"We are finding that simple, hands-on activities work best for our events," says Hwozdyk, whose team is planning a painting station for its next booth in the Waterloo campus Concourse. "Using your hands helps ease social anxiety and we're here to help facilitate conversation."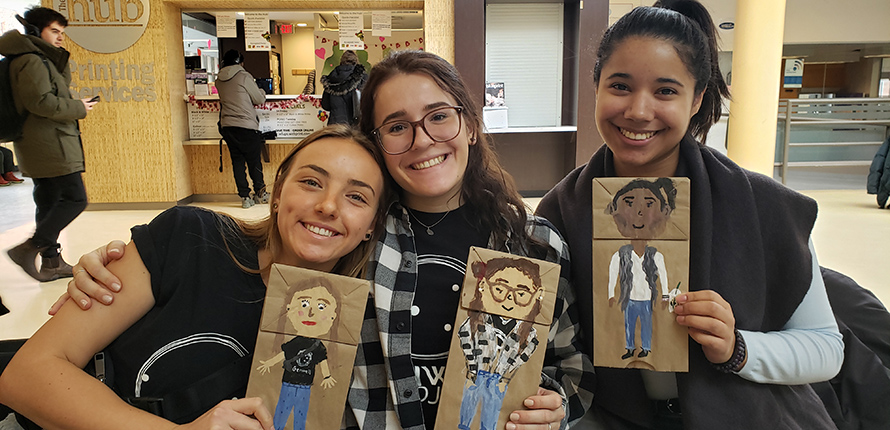 Hwozdyk is excited about the growing interest in GenWell, which confirms she is not alone in seeking a deeper sense of community on campus.
"I'm starting to understand my own mental health and why I've been so unhappy at times," she says. "I always thought these issues didn't affect anyone else, but that is incredibly false."
Hwozdyk cited a survey of Canadian universities that found nearly 70 per cent of students felt lonely throughout the school year.
"With technology, it's so easy not to participate in real life," she says. "People don't know that they're isolating themselves; they just know they're unhappy. We all want to meet new people and this is an easy way to do that."
Currently in her final semester at Laurier, Hwozdyk is focused on spreading the word about GenWell and engaging younger students to take over the club. Her team is hosting a Crafts and Candy event on Feb. 27, and Hwozdyk encourages anyone who needs a winter pick-me-up to put down their phone for a while and meet someone new.
"Come out and see for yourself," says Hwozdyk. "You don't need to bring friends – that's why we're here. We'd love to meet you."