When was the last time you read the terms and conditions when signing up for a social media platform? Have you been affected by a data breach? Are you worried about security when using smart home devices?
The answers to these and other questions about digital privacy are being examined as part of a research project conducted by associate professors Kenneth Werbin and Judith Nicholson from Wilfrid Laurier University and Mark Lipton of the University of Guelph. The researchers are studying the relationship between young adults and digital privacy.
Technology has fused with our daily lives, from social media platforms and subscription services to smart home devices. Each device and service captures data about how we go about our lives, what we like and don't like, our political preferences and other personal data.
By using a smartphone, a website, an app or a social media platform, individuals consent to give up data in return for the benefit of the technology they are using. And, generally, people are consenting to the terms of use of these services without reading and understanding the transaction taking place.
In his class, Critical Approaches to Digital and Social Media, Werbin encourages students to share stories about their privacy being infringed or breached. He found that peer-to-peer storytelling helped students become more engaged with the topic.
"What I noticed in the classroom is that when students told each other stories about privacy being infringed, all of a sudden, their peers valued privacy a lot more," says Werbin. "We started talking about how we can gather up these kinds of stories to develop pedagogical materials to get young adults engaged with the topic of privacy and to get them to think critically about privacy."
That's how the Privacy Booth came to be. The red and yellow box, about the size of a phone booth, sat in the Davis Fuels Walkway in the Research and Academic Centre on Laurier's Brantford campus for several weeks. It now moves to the Waterloo campus Concourse, where it will be available for students and faculty to record their thoughts about digital privacy. Inside, a small bench and a video screen with a big green button greets visitors. Written on the walls of the booth are the terms of use, a reflection of digital terms and conditions that are usually passed over and agreed to without a second thought.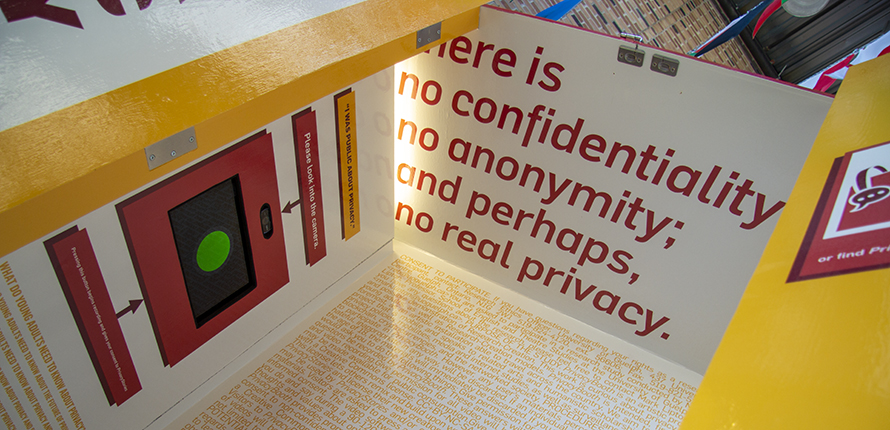 Collecting Privacy Stories
The Privacy Booth is a symbol and a tool to help students learn more about privacy and why it matters. Werbin, Nicholson and Lipton developed the Privacy Booth, which is part of a multi-university project called Opening the Door on Digital Privacy: Practices, Policies and Pedagogies. The project is funded by the Social Sciences and Humanities Research Council of Canada.
Privacy Booth is an example of residual media that students in Nicholson's fourth-year seminar, Postcard Mobilities, are discussing this term. Among the questions being considered is how postcards and privacy booths mediate forms of public intimacy.
"We hope the Privacy Booth encourages students to think about the opaqueness of digital privacy alongside the relative transparency of physical privacy in public spaces," says Nicholson. "How does our Privacy Booth resemble other privacy booths, such as dressing rooms in shopping malls, toilet stalls in public bathrooms, or photo booths, phone booths and voting booths? Material booths with physical walls and a door or curtain have long mediated how different cultures set, maintain and understand the boundaries of privacy in public spaces."
Once in the Privacy Booth, participants can close the door and record their thoughts about privacy, security and data. The thoughts of individuals will be collected and used as part of teaching materials in future classes.
Werbin says the booth is meant to be a physical representation of a smartphone, a device in the pocket of nearly every Canadian.
"When you use your phone, you agree to all sorts of terms and conditions," says Werbin. "It feels very private, but there is always the potential for your data to be made public. When you walk into the Privacy Booth, it's the same thing. The terms and conditions are in the booth – explaining what it is that you're granting by going in and hitting record – and people aren't reading it."
The collected videos will be used in the classroom to spark discussions about the collection and security of personal data and the right to privacy. Werbin says the booth also allows individuals to think about what it means to share thoughts publicly.
"In every day social media practice, people are sharing their thoughts publicly and they're not thinking about it," says Werbin. "By engaging with the privacy booth, people are thinking about it."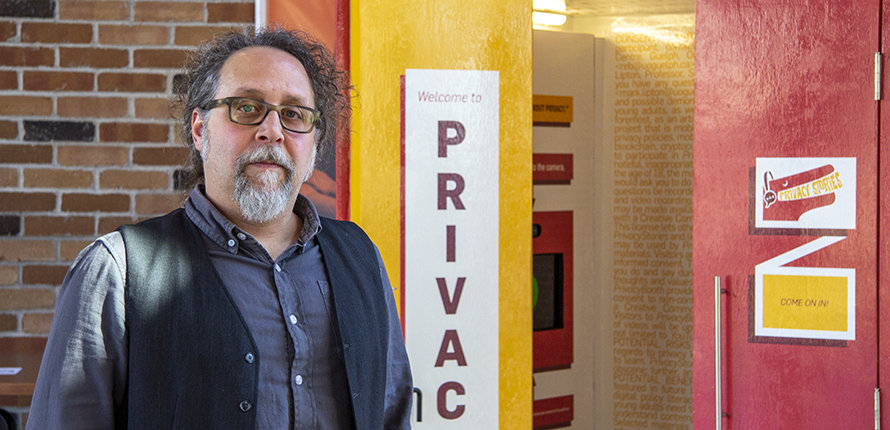 Why Does Privacy Matter?
"Years ago, when I would talk to my students about privacy they would say, 'I have nothing to hide; therefore, there's no problem. I don't care if my data is being shared,'" says Werbin.
But Werbin says the "I have nothing to hide" argument does not consider ever-changing social norms and laws.
"Just because what you're doing today is legal and acceptable does not mean it will be tomorrow," says Werbin. "Once something is out there online, it cannot be taken back. Increasingly, people are caring about this more and more and we see that in the popular press."
Nicholson says the Privacy Booth is an example of "media turned inside out."
"It invites students to step into a mobile smart device and terms of agreement that they are more accustomed to holding in their hands," says Nicholson. "How does it feel to be enveloped in overlapping forms of digital and material privacy? How can these juxtapositions help us to think about how privacy bumps up against and leaks out into public realms in our digital era?"
The Privacy Booth was launched in the Concourse of the Waterloo campus on Feb. 3 and will remain there until March.