April 24, 2020 marks a year since the passing of our beloved friend and colleague, Leanne Holland Brown, the former dean of students on the Waterloo campus.
As the tree planted in her honour last fall grows in the spring sunshine, the Laurier community reflects on the year since her passing and the far-reaching impacts of her legacy.
Leanne's warmth, kindness, intelligence and heartfelt leadership live on at Laurier. Our memories of her inspire our actions every day and her work continues to change lives. 
Here are some reflections from Laurier leaders who worked closely with Leanne. 
Melanie Will, director of talent and organizational development 
"When I think of my friend Leanne and what her legacy has left behind, it's a whole lot of kindness and compassion. There have been too many times to count this past year when people have referenced changing their actions to be more 'Leanne-like,' which means leading with the heart, showing kindness and empathy, and putting more love out into the world. Although Leanne is no longer with us, her passing has definitely strengthened the Laurier community and created stronger connections."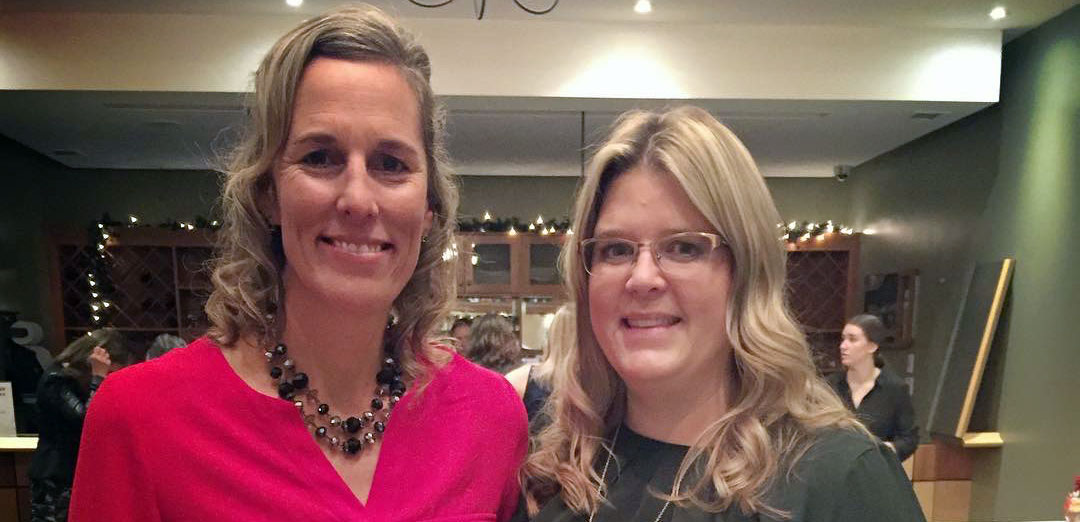 Leanne Holland Brown and Melanie Will
David McMurray,
vice-president of student affairs 
"We are so looking forward to the signs of spring when Leanne's tree will bloom for the first time — another milestone moment to remember her kindness and the impact she has had on us all. The occasion of planting a tree in Leanne's honour was a very special moment for her husband, Ken, and her children, Holden and Drew. They came prepared and were very determined to do the heavy work. They took the extra time to make sure the setting was just so, reflected deeply and left with good feelings of a job well done."
Dan Dawson, assistant vice-president of student and ancillary services 
"I think of Leanne virtually every day. She represents a barometer check on decision-making at Laurier, whether that be fairness for students, access to services or simply genuine compassion and care — in a word, kindness. She was an amazing leader and had a gift for expressing her thoughts and feelings in a unique and genuine fashion. As has been stated many times in the past 12 months, she made everyone feel special, including her closest friends and colleagues. She treasured friendship and family and those are attributes that we all share!"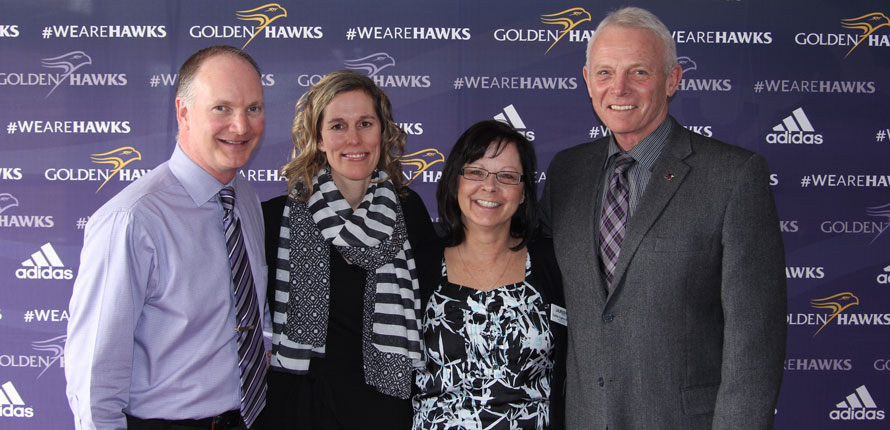 Dan Dawson, Leanne Holland Brown, Cathie Hughes Meyer and David McMurray 
Adam Lawrence,
dean of students on the Brantford campus
"So much of Leanne's leadership and legacy continue to shape both my approach to supporting others and the overall student experience at Laurier. There is not a day that goes by that I don't see or hear something that has been influenced by Leanne – a policy she helped write, a program she helped develop or a student who stops me on campus to share a story they remember about Leanne. It all reinforces the difference that one person can make in the lives of so many.
"When I think about Leanne, I am continually reminded to provide 'wrap-around support and care' to those in our community who need it the most, and this is what really defined who Leanne was and how she continues to be remembered. Leanne made care and compassion the foundation of everything she did. Laurier is a better place because of her.
"We continue to work with Leanne's family to develop a framework for a bursary or fund that focuses on student wellness and increasing students' access to those services. This involves working with students, staff and faculty to find innovative ways for students to access mental health supports at Laurier."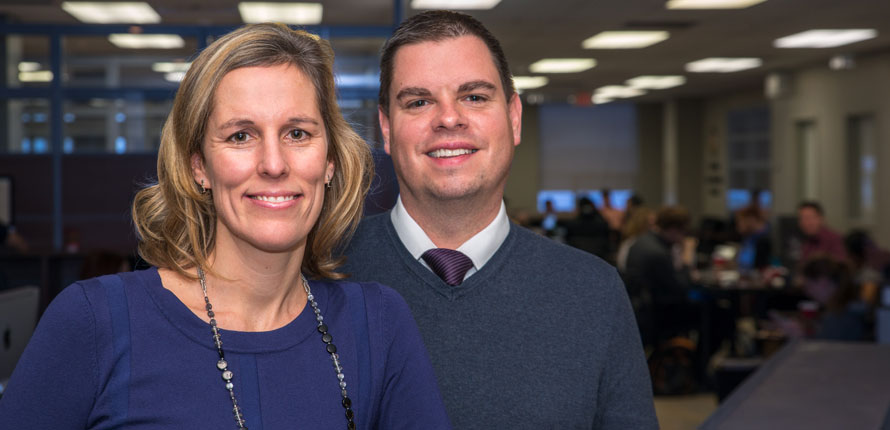 Leanne Holland Brown and Adam Lawrence
Kate McCrae Bristol, dean of students on the Waterloo campus
"In my short time working at Laurier, I continue to meet with and hear from students who worked closely with Leanne. They all mention the strong connection, support and motivation that Leanne gave them. She had a truly unique ability to make people feel heard and buoyed during times of uncertainly, worry and crisis. There is no question her legacy is strong at Laurier. Most fitting, to me, is the recently established #staygolden campaign, because it is so her." 
Phil Champagne, executive director and chief operating officer of the Students' Union
"Moving through the pain of this loss has easily been one of the most challenging things I have ever taken on. I have found that throwing myself into preserving her legacy with not just students, but the community as a whole, was the best way to heal myself and those around Laurier. Helping people in that time of need became so important.
"One of the ways I was able to help was to commit her Orientation Welcome to video, as read by her friends, colleagues and the folks she considered family. This effort would not have been possible without the leadership of Zemar Hakim and David Levy. It was shown at her memorial in the fall of 2019 and captured the impact and love she had for this institution and those that make up the Laurier community. I am so thankful to everyone who was involved in making that happen.
"I think of Leanne often. The example she set in maintaining positivity and looking for learning opportunities in difficult situations has been the guiding light in so many of the obstacles that have presented themselves since. The intimate moments where she let her guard down let you know she was a real person and that it was possible to be authentic in all facets of one's life.
"I miss her still but knowing the impact she still has on the community is what helps us know we are not alone."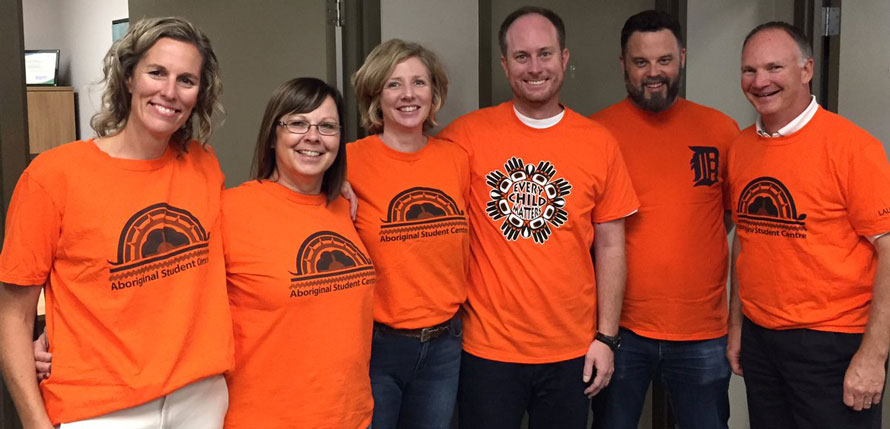 Leanne Holland Brown, Cathie Hughes Meyer, Allison Dietz, Dwayne Taylor, Phil Champagne and Dan Dawson
Ellen Menage, executive director of the Graduate Students' Association
"Losing Leanne has forever changed my approach to leadership. I am inspired daily to prioritize a compassionate approach to helping our graduate students navigate the challenges they face. In difficult moments, I can hear her saying, 'Hi friend, try again. Think of new ways to help. Lead with your heart.' 
'Her absence is like the sky, spread over everything.' - C.S. Lewis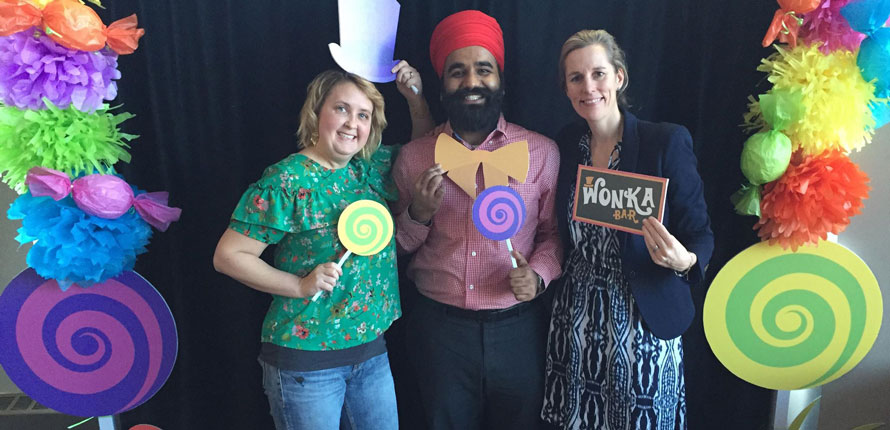 Ellen Menage, Kanwar Brar (former Students' Union president) and Leanne Holland Brown
Deborah MacLatchy, president and vice-chancellor
"As Laurier works its way through probably the most disruptive period in its history due to COVID-19, Leanne's memory provides a touchstone for how we respond as a university. Treating others with kindness and respect is what Leanne always did — and it is the least we can do for each other now. It is a phenomenal legacy."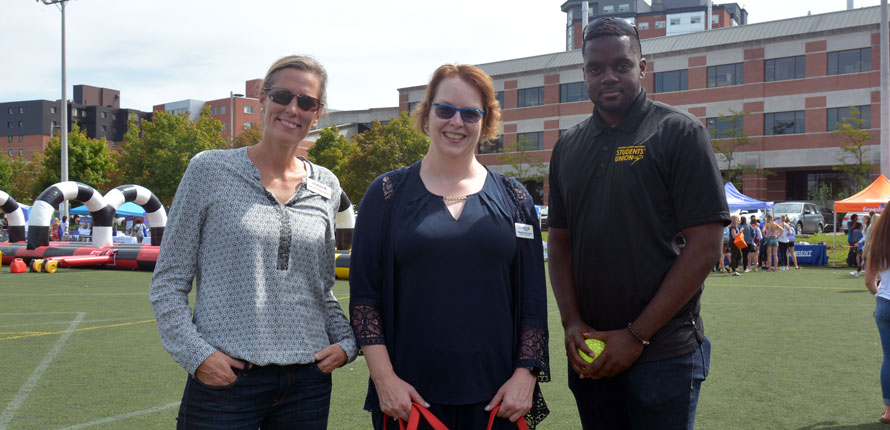 Leanne Holland Brown, Deborah MacLatchy and Tarique Plummer (former Students' Union president)