Wilfrid Laurier University has a new champion in Ottawa. Not an athlete, not a knight – this champion is Shawn Tupper, the associate deputy minister of Natural Resources Canada (NRCan).
The Deputy Minister Champion program of the federal government promotes close relationships between universities and deputy ministers to identify shared priorities, collaborate on research and introduce students to public service careers. Tupper and Drew Leyburne, director-general of the Strategic Policy Branch at NRCan, visited Laurier as part of the program on Sept. 3 and 4, 2019.
"The Champion program is a real opportunity for our students, faculty and staff to engage with various federal departments and learn, for example, how we take the research we're doing and inform federal policy," says Deborah MacLatchy, Laurier's president and vice-chancellor.
Laurier had an excellent experience with its previous university champion, Laurier alumnus Peter Boehm (BA '77), who was recently named a senator after retiring from the public service, and hopes to cultivate just as positive a relationship with its new champion, says MacLatchy.
Tupper and Leyburne's visit included a meeting with MacLatchy and Jonathan Newman, Laurier's vice-president: research. Much of the discussion during the visit focused on concrete ways to work together.
"We're already talking about potential partnerships in research as well as federal public service recruitment opportunities for students," says MacLatchy.
"We run a series of programs where there are opportunities for researchers," says Tupper. "For example, we've been working with some other federal departments in launching challenges with competitive prizes. We're looking to facilitate work that has a public benefit."
Professor Kelly Munkittrick, Laurier's executive director of cold regions and water initiatives, joined MacLatchy, who maintains an active fish and toxicology research program, in giving Tupper and Leyburne a tour of the Centre for Cold Regions and Water Science.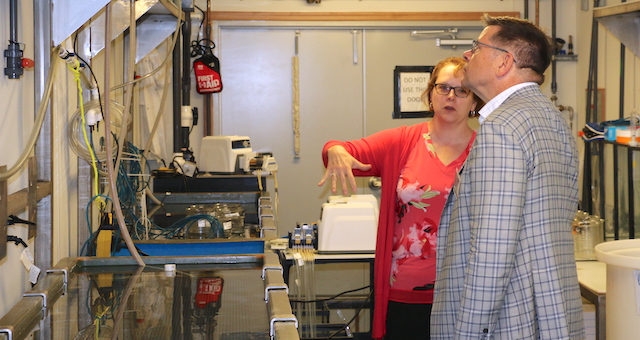 "The visit was to give them an introduction to various activities and strengths at Laurier so they'll be in a better position to know where they can help provide access to the government," says Munkittrick. "We hope this and future visits will lead to a dialogue that enables Laurier to make better use of these linkages to give opportunities to our students and faculty."
Deputy ministers are career public servants, not political appointees, so they can provide linkages to government and help identify priorities no matter what party is in power, says Munkittrick. 
The senior public servants' visit to Laurier's Waterloo campus included a lunch with student leaders representing various discipline-related clubs and programs. The students talked about their work and Tupper and Leyburne talked about life in the public service. In particular, they noted that NRCan has just launched its annual Policy Analyst Recruitment and Development Program for graduate students nearing the end of their studies. The application deadline is Oct. 17, 2019.
Another participant in portions of the visit was student ambassador Vidish Parikh, a Laurier undergraduate student hired by the federal government to promote the federal public service on campus and increase federal recruitment at Laurier. All federal recruitment campaigns can be found at jobs.gc.ca.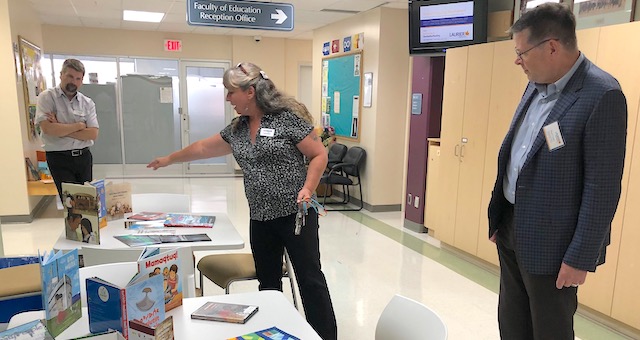 "I learned a lot about Natural Resources Canada," says Becky Mueller, a fourth-year Global Studies and Languages student who is president of International Students Overcoming War (ISOW). "It was a great chance to think about life beyond Laurier and also talk a bit about ISOW."
"It was definitely a great opportunity to learn about potential partnerships and opportunities in the future," says David Townshend, a fourth-year business student and co-president of Enactus Laurier. "I don't really know anyone who's worked for the government so it's neat to hear what they do. It aligns well with some of what we do on campus."
Tupper and Leyburne met with student entrepreneurs at the Schlegel Centre for Entrepreneurship and Social Innovation, including representatives of Guard-Ex and Earth Suds, promising startups that have social goals as well as business objectives. Separately, they also met with a group of local alumni.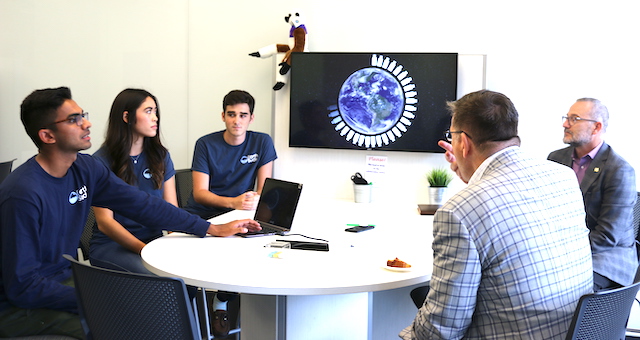 The government officials toured the campus, met representatives from a variety of Laurier offices and had ample time to talk to Laurier researchers from a range of faculties and departments. The researchers included Scott Smith and Jim McGeer, who maintain an ongoing collaboration with the CanmetMining group at NRCan.
"Jim and I have worked with the government for about 16 years. We're examining the role of organic matter in mitigating metal toxicity," says Smith, a chemistry professor who has received funding through NRCan as well as other federal sources such as the Natural Sciences and Engineering Research Council of Canada. "We have very good connections and hope to continue those."
Smith and McGeer have also worked with NRCan on a project related to the geochemistry and toxicity of rare earth elements critical to technology. The government department has supported Laurier graduate students through its Research Affiliate Program. Recent master's graduate Sunny Choi had an NRCan research scientist as a co-supervisor, says McGeer, a biology professor.
Tupper plans to maintain an ongoing connection with the university through both personal visits and others involving senior leaders from NRCan.
"It's been a wonderful visit. It's a beautiful campus," says Tupper. "There are some obvious linkages between us and some of the programs here, particularly in terms of the science research areas that are strengths for Laurier. I'm happy to be here and I look forward to finding interesting paths to grow our relationship."