Hundreds of students, alumni, staff and faculty members gathered at the Turret in late October to remember and celebrate Leanne Holland Brown, the former dean of students at Wilfrid Laurier University's Waterloo campus.
Colleagues, friends and family members shared memories with those gathered and spoke about the lasting impact Holland Brown made, both personally and through her work at Laurier. Many recalled the kindness, empathy and understanding Holland Brown showed everyone she met.
"Today is about celebrating Leanne, the important work she did and the legacy she left at Laurier," said Holland Brown's husband, Ken Brown. "Only, for her, it wasn't work. She was passionate about helping students, helping them learn, grow, change and dream.
"She lived to create friendships and, if we look around this room and beyond these walls, I think we can safely say she was a master of it."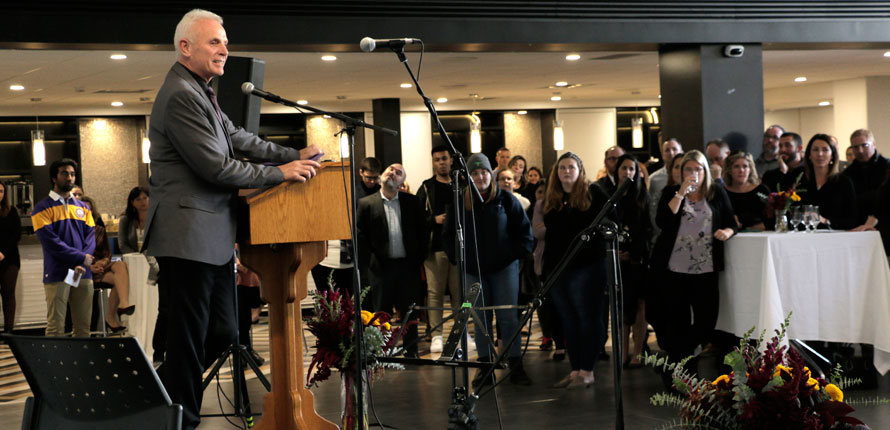 David McMurray, the vice-president of student affairs, led the tribute event. 
Holland Brown spent nearly 15 years at Laurier, the last nine as dean of students at the Waterloo campus. She passed away after being struck by a vehicle near the university in April. Holland Brown was 43 years old.
In her role at Laurier, Holland Brown worked closely with thousands of students, many who were struggling, and advocated on their behalf when they needed extra help. Students came to her with issues ranging from mental illness and academic struggles to financial problems. She also took the lead on institutional policy changes and the creation of programs designed to support students in need.
Holland Brown implemented SafeTalk and Mental Health First Aid workshops to help employees better support the mental health of others. She also helped create Laurier's early-alert program, designed to help faculty and staff identify students who are struggling academically, and the Care Report, which helps faculty, staff and students escalate concerns about a student's well-being.
Prior to her appointment as dean of students at the Waterloo campus in 2010, Holland Brown served as manager of Laurier's Student Leadership Centre from 2007 to 2010 and as a student life coordinator at Conestoga College from 2005 to 2007. She also worked in Laurier's Residence Life department from 2000 until 2003.
Kathy Bazinet, president of Laurier's Graduate Students' Association, said Holland Brown always made time for those around her, especially students in need. 
"Even in my first moments of meeting her, I felt an instant sense of being welcomed, a sense that I mattered, that I was being seen fully and completely and, even in those first few seconds, that our connection was already valued," Bazinet said. "I know this experience is not unique or reserved for me. This is the beauty of Leanne. She was like this with each and every person she connected with."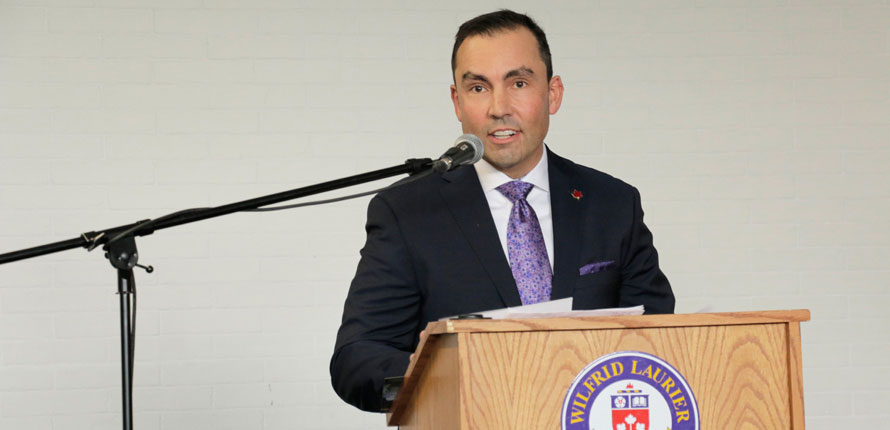 Leanne Holland Brown's husband, Ken Brown, speaks at the tribute event. 
Two funds designed to support students in need will be named in Holland Brown's memory. The existing Student Emergency Bursary Fund, which provides one-time support for students experiencing unforeseen financial crises, will be renamed in Holland Brown's honour. In addition, more than $26,000 that has been raised since her passing will go toward an endowment fund to provide ongoing support for mental health and wellness initiatives at the university.
An eastern redbud, Holland Brown's favourite tree, has also been planted between the Schlegel Centre and Dr. Alvin Woods Building in her honour. The tree, known for its pink blossoms and heart-shaped leaves, will be surrounded by a ring of benches during the coming months.
In addition to the sharing of memories, the October tribute ceremony included a moving video of Laurier colleagues reading Holland Brown's well-known Orientation-week address, as well as a musical performance by special guest singer-songwriter Steven Page. The event was emceed by David McMurray, vice-president of student affairs.
"Leanne embodied compassion, empathy and understanding, letting students know that she and Laurier care about them," said Laurier's President and Vice-Chancellor Deborah MacLatchy. "Leanne touched everyone with whom she came in contact and we were all better for having made that connection. She was a true leader and contributed greatly to our spirit and sense of community.
"This university will be poorer for no longer having her guidance and wisdom, but richer for the example she set for us all to aspire to."