Oct. 1 was no ordinary day for Charlotte Peng. It was a Tuesday, but instead of being in her Grade 12 class in the small town of Wolfville, Nova Scotia, she spent the day as president and vice-chancellor of Wilfrid Laurier University.
Peng was one of more than two dozen girls and women, aged 14 to 24, who stepped into leadership positions in companies and organizations across Canada ahead of International Day of the Girl as part of Plan International Canada's Girls Belong Here initiative.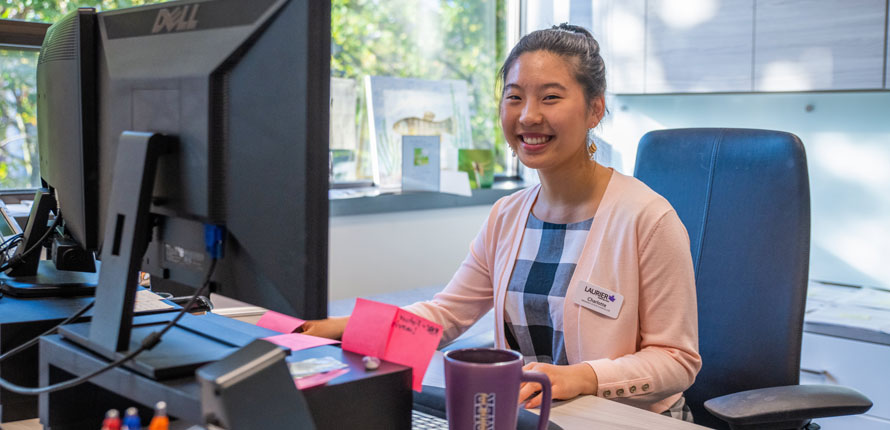 Charlotte Peng sits at President Deborah MacLatchy's desk.
Peng accompanied Laurier President and Vice-Chancellor Deborah MacLatchy to meetings with faculty members and politicians and took part in important discussions, learning about the daily life of a university president each step of the way.
"I was proud to welcome Charlotte to the position of president and vice-chancellor for the International Day of the Girl," says MacLatchy. "It is critically important for young women to see themselves reflected in senior leadership positions. Every person's leadership journey is a series of opportunities." 
Laurier was one of 31 participants in the Girls Belong Here initiative, which aims to change perceptions and break down barriers for women and girls. Loblaw Companies Ltd., the Royal Bank of Canada, ET Canada, the Hospital for Sick Children and the Canadian Ambassador to the United Nations also invited girls and women into their offices. Laurier was the only academic institution to participate.
The day was particularly inspiring for Peng because MacLatchy is also from Wolfville and attended the same high school Peng does today.
Peng became involved with Plan International Canada as a way of putting her passion for gender equality and youth engagement into action. In addition to the Girls Belong Here initiative, she has taken part in Plan's Speakers Bureau, a platform for youth across Canada to develop public speaking skills and learn about local and global issues related to gender, and Change the Birth Story, which raises awareness about sexual and reproductive health, maternal and infant health and gender equality. Peng is also involved in clubs at her school focused on youth engagement and equality, as well as her student council.
Peng's activities at Laurier were planned with her interests in mind. She is musical, playing percussion in her school's senior concert band, piano with her school choir, violin with the Acadia University orchestra and the organ at a number of local churches. She's also a top student, completing Grade 11 with the highest average in her class, 98 per cent, and winning the Lieutenant Governor of Nova Scotia's Education Medal. In the future, Peng hopes to work in the medical field.
During her visit, Peng played the Casavant Freres pipe organ in Martin Luther University College's Keffer Memorial Chapel.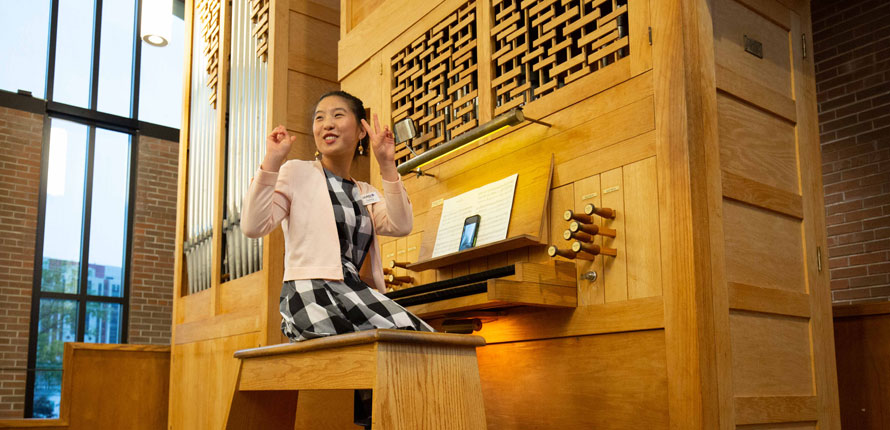 She also took a singing lesson from Faculty of Music Professor and Associate Dean Kimberly Barber, alongside third-year student Sarah Stapleton.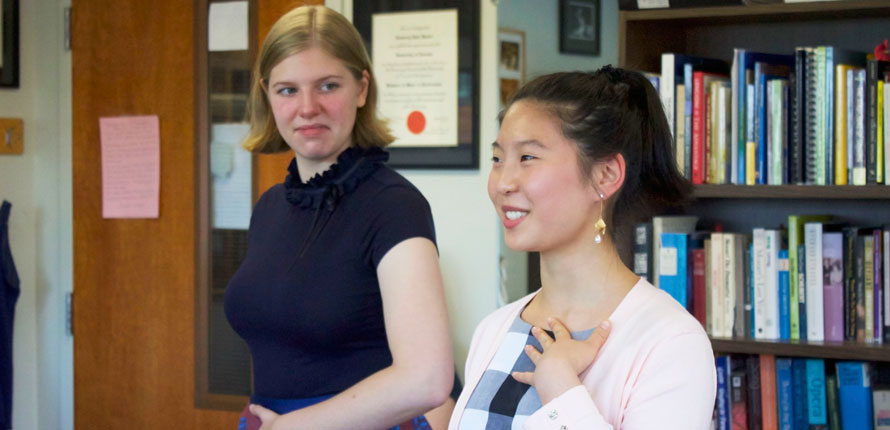 Peng also participated in a discussion with Barber and Assistant Professor Deanna Yerichuk about Laurier's music therapy and community music programs and ways to further integrate music into the community.
MacLatchy and Peng toured the synthetic cadavers lab with lab coordinator Kristen McFall and learned how the newly acquired synthetic cadavers are helping students better understand anatomy.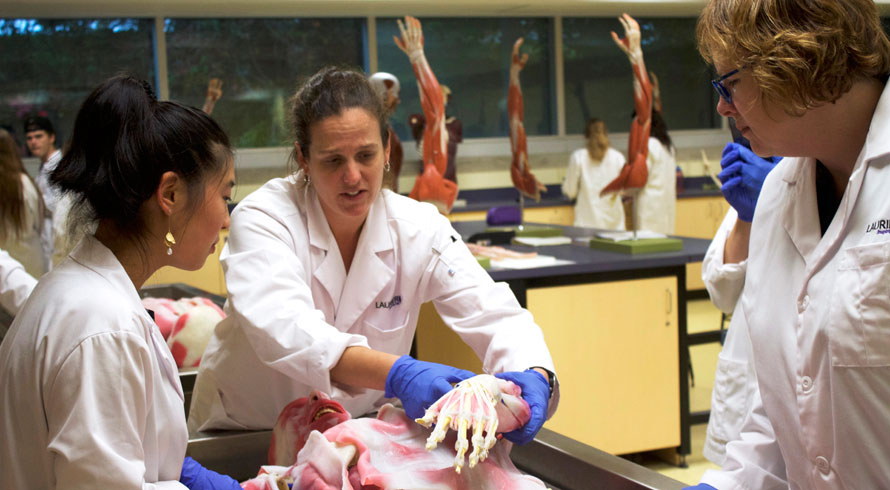 Peng and MacLatchy also met with Eden Hennessey, an alumna of the PhD in Social Psychology program, artist and advocate for gender equality in science, technology, engineering and math, to discuss work being done at the Centre for Student Equity, Diversity and Inclusion, as well as Laurier's Centre for Women in Science. Hennessey shared some of her artwork.  
Peng and MacLatchy met City of Waterloo Ward 7 Councillor Tenille Bonoguore for lunch and a discussion about equity and diversity programs in Waterloo Region.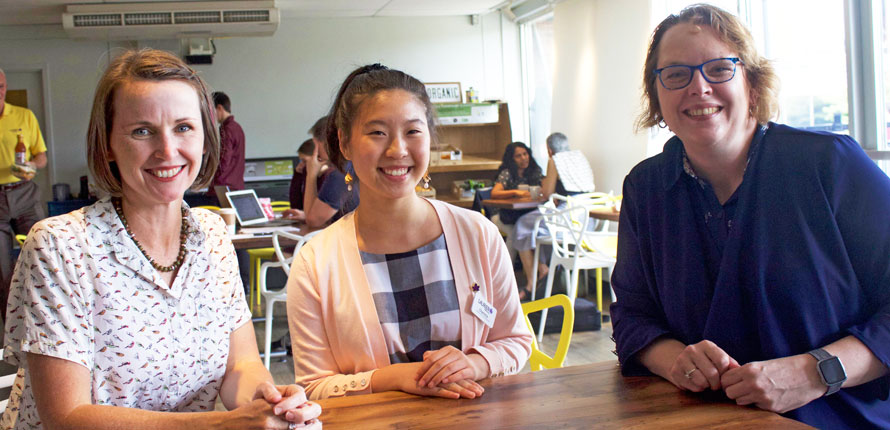 The pair also met with Canadian Senator and Laurier alumnus Peter Boehm to hear about his experience in politics and time as a Laurier student.
This is the second time Laurier has welcomed a teenage girl to be Laurier's president for a day through Plan International Canada's Girls Belong Here initiative.