Midori Marsh (B.Mus. '17, Dipl. Opera '18) is no stranger to winning awards. During her time as a student in Wilfrid Laurier University's Faculty of Music, the gifted soprano won the Laurier Concerto Competition in 2016 and received two endowed scholarships for outstanding voice performance.
It comes as no surprise, then, that the world is taking notice of Marsh's considerable talents. On Oct. 30, she added two more awards to her collection at the Canadian Opera Company's (COC) ninth annual Ensemble Studio Competition. Marsh took home first prize and the Audience Choice Award, which included $7,000 and a chance to perform at the Elora Festival.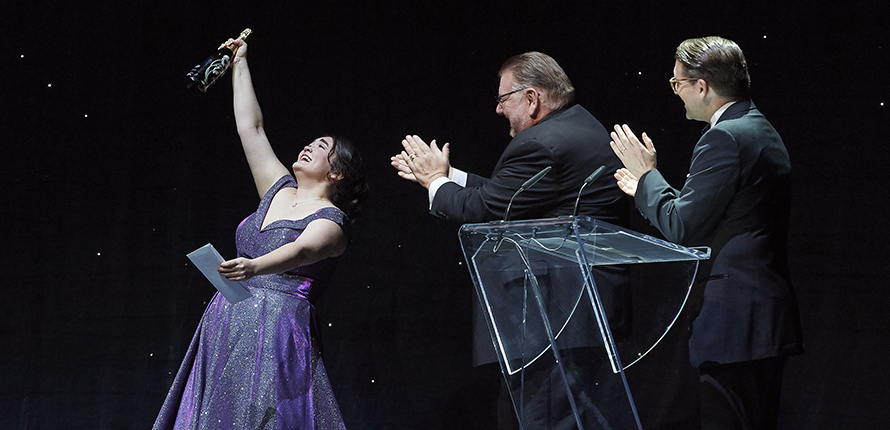 Marsh celebrating her win. Photo credit: Michael Cooper
The Ensemble Studio Competition is a national search for Canada's top young opera singers. It serves as the final stage of the audition process for the COC's prestigious Ensemble Studio training program in which students learn from renowned professionals and perform mainstage roles. Marsh was one of seven finalists from a pool of 109 applicants nationwide.
"I am so incredibly proud of Midori's achievements," says Kimberly Barber, associate dean (external) for Laurier's Faculty of Music. Barber was Marsh's voice instructor during her time at Laurier and was in attendance for her final performance at the Ensemble Studio Competition. "She brought the house down," says Barber.
"She was so completely herself, so evidently having a wonderful time and thrilled to be on that stage singing with the orchestra and telling the character's story from the heart."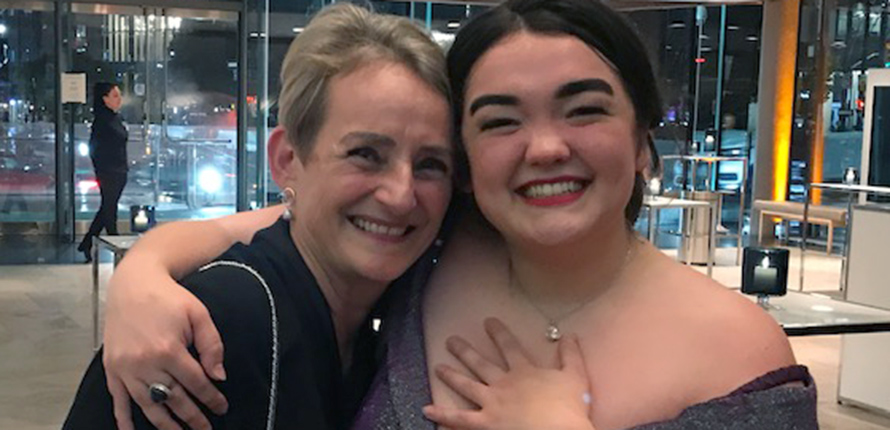 Kimberly Barber and Midori Marsh
Barber has fond memories of working with Marsh during her undergraduate studies, recalling her exceptional vocal quality and "effervescent personality." Some of her early successes, like her soloist turn in the world premiere of Stephanie Martin's Babel at Laurier, were indicative of her bright future.
"Midori's extraordinary stage presence, impeccable vocalism and expressive flair were in evidence long before this win. I never had a doubt in my mind that she had the goods to have a major career," says Barber.
Marsh is currently completing her Master of Music in opera at the University of Toronto.