From Oct. 13 to 19, Wilfrid Laurier University welcomed business students and advisors from 12 universities in eight countries to participate in a week-long series of events and business case competitions. It was an ambitious undertaking and, most impressively, it was led by Laurier students.
The second annual Lazaridis International Case Conference (LAZICC) was organized by an executive team of 18 students from Laurier's Lazaridis School of Business and Economics, chaired by fourth-year student Hannah Klein.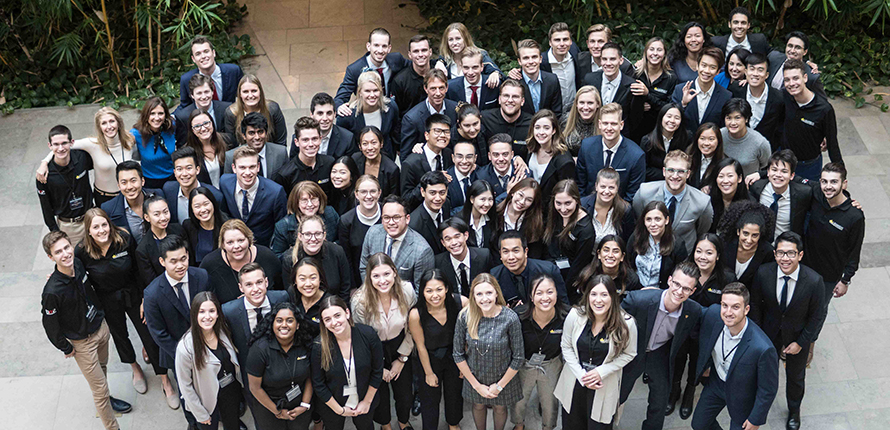 LAZICC participants and organizers
"We designed the event around three pillars: learning, competing and networking," says Klein. "This was a chance for students to apply what they've learned in a real-world setting, while getting their name out there in front of leaders in the business community."
Klein's team capitalized on Waterloo Region's reputation as the "Silicon Valley of the North" by engaging local technology companies like Communitech and Shopify in the week's activities. Business leaders gave Tech Talks, attended networking events and served as judges for the case competitions.
"Technology is changing the way we do business, so embedding it in our business cases helped students consider how it can influence their strategies and solutions," says Klein. "Our focus on tech also allowed us to leverage the resources in our area and showcase what Waterloo Region has to offer."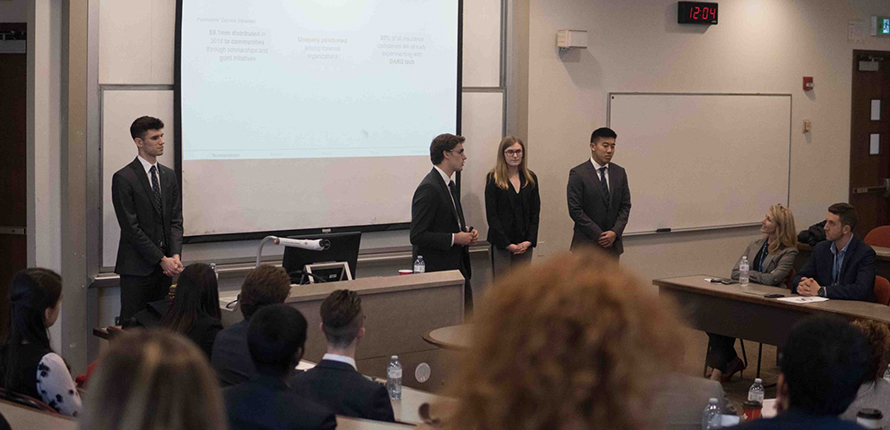 Students presenting at a case competition
The LAZICC executive worked with two local companies to develop confidential business cases for teams to tackle in the case competitions, the focal point of the conference. Teams of four students from each of the 12 competing universities were presented with a real-life problem faced by a company and given a set amount of time to develop a comprehensive solution. For the first case, teams had five hours. For the second, more complex case, they had 24 hours.
Once the time was up, teams presented their recommendations to a panel of judges. The finalists then presented to representatives from the companies featured in the cases. Ultimately, the team from the Technical University of Munich, Germany placed first.
"It's actually a real benefit to the businesses because they wind up with 12 comprehensive strategies for an issue they're actually facing," says Klein. "We've had phenomenal feedback, to the point that companies are already signing up to be included next year."
Of course, it's not just the businesses who were impacted by LAZICC.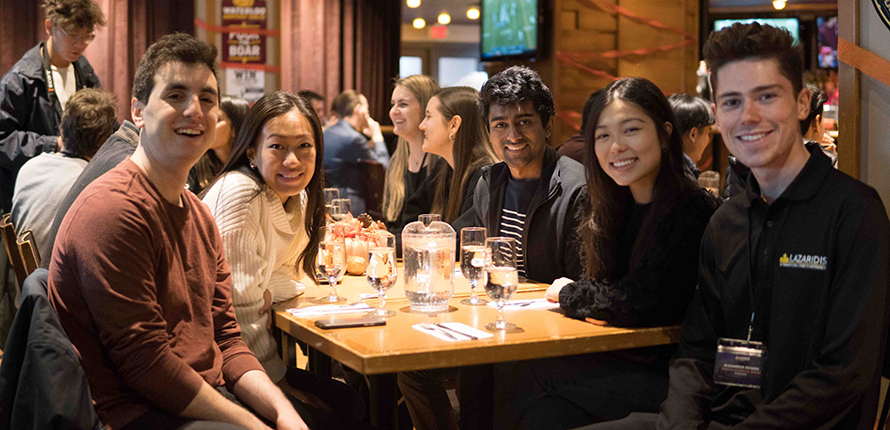 LAZICC participants dining at Wilf's Restaurant & Bar
"I will never forget this incredible experience," says Maia Parker, a student from the Grossman School of Business at the University of Vermont. "I learned a great deal about problem solving and professionalism, while making new connections and having new experiences. Everyone was so kind and the hospitality made the week in Canada so enjoyable."
Hospitality was a top priority for Klein and her team, which included 12 Laurier ambassadors assigned to the visiting schools. They thoughtfully planned social events that would encourage new connections and expose visitors to Canadian culture, like a day trip to Niagara Falls and a night out at Oktoberfest.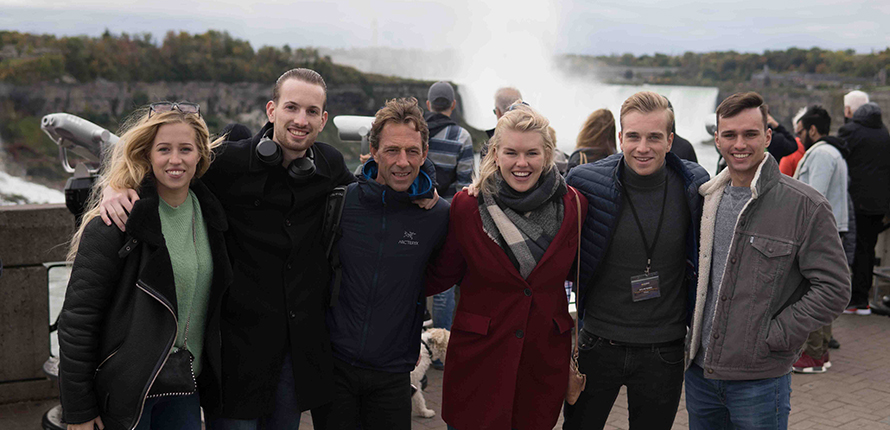 A visit to Niagara Falls
"I am so proud of the organizing team," says Sofy Carayannopoulos, an associate professor in the Lazaridis School of Business and Economics and the LAZICC faculty advisor. "It's an enormous accomplishment to attract the calibre of universities and sponsors that participated. I have received many messages from faculty, competitors and sponsors saying that they were incredibly impressed."
For Klein, planning and executing LAZICC was "the greatest experience of my undergraduate career."
"I got to interface with so many people and companies, develop my leadership skills and broaden my horizons," she says. "Our real goal with this conference is to broadcast the Lazaridis School of Business and Economics name across the world. We want everyone to realize that this is a place to come. This is the place to be."