They came together to evaluate a community program that pairs adult mentors with a young person. They didn't anticipate how much the process would help them grow themselves.
Wilfrid Laurier University students Sonya Bisol, Riann Boodram, Aristaea Murrell, Dana Orton and Megan Strazds-Esenbergs participated in Applied Community Research (PS492), a fourth-year community psychology course, run through the Laurier Centre for Community Research, Learning and Action (CCRLA). Their group worked with Big Brothers Big Sisters of Waterloo Region, while two other groups worked with different local organizations.
The five students who worked with the local Big Brothers Big Sisters agency say they learned a lot about the research process and about working with a community partner, in addition to learning about the benefits of the agency's one-on-one mentoring program.
"It's one of the best experiences I've had in my university career," says Bisol. "The people at CCRLA – our faculty advisor, our mentor, the instructors and associate director – were so helpful and open. The student group I got to work with was amazing. And working with the community partner was a great real-world experience. I feel like it's changed me as a person."
Purposeful Research
Students come to the course with varying levels of research experience. Some hadn't performed research beyond writing papers for classes. This was the case for Orton.
A psychology student also enrolled in Laurier's community engagement option, Orton had previously taken part in community placements and found them meaningful. PS492 was the logical next step, particularly because she was thinking about what to do after her bachelor's degree.
"I was hemming and hawing about whether I want to do a master's, because I know master's programs involve a lot of research," says Orton. "I didn't want to dive right in to something like that – I wanted to test it out. I'm really glad I did because I loved it."
Apply now for PS492 in 2019/20
Applications for the next cohort of fourth-year Psychology course PS492: Applied Community Research are due on June 14, 2019. Non-Laurier students are welcome to apply.

PS492 is an eight-month experiential course that blends in-class lectures with a CCRLA internship that involves a field placement and capstone project.
Bisol had done plenty of research. As a psychology: research specialist major, she had worked in labs, completed a research-based directed studies course and was also working on an honours thesis. But community-based research was new to her.
"This was a beautiful opportunity to combine my interest in community psychology with research," says Bisol. "This was my first qualitative project. Everything else I've done has been quantitative and much more individual, so it was really cool to experience something different."
That's not to say it was easy. The research ethics process took longer than the students expected, which meant they ended up conducting individual phone interviews rather than organizing a focus group as originally planned.
Going through these challenges, however, was instructive.
"I learned so much about how much doesn't go right when you're trying to do research," says Orton. "I'm actually happy that we went through that process because that's how things really are and CCRLA and our community partner were always there to support us."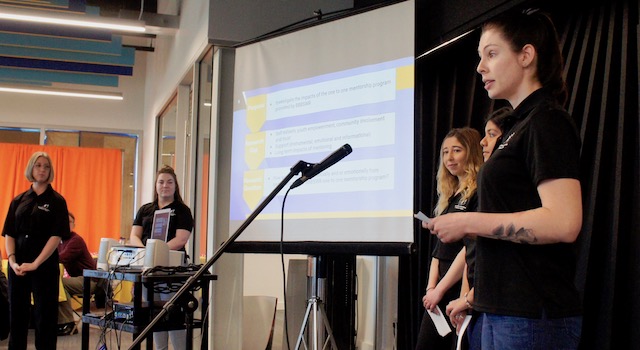 A Community Partner's Perspective
Big Brothers Big Sisters of Waterloo Region had previously worked with Laurier students as individual volunteers, through community service-learning placements and through Bachelor of Social Work field placements. However, the organization had never worked with student researchers.
Big Brothers Big Sisters wanted a high-quality report to demonstrate the effects of their flagship one-on-one mentoring program but had neither the capacity to complete it in-house nor the money for consultants. Working with university students was a natural fit – and not just for financial reasons.
"We want to practice what we preach ­– we believe in mentorship and in working with youth to give them opportunities to grow and learn," says Mallory Boyer, resource development manager for the organization. "Working with students was a great opportunity for them to develop their skills and for us to get the perspectives of fresh young minds."
At their first meeting in fall 2018, when the two-semester course began, Boyer met with the group to share information about the organization and what it needed done. As the work ramped up, she met regularly with the students. Partway through the course, the group presented an interim report to a group of Big Brothers Big Sisters personnel.
Throughout the process, Boyer was impressed with the students' enthusiasm, professionalism and how seriously they took their commitment to produce a report the organization could put to use. She's delighted with the final report.
"The students did a great job of highlighting our work," says Boyer. "It'll be a great tool to use when we're looking at working with new funding partners or if we're reporting to existing funders. I can't speak enough about all the positive experiences we've had with all the students we've worked with from Laurier."
Next Steps
The students interviewed Big Brothers Big Sisters volunteer mentors, current and former mentees, and parents of children who received support from the agency. They used a rigorous process to come up with questions and analyze the answers. The group is confident in its assessment that the program changes lives for the better on all sides.
The students heard anecdotes that touched them. One mentee found the strength to leave an unhealthy relationship with a boyfriend. Another learned to stop looking at his phone and focus on the people he was with. One mentor, who didn't have children, spoke about how much it meant to have the opportunity to pass down hard-earned wisdom. Parents talked about seeing their children open up and come back from outings smiling. 
Now the students want to expand their research. Because of the tight timelines, their sample size was small. Though they're now finished their coursework, all five have committed to interviewing more people on a volunteer basis and, with support from CCRLA, developing their report into a paper they can submit for publication.
The students say they feel better prepared for the next steps in their education and career paths.
"I've learned so much, not only about research and group work, but also about myself," says Orton. "This project was rewarding, but also so much work. It taught me I can sit down and get things done."