Wilfrid Laurier University welcomed provincial government partners, alumni and students at Queen's Park on April 29 to share Laurier success stories and to showcase how the university creates experiential learning opportunities that prepare students to make their mark in Ontario and beyond.
Ted Arnott (BA '85), MPP Wellington-Halton Hills and Speaker of the Legislative Assembly of Ontario, opened the event, which featured remarks by Conservative, NDP, Liberal and Green Party representatives. Sporting a Laurier hoodie, Arnott reflected on his years at Laurier and how they "deeply inspired me and led me to my career in public office." 
Arnott is one of more than 200 Laurier alumni working at Queen's Park, and among the 90 per cent of Laurier alumni living and working in Ontario.
Minister of Training, Colleges and Universities Merrilee Fullerton commended Laurier for being innovative, adaptive and forward-thinking – and for serving as inspiration to other institutions.
"You are truly preparing students for the jobs of today and the jobs of tomorrow," said Fullerton. "For that, you should be very proud."
Deborah MacLatchy, Laurier's president and vice-chancellor, touched on some of the Laurier initiatives that leverage partnerships with government, industry and not-for-profit organizations to improve the lives of people across the province and throughout Canada, while providing students with hands-on experiences.
MacLatchy highlighted several examples, including Laurier's first music therapist in residence at Homewood Health Centre; an arts graduate applying her critical thinking skills as a technology company manager; graduate student research developing novel solutions to combat periodontal disease; and doctoral student research using electromagnetic fields to address the issue of food waste in Canada's supply chain.
"It is stories like these, of students putting into practice the skills they learn at Laurier to build up our industries and communities, that make me so proud to be president of this university," said MacLatchy.
Dozr, a Kitchener-based online heavy-equipment sharing company led by Kevin Forestell, who participated in the first cohort of Laurier's Lazaridis School of Business and Economics ScaleUp program, is one such example. 
In his keynote address, Forestell explained how his industry success story began with an "aha" moment at an Airbnb in Florida. As a construction company owner, he was frustrated watching his expensive heavy equipment sit unused for months during the cold-weather off-season. His Airbnb inspired a sharing-economy solution that allows contractors and farmers to rent their idle equipment to others during the off-season or between jobs, and contractors to rent high-quality equipment at lower rates than they would find with traditional equipment rental companies.
"We knew we were growing really fast and really big. What we didn't expect was to find the help we needed at a university," said Forestell. "The Lazaridis ScaleUp program was a perfect fit. It definitely helped us to get to where we are today."
Forestell and his partners raised $14 million in an equity funding round at the end of February 2019.
The ScaleUp program's work with Dozr is one example of how Laurier's people and programs are helping to make a meaningful difference – whether it's by furthering the economy or addressing society's pressing issues.
"We are committed to preparing students and alumni to be entrepreneurial, engaged citizens ready to tackle any challenge the future may bring," said MacLatchy. "After all, their success is our success – and ultimately our community's success."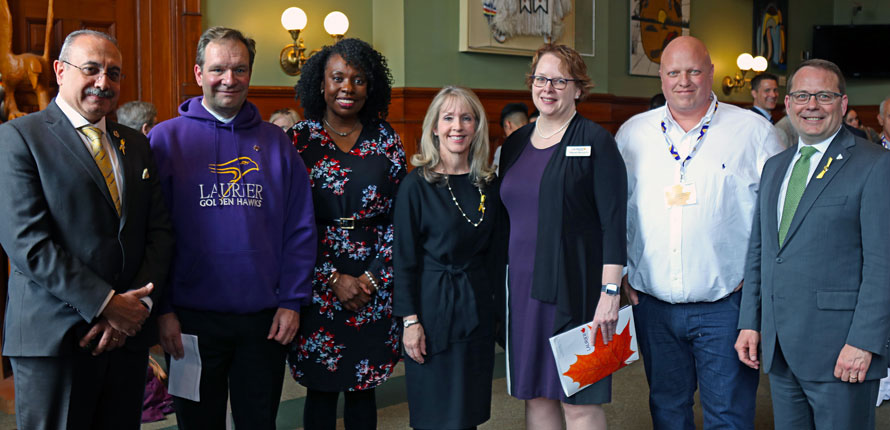 Pictured, from left to right:
Sheref Sabawy, MPP Mississauga-Erin Mills; Ted Arnott, MPP Wellington-Halton Hills and Speaker of the Legislative Assembly of Ontario; Mitzie Hunter, MPP Scarborough-Guildwood; Merrilee Fullerton, MPP Kanata-Carleton and Minister of Training, Colleges and Universities; Deborah MacLatchy, Laurier President and Vice-Chancellor; Kevin Forestell, Co-founder and CEO, Dozr; Mike Schreiner, MPP Guelph and Leader of the Green Party of Ontario.