With spring convocation taking place in June at Wilfrid Laurier University's Waterloo and Brantford campuses, first- and fourth-year students are reflecting on what it means to be a part of the Golden Hawk community.
They've been posting celebratory photos of themselves with friends in front of Laurier signs in Brantford and Waterloo. For some, it's a rite of passage, signifying personal growth and success after completing their first year of university or finishing their program at Laurier.
"It's something you have to do," says Madeline Campbell, a Social Work student who recently completed her first year of studies at Laurier's Brantford campus. "It means I did it. I was successful and it provides good closure for the year."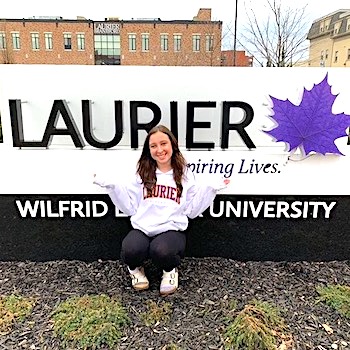 Campbell recalls her first few days at the Brantford campus. She was quick to acclimatize to her new home, noting the excitement she experienced on move-in day.
"The first day moving in was so much fun," she says. "You don't feel sad even though you're away from home."
While Campbell was nervous about meeting new people, ice-breaker activities held during her first week helped create lasting friendships. Campbell was inspired by her ice-breaker experiences and has volunteered to help run the activities with incoming students next year.
"I knew no one coming to Laurier and now my roommates are my best friends," she says. "It's super positive and a good chance for growth."
Justine Falconi, a fourth-year communications student on the Waterloo campus, remembers how comfortable she felt as a Laurier student even before setting foot on campus after connecting with her future roommate before moving to residence.
"Laurier had already started to build a sense of community for me," Falconi says. "My roommate and I are still best friends."
For many students, the Laurier community extends beyond the university's campuses. Campbell is excited by the prospect of refining her long-term career goals during third- and fourth-year work placements offered as part of the Social Work program. Falconi was able to make connections while studying in Australia for a semester.
Like Campbell and so many other Laurier students, Falconi also snapped a photo with her friends from residence in front of a Laurier sign after she completed her first year of studies. She recently reposted it as a way to celebrate continued friendship and hard work.
Falconi says that, for her, social experiences and friendships are a big part of what makes Laurier such a special place.
"Every time you walk on campus, you see someone you know and it makes you feel more a part of the community," she says. "There's always something happening – so many different events and gatherings – and that really generates a lot of excitement."