June 13, 2019
Print | PDF
How do people deal with the real threat that their homeland might become uninhabitable within their lifetimes due to rising sea levels? David Krzesni, a Wilfrid Laurier University PhD candidate in community psychology, is going to find out.
Krzesni has received a prestigious Early Career Grant from the National Geographic Society to conduct research in the Marshall Islands, a collection of low-lying islands in the Pacific Ocean between Hawaii and Australia.
Problems could begin well before rising sea levels literally put the Marshall Islands underwater. Salt from higher waves, increased sea spray and groundwater contamination could create problems for drinking water and agriculture. More frequent storms might make it uneconomical to rebuild and recover before the next major storm hits.
"The Marshallese are among the first people in the world facing the possibility of having to evacuate the whole country," says Krzesni. "However, the government is fully committed to staying and making it possible for people to continue living there."
Some people are already adapting by building their houses on stilts or pontoons, says Krzesni. Keeping the islands habitable, however, would likely involve complex, expensive infrastructure projects – not easy when there are barely more than 50,000 residents in a country of 1,156 islands and islets, even if not all are inhabited.
Many Marshallese have already left for a variety of reasons, largely for the United States. The Marshall Islands are a United States associated state and a treaty allows its citizens to live and work in the U.S. without visas. There are more than 22,000 Marshallese Americans, mainly in Arkansas and Hawaii.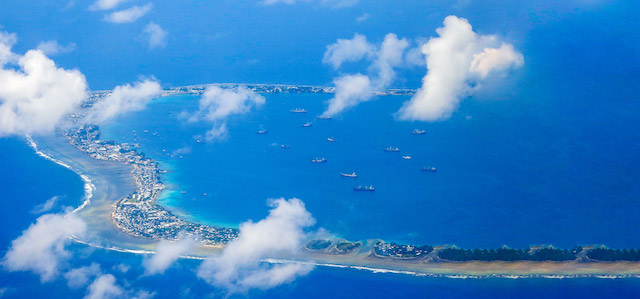 Krzesni, who is originally from California, leaves for the Marshall Islands at the end of June. While he hasn't previously been to the islands, he feels a sense of responsibility to make a positive impact.
"During the Second World War, the Marshall Islands, along with some other Pacific islands, were occupied by the United States, which carried out nuclear weapons testing there," says Krzesni. "Some people suffered physical effects from the radiation and many more were displaced, which disrupted the culture and economy. Also, because the United States has hugely contributed to the circumstances that make the Marshall Islands so vulnerable to climate change, I feel like as an American, I need to do something."
From Teaching Math to Making Change
While Krzesni's first degree was in mathematics, he has long held an interest in environmental issues. That interest led him to complete a master's in education, focusing on environmental education. His master's thesis led to a book, titled Pedagogy for Restoration: Addressing Social and Ecological Degradation through Education.
After shorter-term work in health promotion and outdoor education, Krzesni became a math teacher at Yakama Nation Tribal School in Washington State. In addition to teaching algebra, geometry and practical skills such as managing finances, he started a food pantry and supported the installation of solar hot water heaters. But Krzesni felt it wasn't enough – he wanted to concentrate more on social justice and environmental issues.
"My grandmother was in a concentration camp, my grandfather hid in the home of a non-Jewish family and several of my family members died in the Second World War. Despite that family history, I grew up fairly fortunate and was given a lot of opportunities other people don't have," says Krzesni. "I think those privileges come with a responsibility to support other people facing injustice."
That sense of responsibility, which for Krzesni is associated with his Jewish faith, led him to doctoral studies in community psychology under Laurier Assistant Professor Simon Coulombe. Krzesni's main focus is on how climate warming might be exacerbating social issues and what can be done about it. He plans to spend approximately a year researching just that in the Marshall Islands.
Plans for Community-Based Research
Although Krzesni has been in contact with residents of the Marshall Islands online, he knows his current understanding is bound to be limited. That's why he's not planning to rush into research as soon as he arrives.
After the long and complex journey to the islands, Krzesni plans to spend his first couple of months there getting to know the community through volunteer work – perhaps finding opportunities to teach – and spending time with local residents.
Once he feels more connected to the community, Krzesni will hold consultations that will help shape his work. One initial goal is to interview community members about their desires and aspirations, ranging from improvements to their day-to-day lives to big life decisions such as whether to migrate.
"I want to understand what people are trying to achieve, why it's meaningful, what's in the way and what are the factors supporting them," says Krzesni. "That will inform the next steps, which will be more action-oriented."
Depending on community members' goals and interests, those next steps might be policy-oriented – working with local leaders on climate adaptation, for example – or project-based, such as a video or photovoice project featuring community members using digital arts to express what's important to them. Exhibiting materials online would help get islanders' stories out to the world.
Krzesni has also been in contact with the International Organization for Migration, a UN agency. He wants to help inform the organization's policies and practices with a deeper understanding of the goals and aspirations of potential climate migrants, as well as of those who would rather stay where they are. This is of critical importance because the Compact of Free Association, which gives Marshall Islanders a migration pathway to the United States, expires in 2023.
"I don't think it's for me to say whether people should stay or go," says Krzesni. "So much of Marshallese history, identity and culture is tied to the place where they live. As individuals, though, there are people who want to leave or feel pressure to leave for reasons such as education, job opportunities and health care. Climate change is exacerbating challenges in all those areas."
Krzesni hopes his research contributes to community-led action, to informing local and international policy, and to helping people tell their stories.
"I think it's important to both support sustainable development efforts in the Marshall Islands to reduce migration pressures and to support the people who do move," says Krzesni. "I'm hoping my dissertation project can help."