On Feb. 11, it was 10 degrees warmer than the historic average in Yellowknife. One day of unseasonal warmth may not mean much. But Wilfrid Laurier University researchers, in partnership with Yellowknife-based not-for-profit organization Ecology North, are betting that a new Twitter bot will help track trends and raise awareness about climate change.
The automated Twitter account YK Climate Watch (@ykclimatewatch) will tweet anytime the average daily temperature in Yellowknife is a full degree warmer or colder than average. Not only will this provide a regular reminder when weather deviates from the norm, Laurier researchers based in Yellowknife will perform regular analysis to provide a more comprehensive picture of the trends. The analysis will also be shared via Twitter.
Will Gagnon, green buildings and advocacy specialist with Ecology North, came up with the idea and content for YK Climate Watch and recruited a volunteer, Toronto-based programmer Mackenzie Nichols, to build the bot.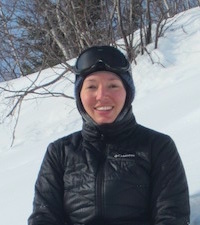 Tim Ensom, a Laurier PhD candidate who last year won a W. Garfield Weston Award for Northern Research, and Jennifer Hickman (right), a water quality research associate working with Laurier's Global Water Futures team, soon joined the project to provide scientific expertise.
"While weather and climate are not synonymous, the Twitter bot can help bring public awareness to climate change," says Hickman, who is based at Laurier's Yellowknife research office. "Climate change affects everyone living in the North and it's something people are really concerned about."
"The five warmest years in global record have all come in the 2010s. The planet is heating up and the North is the canary in the coalmine," Craig Scott, executive director of Ecology North, said in a news release. "We in the North can no longer stand on the sidelines and suggest that others must take action."
While daily weather has its ups and downs, the average temperature in Yellowknife went up two degrees between 1958 and 2012. That means the level of warming scientists widely agree is the limit the Earth can handle has already been reached in the capital of the Northwest Territories.
Originally, the bot was set up to tweet only when it was warmer than the historic average. However, on Hickman and Ensom's recommendation, it has been changed to tweet both when it is warmer and colder than average. Not only will this give a more balanced picture of the weather, the researchers note that even cold snaps can be an effect of climate change.
Both Ensom and Hickman's main research programs are related to climate change – and to the daily weather. Hickman, who completed bachelor's and master's degrees at Laurier, focuses on the mobility of metals dissolved in water, particularly arsenic from the now-defunct Giant Mine near Yellowknife, and on the hydrology of the Snare River watershed, the source of Yellowknife's hydroelectric power, and how it may change as the climate warms.
"I do a lot of work with snow and in winter fluctuating temperatures can have major effects on the snow pack," says Hickman. "In fact, all aspects of the ecosystems here are likely to be affected by changes in air temperature."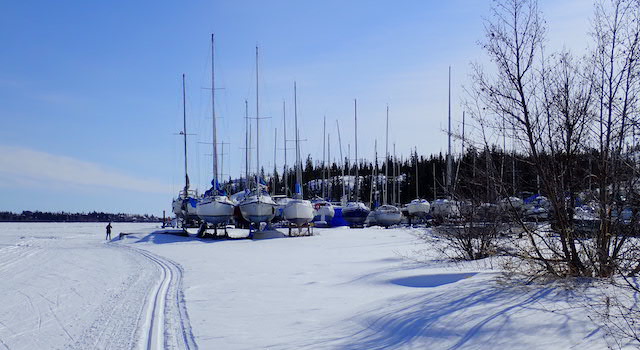 Ensom, who is based in the Yellowknife office of the Northwest Territories Geological Survey, focuses his research on small streams in continuous permafrost. He is particularly interested in the area along the new highway between Inuvik and Tuktoyaktuk, which crosses a number of small streams.
"It's becoming apparent that some of these little streams are actually flowing for periods during winter and delivering enough water to some locations where the highway crosses them that accumulations of ice are forming and getting so large by mid-winter that they can pose risks to the highway," says Ensom. "Fluctuations in temperature during winter may be part of the cause of these flow events."
Hickman and Ensom say they hope a wide range of people in Yellowknife and beyond follow the Twitter bot. They credit Ecology North with helping them connect their knowledge with the community. 
"When you work in science it can be difficult to speak out publicly, but it is important to use science in a way that can be easily interpreted and understood by the public," says Hickman. "Ecology North is very good at bridging the gap between the public and scientific research."