Software in Wilfrid Laurier University's Department of Geography and Environmental Studies is helping students to define and design effective maps for the digital world.
With access to ArcGIS Story Maps by Esri, a leader in geographic information system (GIS) software, students in the department's introductory cartography course, GESC 251, are learning to create engaging interactive maps that communicate complex information in ways that everyday viewers can understand.
The software enables users to bring geospatial data from open source websites and other resources to life by incorporating narrative text, images and multimedia content.
Trina King, Laurier's cartographer and geospatial specialist and contract teaching faculty in the Department of Geography and Environmental Studies (GES), says teaching students how to communicate data in engaging ways is an important skill to have in a highly visual world.
"There is an art to producing a map that leaves an impact on people," says King. "A good map conveys the data in a way that leaves people saying, 'Wow, I understand that!' because of its aesthetic appeal."
King has worked in the GIS field for over 20 years and has experienced how technology has advanced the industry's tools. She assists Laurier faculty, teaching staff and students through her access to unique data resources, helps them create custom two- and three-dimensional maps, and can gather aerial footage as a certified operator of the department's fleet of drones.
King is teaching GESC251 for the first time this fall. Her students' story maps are in progress and will be completed by the end of the term, but previous GESC251 students have created maps using Story Maps' intuitive story-telling functionality.
Laurier student Angela Bannister used the software to map one week of her summer work experience as a biological monitoring assistant at the St. Clair Conservation Authority (SCCA) in Strathroy, Ont.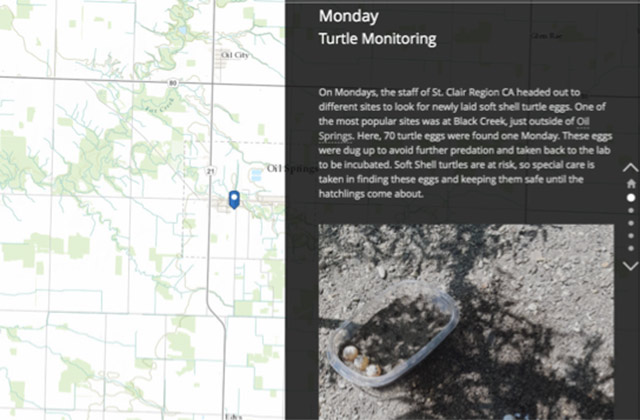 Using the software's multi-map template, Bannister's story map takes viewers on an in-depth journey through her workweek. Set within an online map of Lambton County, each day moves viewers to different conservation areas and waterways that the SCCA monitors. Throughout the story map, Bannister includes short-but-informative copy written in first-person about site-specific work and the species at risk.
She also includes several images of at-risk plant and animal species, including a selfie with an endangered Butler's garter snake.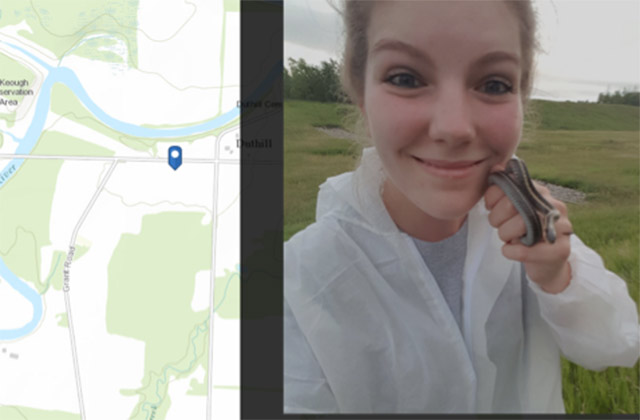 "Angela's story map does a great job of bringing together a number of tools available in the software," says King. "Not only does her map showcase the technology well, but she makes the subject matter interesting for the audience."
Other Laurier students have used the software to create attractive and informative maps about family ancestry, backpacking across Australia and the student experience at Laurier's Waterloo campus.
Although Story Maps software contributes to the look and feel of a story map, the content and the narrative approach come from the students themselves. In GESC251, students learn about the principles of cartographic design, thematic map types and online mapping.
"While the software looks easy to use, it is really quite methodical. Students need to understand the fundamentals of cartography despite the field's technology-driven direction," says King.
With programs that combine hands-on opportunities with industry-level tools and strong curricula, Laurier's geography and environmental studies students are well positioned for success after graduation.
Many alumni are working in careers related to their studies, such as environmental consulting, geospatial analysis, software development and drone operations. Others have pursued graduate studies and research opportunities with Laurier faculty.
"Our students are leaving our department with a solid skillset for the future and a good understanding of what their next steps will require of them," says King.