It was the late 1950s. The nuclear arms race was escalating. Irradiated monsters terrorized B-movie audiences. And Prime Minister John Diefenbaker commissioned the building of a vast, top-secret underground shelter near Ottawa that could serve as the seat of Canada's government in the event of nuclear war. 
From when it opened in 1961 until it was decommissioned in 1994, the "Diefenbunker" was a working military facility officially known as Canadian Forces Station Carp. Today, the site is known as Diefenbunker: Canada's Cold War Museum. Its archive is full of Canadian Cold War materials, many of which are related to civil defence – preparing the population for threats.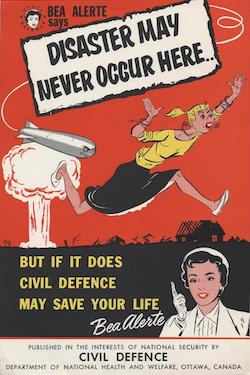 Wilfrid Laurier University Associate Professor Sara Matthews is leading a project to digitize and analyze the Diefenbunker archives and eventually produce a virtual museum of Canadian civil defence materials. The project recently received Social Sciences and Humanities Research Council of Canada funding.
"The Diefenbunker's archive gives us a unique way of thinking about civil defence history in a Canadian context," says Matthews, a member of Laurier's Global Studies department. "The materials there have been collected and donated by passionate volunteers, including former bunker staff and conservation professionals, and they haven't yet been digitally preserved. For a researcher, it's a significant resource, one we hope to make accessible to others."
"The Diefenbunker: Canada's Cold War Museum is delighted to partner with Wilfrid Laurier University on this project," says Courtney Gehling, the Diefenbunker's visitor experience manager. "We look forward to opening new avenues of public engagement through expanded access to our collections and archives, ensuring that this significant piece of Canadian history is preserved for future generations."
In the Diefenbunker Vaults
The Diefenbunker archives include irreplaceable original materials such as the facility's blueprints, as well as audio and video recordings, which will be preserved and archived using modern strategies. There are also documents that were once widely reproduced but are now hard to find.
Some pamphlets, such as "Fire Safety in the Home" and "Emergency First Aid," would not be out of place today. Others, such as "Your Basement Fallout Shelter" and "Fallout on the Farm," are clearly from another era.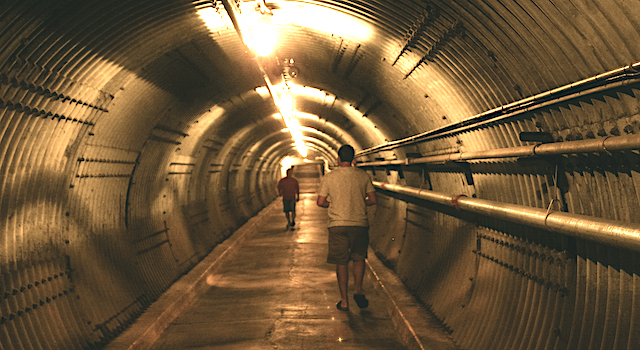 One 1961 pamphlet provides information about building a fallout shelter – the cost estimate is $300 to $500 for a shelter protected on all sides by materials such as 16 inches of solid brick, five inches of steel or three inches of lead. The pamphlet recommends stocking the shelter with food such as "2 cans beef and gravy," "2 jars cheese" and "2 lbs. hard candy" per adult for a 14-day stay in the shelter. It also suggests items such as "1/8 oz. oil of cloves" ("for temporary treatment of toothache") and "women's basic cosmetics."
"These materials teach us about what we're supposed to think of as our responsibilities as citizens," says Matthews. "Implicitly, they also teach us who was seen as a citizen, because these educational programs were targeted at particular people – namely middle-class, heteronormative, white people – and they leave other people out."
Building a Digital Infrastructure
The project will be useful to Laurier as well as the Diefenbunker because it involves building an infrastructure to curate, organize and disseminate digital materials, says Gohar Ashoughian, who leads the Laurier Library and is a co-investigator on the project.
"We could apply this work to supporting the projects of many Laurier researchers who require digital models for knowledge mobilization and dissemination," says Ashoughian. "We will also benefit from building a system to support the digital stewardship of the university's assets, including art collections that require a robust inventory and collections management system." 
Ashoughian is also interested in the project because it aligns with her own research interests, which are born of personal experience. She grew up in Armenia when it was a part of the Soviet Union and remembers going to school during the 1970s and '80s, when civil defence was a major part of the curriculum. 
"In eighth grade, I had to disassemble and assemble a Kalashnikov rifle within five minutes," says Ashoughian. "Women and girls were taught to be medical support in case of war. We learned how to put on bandages, how to set bones, how to perform injections, how to clean burns. It was important to prepare each and every citizen for potential participation in nuclear war."
Emergency Preparedness Today
While nuclear war has somewhat receded from consciousness, governments are still producing public educational materials to prepare the population against perceived threats such as terrorism and natural disasters. Though the term "civil defence" has been largely replaced by "emergency preparedness" or "public safety," the message that civilians need to prepare themselves as part of a national defence effort is similar, says Matthews.
For example, in 2018 Sweden sent a 20-page pamphlet titled "If Crisis or War Comes" to homes across the country. In an Antipode journal article, Matthews and her graduate student co-authors argue that the Swedish pamphlet and similar materials from other countries are part of a renewed "civil militarization" push. 
"Many of these materials convey that as civilians, you're meant to be vigilant about perceived threats, which is very subjective and involves having a normative notion of who belongs and who doesn't," says Matthews. "What I'm concerned about with these messages of anticipatory preparedness, such as reporting suspicious activity, is how they might repeat dynamics of racism, colonialism, Islamophobia and marginalization."
By digitizing, examining and exhibiting the civil defence materials in the Diefenbunker, Matthews hopes to make links between past and present emergency preparedness messaging in Canada.
"There's certainly nothing wrong with understanding how to take action in light of a disaster that might be coming," says Matthews. "But we need to think critically about what it is we think we're preparing for and how."