If you've ever wanted to really embarrass a friend, but in a loving kind of way, Hawkapella, Wilfrid Laurier University's a capella group, offers a unique service for Valentine's Day: For a small fee, the group will bring a rose and chocolate to your friend — in class, at work, wherever — and sing them a song of your choosing: "Never Gonna Give You Up," "Can't Help Falling in Love," "Every Time We Touch" or "Let's Get It On."
Valentine's Singing Grams might be what Hawkapella is best known for, but they bring the same enthusiasm to the stage, performing at concerts and competitions throughout the year, including at last February's North Metro A Cappella Challenge in Richmond Hill, at the Queen's University A Cappella Competition in March, and at the International Championship of Collegiate A Capella (ICCA) quarter-finals competition, which was held last year at the University of Waterloo.
''What I was really drawn to was the energy of the group. Everyone has great chemistry and they're really connected on stage," says Olivia Maveal, a third-year music therapy student who auditioned for the group after catching one of their concerts. "I thought, 'They are having so much fun on stage, I want to be a part of this.'''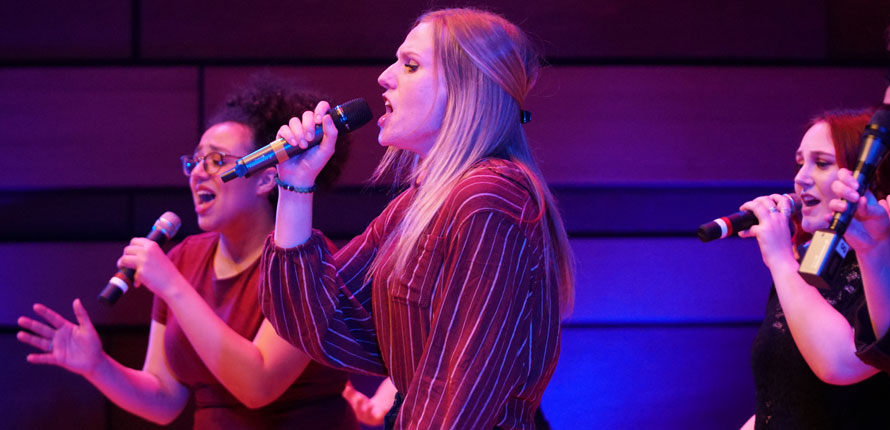 Singers meet twice a week to practice, once with the whole group and once with their sections: soprano, alto, tenor or bass. Many of the members are music majors, but you don't need to have any formal training in singing or dancing to join and you don't need to be able to read music. Even though the group is made up of students from many different backgrounds and disciplines, a love for music is not all they have in common.
"I'd say one of the best things about the group is somehow we all have a similar sense of humour and similar personalities, which I guess is what happens when you're in a club with people who really want to be there," says Kayla Goodridge, a third-year voice major and the group's music director. "It just works, no matter who we bring in. It's like a big family."
There's also some bonding through shared suffering. In the days leading up to performances, the singers meet and practice more often. During "hell week," the week before their end-of-term concerts, they practice daily, even as they're studying for exams and writing final papers. Rehearsals are always after classes and, during those weeks, they sometimes practice late at night. Singers have been known to show up in their pyjamas.  
"It does get overwhelming, for sure, but I think the love of the group and the love of what we're doing keeps us going," says Alicia Pilgrim, a fourth-year music therapy student and the group's choreographer. "We've never had an issue with people coming every week and being dedicated and committed. I think that just speaks to the community everyone has created and the real love everyone has for each other."
Even though it's hard to step away from a pile of homework, singing and spending time with friends makes a great break from studying and relieves stress. For voice majors, Hawkapella also means a chance to sing songs from different genres than what they're learning in class.
"I don't think my university experience would be the same without this club," says Goodridge. "It's like this big support group I see around all the time and I can call on whenever I need help. It's something to do every week that's not about school and it brings me back to why I love music and making music with others."
Auditions for Hawkapella and its newly formed a capella sister group, Noteworthy, will take place Sept. 7 and 8. Visit the Laurier Acapella Association Facebook page for more information about the clubs and auditions for Hawkapella and Noteworthy.