Students studying opera at Laurier recently experienced the work that goes into creating a full production by staging Opera Laurier's Cendrillon, a re-imagining of the classic Cinderella story by Romantic French composer Jules Massenet.
Opera Laurier – made up of voice performance students enrolled in the Practice of Opera course, along with other current students and alumni volunteers – presented Cendrillon in March. Opera Laurier's contemporary version of the production told the story of a teenager who is being bullied but is able to find acceptance and belonging through a new friend.
"A lot of people can relate to this Cinderella story," said director Amanda Smith. "Rather than looking at it from a perspective of good versus evil, beautiful versus ugly or upper versus lower class, we approached this production with an understanding that isolation and bullying often come from social pressures to conform."
The reaction from audiences was overwhelmingly positive. The production was so successful organizers had to rearrange seating design to accommodate a larger audience. Two out of three performances were sold out.
Opera Laurier stages two productions a year — an evening of operatic scenes around a unifying theme during the fall term and a full production with an orchestra during the winter term.
Professionals work with students as stage directors and facilitators. Students gain real-world experience, not only learning the singing, movement and acting inherent in opera but also elements of stagecraft and production, including costume and prop building, hair and makeup, set building, lighting, stage management and publicity.
Students are also challenged to be creative and resourceful while putting the production together. Time is limited by the academic calendar, while set design, costumes and lighting are governed by a tight budget.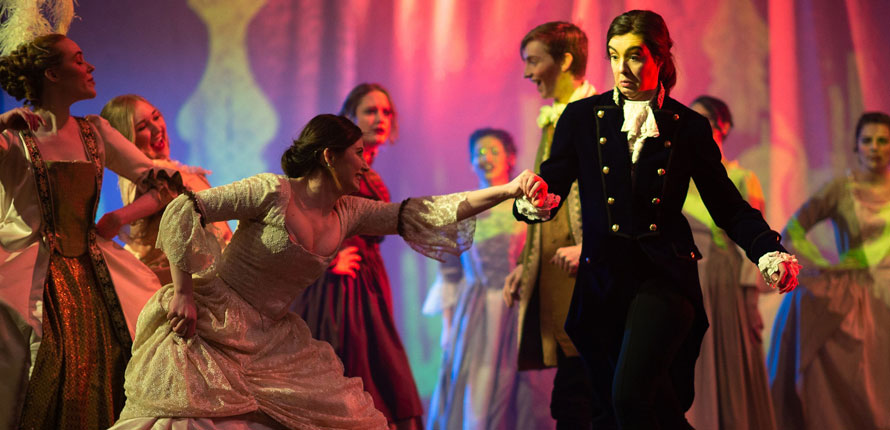 For Cendrillon, students worked with director Amanda Smith, a Laurier Music alumna, resident conductor Leslie De'Ath and Wilfrid Laurier University Symphony Orchestra conductor Daniel Warren. Students also shared the stage with distinguished mezzo-soprano and faculty member Kimberly Barber, who played the wicked stepmother, Mme. de la Haltière, in the production. Set designer Anahita Dehbonehie created the opera's magical backdrop, with lighting design by Holly Meyer-Dymny and costumes by Opera Laurier's in-house designer, Inez Khan.
"I've been told by many of our graduates that the training they received at Laurier put them ahead of their peers, largely because it is so all-encompassing," says Barber, who is also the coordinator of Laurier's Opera program. "It's no accident that Opera graduates frequently go on to start their own companies. Of the 10 or so indie opera companies in the GTA, three of them were founded by and continue to be artistically directed by Opera Laurier grads."
This spring, Laurier's Faculty of Music is launching its Making Space for Music campaign to renovate and expand the Waterloo campus music building and to create a dramatic new gateway to Laurier's Waterloo campus. To find out more, visit give.wlu.ca/music.