The world is constantly changing and people need to change with it. That's why Laurier directly supports entrepreneurs, not just their idea or technology. Laurier's incubator, LaunchPad, which is run by the Schlegel Centre for Entrepreneurship and Social Innovation, is open to ventures of all kinds, from for-profit to social enterprises, and low-tech to high-tech companies.
"We hope to inspire all students and alumni who are interested in entrepreneurship to learn about it through courses and extracurricular experiences, try it out by creating and testing their ideas in Schlegel Centre workshops and hackathons, and then start their businesses with the support of LaunchPad," says Laura Allan, executive director of the Schlegel Centre for Entrepreneurship and Social Innovation.
Helping entrepreneurs navigate the real world
The LaunchPad program propels entrepreneurs through innovative initiatives across Laurier's campuses, including:
Mentorship: LaunchPad companies enjoy access to 35 seasoned mentors, who help the entrepreneurs by challenging them, as well as providing them with contacts and sound business advice.
Dedicated space: entrepreneurs take advantage of working space and resources at the Communitech Data Hub and the Accelerator Centre.
Programming: entrepreneurs have the opportunity to attend tailored workshops and utilize specialized expert advice (e.g., legal, accounting, etc.).
Funding: entrepreneurs have access to seed funding through a variety of programs.
Through workshops and mentorship, LaunchPad participants learn how to fine tune their business model, conduct primary research with customers, develop their messaging, and engineer their sales process.
"LaunchPad workshops opened my eyes to understanding different parts of my business," says Jessica Kalman, who founded KLMN Media in 2018 and discovered her passion for entrepreneurship as a student in Laurier's Entrepreneurial Method course. KLMN Media creates social media marketing content and strategy customized for small and medium-sized businesses.
"The mentorship experience has been so valuable. Mentors are open to discuss ideas and I value their input," says Kalman. "It's been amazing to get clarity from mentors with comfort, without being judged."
LaunchPad participants leave the program ready for whatever the real world throws their way.
"LaunchPad has been amazing at supporting a creative business like mine, just as much as any other tech company in the program. This means the world to me," says Kalman. "I'm inspired to continue my business and am motivated to be successful."
Funding founders
Ten LaunchPad-supported ventures pitched their businesses to a panel of judges for their share of $30,000 in funding during LaunchPad Lift Off, a pitch competition and venture showcase at Lazaridis Hall this spring.
The competition and showcase was part of a six-part LaunchPad workshop series, intended to foster the entrepreneurial community at Laurier's Waterloo campus, helping new ventures better prepare for the real-world business environment.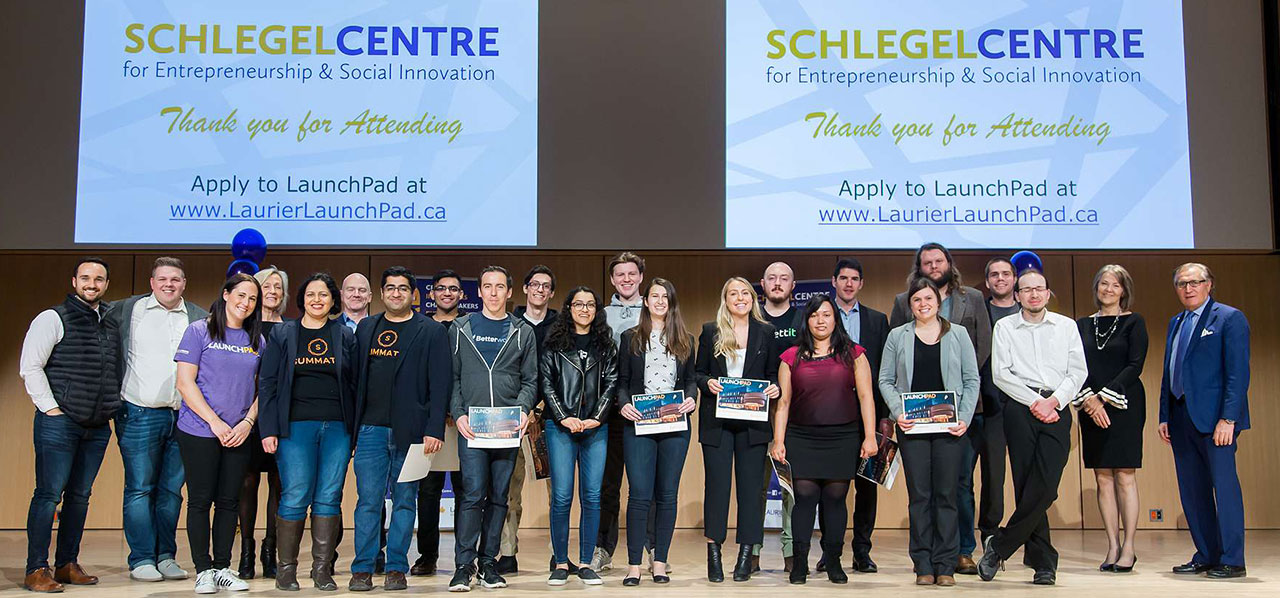 The top five LaunchPad ventures split $20,000:
And the remaining five ventures split $10,000:
Learn More
Visit the Schlegel Centre for Entrepreneurship and Social Innovation to learn more about Laurier supports entrepreneurs.
Recently announced federal funding to the Waterloo tech community will support the LaunchPad program. The program will receive $470,000 over five years to help Laurier students, alumni and community members create companies and social ventures.