Inaugural Year in Brantford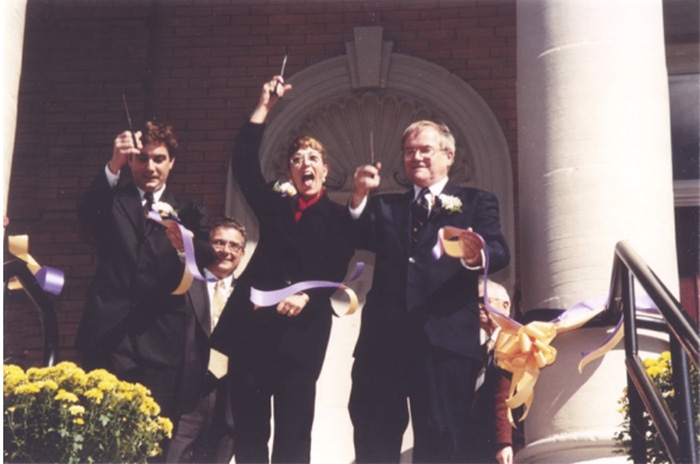 Oct. 1, 1999: Chris Friel, Brantford mayor, Colleen Miller, chair of the Grand Valley Education Society and Bob Rosehart, university president, in front of the Carnegie Building.
This time in history was exciting for the Laurier community. The inaugural class at Laurier's new Brantford campus was adjusting to life at university, starting their second semester in January 2000.
The Brantford campus opened in September 1999, offering a three-year general BA in Contemporary Studies, with a core curriculum. This degree was called a "degree of difference," according to winter 1999 Campus Magazine. Classes were taught in the Carnegie Library. The first full-time faculty members at Brantford were Peter Farrugia and Gary Warrick.
"With 39 full-time students and two faculty members, it was a very intimate campus. You really got to know each and every student, some of whom were mature students," says Farrugia, who still teaches at the Brantford campus.
The City of Brantford welcomed Laurier with excitement and in strong partnership, which continues today with more than 3,000 students and over 20 programs at the Brantford campus.
"The hopes for Laurier in the Brantford community were high and we held this weight on our shoulders," says Farrugia.
Over the years, more programs were added, the student population grew and became more diverse, and faculty and staff members grew in numbers.
"Laurier has been an important element of revival for Brantford," says Farrugia.
The Year 2000 Problem (Y2K)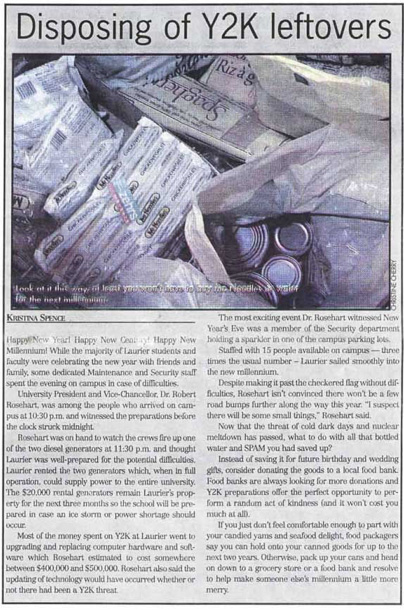 The news was filled with unprecedented Y2K bug hype; the world didn't know if technology could adapt to a change in dates beyond Dec. 31, 1999. But as midnight struck on Jan. 1, 2000, aircrafts did not fall out of the sky, nuclear power stations did not blow up and the average clock radio turned over the date to double zeros without causing power outages.
Still, the impeding disaster seemed real enough at the time. To prepare for the anticipated Y2K bug, a Laurier Y2K Committee was created to carry out all action items outlined in the university's Y2K plan. The committee was responsible for converting systems, testing software and upgrading servers and systems that weren't Y2K compliant. A Y2K compliant OneCard system was introduced and fire alarms and heating systems were thoroughly tested. Well prepared for a potential power disruption, the university rented diesel generators and fired them up at 11:30 p.m. on Dec. 31, 1999.
"The Year 2000 Problem is unlike any other impending catastrophe that has ever befallen humankind," Campus Magazine proclaimed in the winter of 1999.
Students also enjoyed a longer than usual holiday break in January 2000, giving administration time to deal unforeseen circumstances or possible havoc.
It turned out there weren't too many difficulties. Jan. 1 came and went at Laurier without major incident. And, according to an article published in The Cord in early January 2000, the Laurier community was encouraged to donate their canned food stockpile, as it wouldn't be needed after all.
Vocal Harmony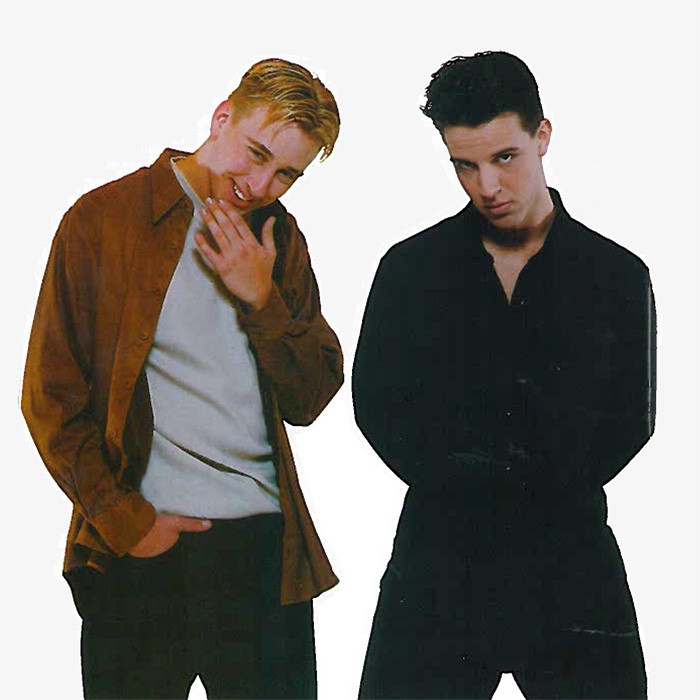 Boy bands had heightened success in the late '90s — think *NSYNC and the Backstreet Boys. Laurier had its own connection to a '90s Canadian boy band. Laurier grads Joe Heslip (BMus '98, pictured right) and Glenn Coulson (BA '97, Communication Studies, pictured left) were stars in the Canadian pop music scene, as one half of V.I.P. (Voices in Public), an independent pop/R&B vocal group. They used their time at Laurier to write music, start a record label with the help of business students, and work on an album in the practice rooms in the Faculty of Music.
The group performed around the world and won the 1999 Canadian Radio Music Award for Best New Group and a 2000 Genie Award for Best Original Song. The group is no longer together, but Heslip and Coulson's pictures, from fall 1999 Campus Magazine, help us all remember the height of boy bands in Canada and at Laurier.