After a year and a half of caring for more than 100,000 honeybees, beekeepers Tyler Plante and James Emary have harvested, bottled and sold more than 125 jars of Hawk Honey, collected from the two hives on Wilfrid Laurier University's Waterloo campus.
Student leaders from Enactus, the student-led social entrepreneurship club that produced the labels for the jars, sold the honey, along with pollination kits, which included mason bee "hotels" for people to start their own colonies, packets of native seeds and information pamphlets. Funds raised through the sale of the honey will go toward the costs of maintaining the apiary, housed at Laurier's Northdale location, as well as creating new pollinator-friendly gardens on campus.
"Students love it, staff love it. People ask me almost every day where they can get a jar of honey. There's an environmental sustainability component, there's a social sustainability component and we can get students engaged," says Plante, outreach and program coordinator for Laurier's Sustainability Office. "Then, at the end of the day, we get honey, which is awesome."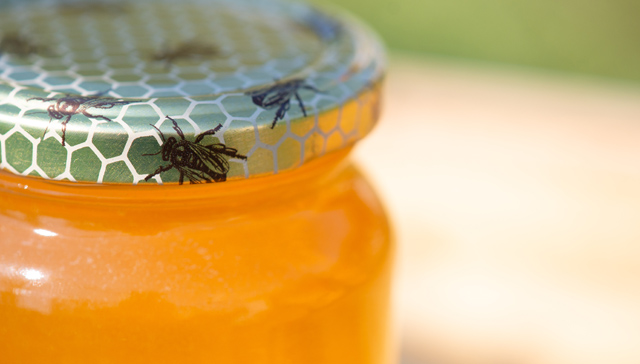 In recent years, pollinators have come under threat because of habitat loss from agricultural expansion, urban sprawl and pesticide use, among other causes. With increased student and media interest in the issue, Plante and Emary, manager of grounds services, took a beekeeping course at the University of Guelph last spring. With the help of a Laurier Hawkstarter fund, they purchased a colony of Buckfast bees, known for their gentle nature, and started two hives at Laurier's Northdale location in Waterloo.
"I was very nervous about being stung by bees. Honey bees have a misplaced reputation for being dangerous, but they're actually very gentle," says Plante. "If it's a nice day, you can take a frame out, which is full of bees, and you can actually pet them."
Since then, the Sustainability Office, in partnership with other departments, clubs and offices across campus, has been working to raise awareness of the issue of pollinator decline and to take steps to make the Waterloo campus friendlier to bees, butterflies, moths, wasps, hummingbirds and other pollinators. Native flowers have been planted in gardens in front of Willison Hall and Veritas Café, and associate professor Robert McLeman's first-year environmental studies course is designing a large native garden for the Northdale plot. The green space behind the Mobility and Aging Research Centre on Hickory Street already has about 100 apple, cherry and pear trees, as well as grapes, hops and mulberries.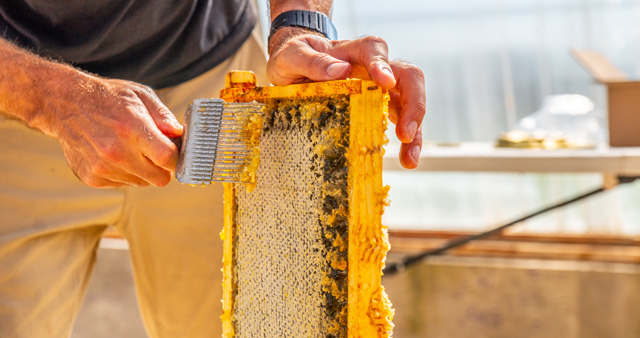 Laurier student clubs have also been involved. Eco Hawks and Enactus have run annual bee education events for the past several years. Through its PolliNation program, Enactus has designed and built hundreds of pollinator kits with bee "hotels," small bird house-type structures designed to attract non-stinging native mason bees. Enactus has presented on bees and distributed the kits to elementary schools across Ontario. They've also led the branding and marketing of Hawk Honey.  
"We often hear about the declining pollinator population, but what does that really mean?" says Jake Fell, president of Enactus. "We're trying to raise awareness about the potential impacts. It's not just that you won't see as many bees or butterflies; a third of the world's crops depend on pollinators to grow."
Since it's not just honeybees suffering from population decline, Plante and Emary plan to expand the apiary to include more wild native bees, including bumblebees, carpenter bees, sweat bees and many more of the over 450 species of Ontario native bees. Rather than simply buying a colony, as they did with honeybees, they'll start by building hives for a variety of types of bees, some ground-nesting and some cavity-nesting, then crossing their fingers that native bees will find the nests and stay.  
"The hope is that if we provide the habitat and the food sources – the flowers, trees and other pollinating plants – they will come," says Plante. "That's all you can do with wild bees."
Hawk Honey is sold out, but you can still try it with your tea or coffee at Veritas Café. If you want to support the Hawk Honey project, you can donate through their Hawkstarter campaign.