In the spirit of building cultural connections, Wilfrid Laurier University students had the opportunity to share in Haudenosaunee teachings at a special event at Everlasting Tree School in Six Nations of the Grand River Territory.
Laurier's Office of Indigenous Initiatives and Laurier International hosted the event to foster relationships and build understanding between international students and the local Indigenous community. During the event, students participated in the harvest of white corn, learned to braid corn, listened to creation stories and shared a meal.
"Corn, along with beans and squash, are the life sustainers," said Bonnie Whitlow, Laurier's Indigenous special projects officer. "When we consume those foods, they are given to us as gifts to strengthen the human body, so that we can live a strong and powerful life."
Whitlow said being able to host the students and provide examples of Haudenosaunee hospitality was a good way to build relationships with one another.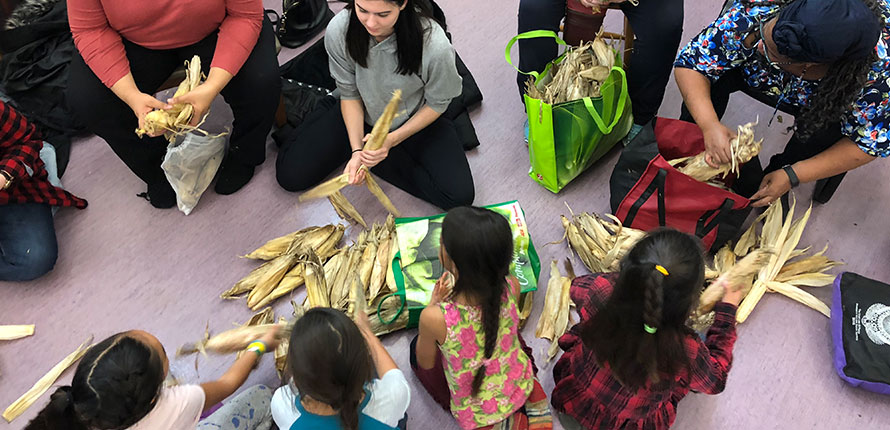 "Trying to have cultural discussions with the Canadian youth is important, but it is also important especially when we have these visitors from other lands, that we make time to greet them, and set their feet on our lands in a good way," said Whitlow. "It's a really interesting and dynamic, vibrant relationship, so exploring the different ways that we can help bridge intercultural understanding is important."
For many of the students, this was the first time participating in an event of this nature.
"We don't often have a chance to bring students to the Six Nations of the Grand Territory, so this celebration festival provided a great opportunity to gain awareness and understanding of the Haudenosaunee community," said Mike Boylan, global engagement programming coordinator with Laurier International. "The feedback we received was very positive. Many students said they had never done anything like this before at Laurier."
Fourth-year Digital Media and Journalism student May Xu was grateful for the experience to learn about a new culture.
"Canadian Indigenous culture is an inalienable part of Canadian culture, but it can be difficult for me to find a way to experience it," she said.
Xu noted she learned that many of the celebrations were tied to being grateful for the land and what it provides, especially during the harvest.