Wilfrid Laurier University's Alumni Association (WLUAA) honoured the recipients of its most prestigious awards at an evening event on May 3.
"These recipients are the people who are enriching the student experience and positively contributing to Laurier's reputation," said WLUAA President Marc Richardson, who presented awards to the evening's honourees.
"When I ask alumni what they loved most about their Laurier days, they almost always mention the collegiality and community spirit of our university. This vibrant sense of community is one of Laurier's greatest assets," said Laurier President and Vice-Chancellor Deborah MacLatchy in remarks to the awards ceremony audience. "Our graduates leave this university as engaged members of society making a positive difference in the communities where they live and work. The Awards of Excellence celebrate just some of the many alumni who are making a difference. To stand out in such an exceptional group is an incredible accomplishment."
Alumni Awards Recipients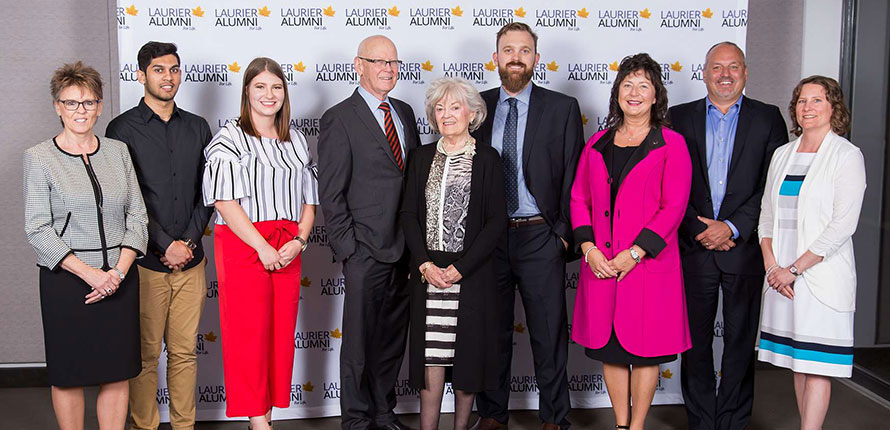 Congratulations to the 2018 Alumni Association Awards of Excellence honourees:
Student Alumni of the Year: Ashley Curcic
A dedicated student volunteer since 2015, Curcic has devoted tremendous time as a kind and effective leader in the Laurier student community. She is the outgoing president of the Student Alumni Association.
Entrepreneurial Spirit: Bryan Bogensberger BBA '91
A quintessential entrepreneur who has been building and managing start-ups since shortly after his graduation from Laurier in 1991, Bogensberger travels the world to build disruptive businesses and passionate teams while making time to mentor the next generation of innovators.
Award for Community Impact: Debora Ritchie BA '78
Ritchie has volunteered her time with over 20 Waterloo Region organizations, spanning sectors including education, commerce, health research, community development, and heritage. She started Random Act of Kindness Day in 2008 and since 2000 she has raised more than $3 million for local non-profits as part of a personal millennium project commitment.
Forever Golden Hawk: Lynn Oldfield BBA '84
Oldfield is a tireless and enthusiastic advocate for Laurier and was recognized as one of Laurier's 100 Alumni of Achievement during the university's centennial year in 2011. She has made significant contributions to the business community throughout her career with AIG Canada and is thoroughly involved with Laurier as a mentor, volunteer, and employer.
Young Alumnus of the Year: Allan Lovett BBA '04
Lovett has a long record of excellence in academics, athletics, business, and charitable involvement. He is one of the youngest lawyers to make partner at his firm, where he handles multiple pro bono clients and is the youngest ever chair (now past chair) of the Brantford-Brant Chamber of Commerce, in addition to maintaining an admirable schedule of community engagement and volunteerism.
Alumnus of the Year: Jennifer Smith MSc (EMTM) '12
Smith is an accomplished business executive who has found success by focusing on the human elements of work: collegiality and collaboration. Her research while completing her master's degree at Laurier focused on the human factors of business beyond technology and made a significant practical contribution to the Canadian innovation community.
Honorary Alumni: Bryce and Nancie Walker
Bryce and Nancie Walker provided the vision for the visionary Music Therapist-in-Residence program newly launched at Laurier in partnership with Homewood Health Care in Guelph. They not only identified the potential for this partnership focused on therapeutic mental health support and training, but they also made all the introductions and provided the inspiration, motivation and critical resources to make it happen.
In addition to the Alumni Association Awards of Excellence, the event also recognized the recipients of student awards funded by the Alumni Association: the Alumni Association Award of Merit and the Tom Berczi campus Citizenship Scholarships. In total, 10 accomplished Laurier students were recognized.
Learn more about the Awards of Excellence, and find nomination information, on the Laurier Alumni website.