At first, Wilfrid Laurier University Associate Professor Tristan Long just wanted to attract more people to a series of Department of Biology talks. He liked to draw, so he made a poster. Now his Biology Seminar Series posters are beloved on campus and widely shared online.
Associate Professor Allison McDonald, a fellow Laurier biologist, started blogging and using Twitter in 2013. Her online activities have led to her being twice interviewed for the journal Nature in articles about networking in science and why science blogging matters. She was invited to join Science Borealis, a network of Canadian science bloggers, and a web article she separately wrote received more than 17,000 views.
McDonald and Long also engage in face-to-face science communication, serving as speakers and volunteering at a variety of outreach events to share their passion for the research they do.
It can be challenging to talk to non-scientists about technical subjects. Nonetheless, McDonald and Long say it's important to communicate scientific ideas broadly, in an accessible and interesting way – principles that hold true whether they're speaking at an elementary school, tweeting or writing journal articles.
"Science communication is trying to explain highly specialized knowledge to a broader audience," says Long. "The essential principle for trying to communicate even the most complex ideas is looking at what the core of the question is when all the jargon is stripped away. What is the purpose of this? What are you hoping to know about the world around us and why do you care about that?"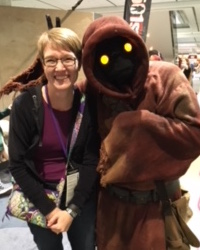 "You have to make it relatable to people," says McDonald, who is developing an upper-year course on science communication expected to launch in winter 2019. "I wrote a really fun article talking about mitochondria and relating it to the new Star Wars movie. I think I educated some people about the type of biology I do by hooking it into something a lot of people are really into. Of the things I've written online, that's what had the most hits ever."
Mixing Art and Science
Long has always loved drawing and often uses it as a way to relax after his kids have gone to bed. The many positive reactions he has received to his biology seminar posters have pushed him to become more artistically adventurous, he says.
The seminar titles speakers provide are often highly technical and "fairly intimidating to undergrads," says Long. "It's very easy to look at a title, think it's all technobabble and say, 'I don't understand that.' So I try to capture the essence of what they're talking about or at least try to do something that's visually appealing."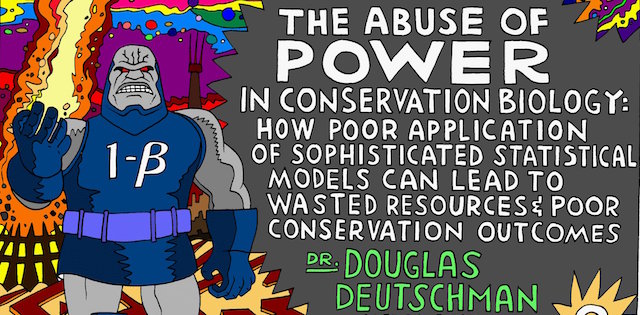 Over the last few years, Long has produced more than 70 posters for the seminar series and has seen an increase in the number of attendees.
Long isn't alone in creating science-inspired art. Louise Dawe, a Laurier assistant professor of chemistry, has created knitting inspired by the crystals she researches. The recent fifth anniversary celebration of Laurier's Centre for Women in Science featured an exhibition of drawings inspired by women scientists. Laurier graduate student Eden Hennessey has created two photo-research exhibitions to examine sexism in science – some of the photos featured McDonald. Hennessey recently presented the exhibitions at the High Commission of Canada in London, England.
McDonald regularly gives her classes the assignment of creating a "protist trading card," which must include a drawing of one of the tiny multicellular organisms. Students often initially worry about their lack of drawing skills but wind up having a lot of fun with the assignment.
"A lot of people who don't do science think it's logical, rational and sometimes boring, but it would be great if more people understood that it's actually a really creative enterprise in the same way that arts are creative," says McDonald.
Getting Social with Science
McDonald and Long use social media, particularly Twitter, to interact with students, prospective students, fellow scientists and the general public.
"It's an effective way to reach a range of audiences," says Long. "There are a lot of other universities out there and if you don't communicate what you're doing and what your department is doing, it's easy to get left behind."
"Since I've been on Twitter, I've gotten a lot better at communicating my science as a whole," says McDonald. "You want people to check out what you have to say, so you have to be succinct and catchy."
Long says running the Laurier Biology account has been useful for connecting with the general public, as well as for promoting department events and initiatives among current students. His lab/personal account has helped him interact with the broader science community. Studies suggest that the more papers are discussed on social media, the more citations they get, he says.
Besides his posters, Long often tweets pictures, including photos of students and the fruit flies he researches, even the odd snap of doughnuts or cats.
"We can shatter myths about what a scientist is," says Long. "If you Google scientist images, you get pictures of old guys in lab coats. I take pictures of my students partly to give them a record – when they give presentations, they can say, 'here I am actually doing the experiment I'm talking about now' – and it also helps show what a wide range of people work in a science lab."
Scientific Voices in the Blogosphere
Not everything can be captured in a tweet, so McDonald and Long both blog.
The Long Lab blog focuses largely on biology teaching methods. Long, who won a 2017 Award for Teaching Excellence, has received thanks for sharing his innovative activities with other teachers of science.
McDonald's DoctorAl blog is wider-ranging, covering biology in general, women in science, how to become a scientist, what it's like to be one, scientists with disabilities – McDonald has a hearing impairment – and science communication. Sometimes she writes personal reflections or book and movie reviews.
"It's what I'm interested in this week," says McDonald. "Sometimes it's things I've seen on Twitter or other people's blogs that I want to respond to. It's a really good outlet for saying what I want to say. I think it helps show that scientists are people too."
Why Science Communication Matters
Though science communication can take time, McDonald and Long say the effort is worthwhile.
Getting outside perspectives is helpful for creativity and intellectual rigour, says Long, who has often had Twitter conversations with people at other labs.
"That's how we advance the field," he says.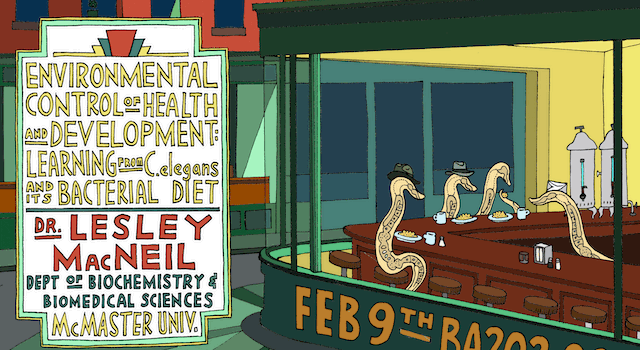 Feedback is nearly immediate online, whereas it can be years between a first submission to a journal and publication, says Long. Also, practice makes faster, if not necessarily perfect. McDonald has gone from taking hours to write a blog post to often being able to get something up in not much more than half an hour. Long says he tweets between classes and at other odd times.
"Often a few minutes here and there is all you need," he says.
Effective communication and social media use help careers at all levels, say McDonald and Long.
"I've dragged all my students onto Twitter," says Long. "Everyone is going to be looking for a job and anything that will raise your profile can't hurt."
"It's an essential skill to take something that you've learned or have seen and translate that into something that's accessible to most people and that other people might be able to utilize," says McDonald. "Developing these skills has been fantastic for me. It's given me a much higher profile."