There were the joys of lounging on a houseboat, running through monsoon rains and poking through busy markets. Then there were the challenges of a heavy academic workload, oppressive heat and a monotonous diet.
But overall, taking a Global Studies field course was eye-opening, thought-provoking and life-changing, say Wilfrid Laurier University students who were in southern India from June 1 to 22.
John Abraham, assistant professor of Global Studies and Social Entrepreneurship, organized the field course, centred in Thiruvananthapuram, capital of the southern state of Kerala. Bina Mehta, who teaches in Laurier's departments of Global Studies and North American Studies, helped lead the course.
Ten Faculty of Arts students participated in the course, which focused on globalization and sustainable development, both from economic and environmental points of view. Students stayed in Thiruvananthapuram, also known as Trivandrum, for most of the course, though they took some side trips and stopped long enough in Dubai to see some of the sights there.
"It was a great opportunity to travel with profs who helped make sure our experience was ethical, fun, and educational at the same time," says Rebecca Mueller, who is going into the third year of a Global Studies and Spanish joint major.
"It was a valuable experience to be in such a different context with people from different backgrounds," says Thomas Rodriguez, who is going into his fourth year of a double degree in Global Studies and Economics. "It builds you a lot as a person. I know one day I'm going to be doing something and it's going to hit me that I wouldn't be doing this if India hadn't happened."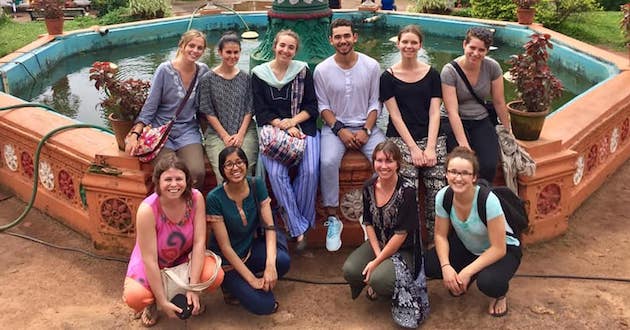 The Kerala Model of Development
Abraham focused the course on Thiruvananthapuram because it's where the Kerala model of development, well known in international development studies, arose.
Despite a low per-capita income and low levels of industrial and economic development, Kerala's literacy rate, infant mortality rate, life expectancy and birth and death rates are comparable to those in Western nations.
"The way they did this was not by heavily investing in infrastructure or de-regulating the market; it was by investing in health care and in education," says Abraham. "It showed that there was a way to achieve very high levels of human well-being outside the traditional models."
The Laurier group stayed at the Centre for Development Studies, founded by some of the people who developed the Kerala model.
Not only is the centre a well-respected institution of learning, it was designed by the renowned British-born Indian architect Laurie Baker, who pioneered a sustainable style of architecture that drew from local building traditions.
"In that hot climate, it stays cool, it has wonderful aesthetic elements to it and it was built on a budget that emphasized affordability for ordinary people," says Abraham.
The Kerala model wasn't perfect. Despite the improvements in human development, there wasn't a parallel level of economic growth. This resulted in many of Kerala's well-educated, healthy young people facing limited opportunities unless they migrated internationally, says Abraham.
Also, gender imbalances are still readily observable, though arguably less profound than elsewhere in India, says Abraham.
Rodriguez says witnessing those gender imbalances will have a long-term influence on the economic development career he envisions, reminding him to keep gender top of mind whether he's working internationally or in his home country of Colombia.
Mueller says the course increased her interest in development studies. Though she chose to major in Global Studies more to examine peace and conflict, she is now considering shifting her focus. She plans to do a master's degree after finishing her bachelor's and would like to eventually work with a non-governmental organization, perhaps in Central or South America.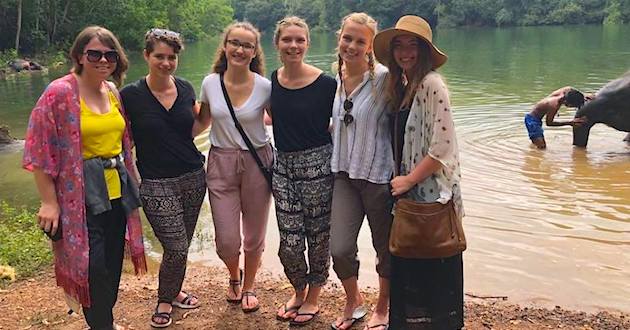 Experiencing and Reflecting
A variety of field trips within Kerala brought students face to face with what they were learning about. These ranged from a trip to the Kerala State Women's Development Corporation to the Technopark, one of the largest tech parks in Asia.
"Lots of learning also took place through unplanned activities such as walks around the neighbourhoods or visiting the local tea stall and markets," says Abraham. "I think there was a real appreciation of the complexities and richness of the realities around the process of social and economic development."
The course was academically as well as culturally intense, with lots of reading, writing and post-field-trip debriefing discussions.
There was, however, time built in for fun. One day a week was set aside for students to explore on their own terms. The formal and informal time together allowed the group to cement friendships.
"The people were the best thing about the course," says Rodriguez. "I didn't really know anyone before the trip so it was a nice surprise to see how fast we bonded and how good and genuine our relationships were."
"All twelve of us, including the profs, got really close," says Mueller. "When you share such immersive experiences, it's hard not to. Dr. Abraham and Dr. Mehta were awesome; they complemented each other really well. It was nice to joke around with them, get to know them as people and have them really know us."
"There was a real richness of knowledge and experience that I had expected but didn't fully appreciate myself until we were really there," says Abraham. "I was so pleased at the way all of the students took on the experiences and even the challenges with such enthusiasm and determination."
Photos courtesy Rebecca Mueller. More from John Abraham available on Instagram.