Wilfrid Laurier University football coach Michael Faulds has certainly made his mark since arriving in 2013. He has turned the once 1-7 Golden Hawks into repeat Yates Cup contenders and clinched the coveted provincial title in 2016.
But for the staff of Light House, a community organization that offers programming for adults with special needs, what Faulds does off the football field tops any trophy or title.
Led by Faulds, the Golden Hawks football organization has enthusiastically embraced a relationship with Light House. The coach says sharing his sport and his team with the wider community is a natural play.
"A football team is like a big family and we are very close," says Faulds. "When we can show that familial love to another group, we do it."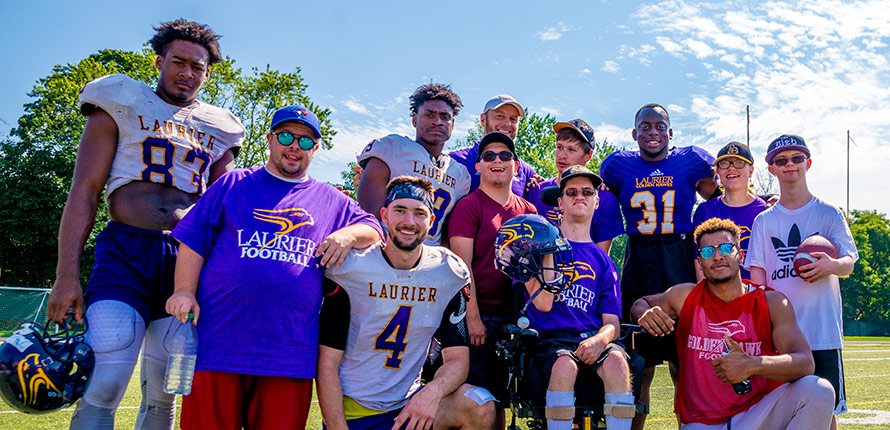 Faulds' 2018 squad showed that love in a big way Aug. 14, when the Light House group visited Laurier's Knight-Newbrough Field in Waterloo to take in pre-season training and have lunch with the team.
After a gruelling two-hour practice in 30-degree heat, more than 100 Laurier football team hopefuls gathered around Light House members as they each ran the ball past a Golden Hawks opponent.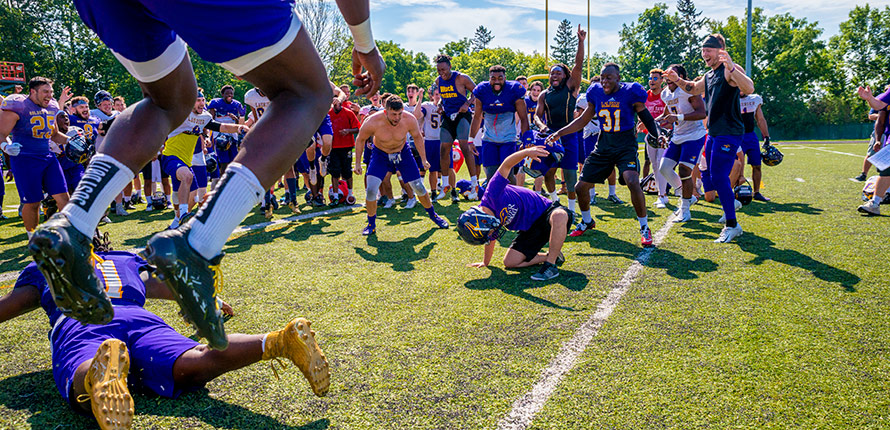 Light House member and sports enthusiast Alex Morrison, a 22-year-old who lives with Down syndrome, slammed the football down with flare after breaking past linebacker Brian Lowrence at the 10-yard line. Laurier players erupted in cheers and applause in celebration of the play.
Philip Metzger, 26, stood up from his motorized wheelchair to show Faulds' players what he could do. He wasn't going to let his limited leg strength prevent an opportunity make a play on the field.
After practice, Light House participants were invited to join the team for lunch in the university's dining hall. Lawrence and Morrison sat with linebacker Shomari Hutchinson, discussing their summers over meatloaf, mashed potatoes and mixed vegetables.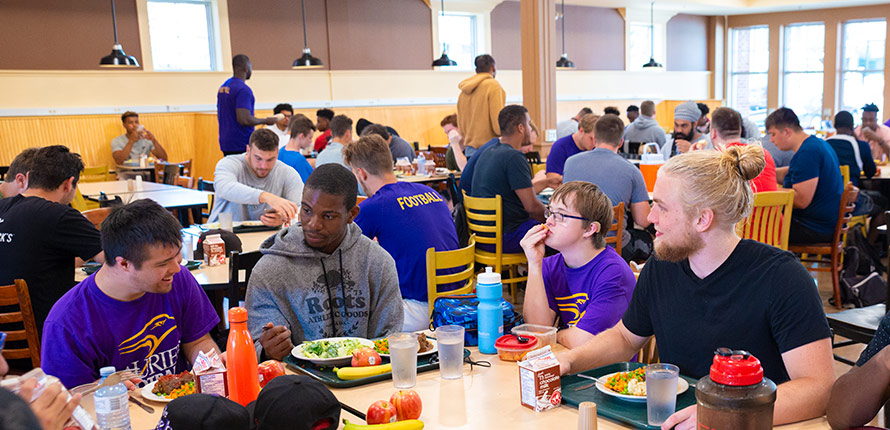 "Coach Faulds has gone above and beyond for our group," says Heather Barrow, co-founder of Light House Programs. "He has opened up his heart and his team to us, embracing us from Day 1."
It was almost two years ago when Kyle Craig, Barrow's founding partner, emailed Faulds after watching a television interview with the coach. Craig, who recognized Faulds as a former football teammate from high school in Guelph, Ont., had a small but important request: Would he participate in an interview with a Light House member who loved football?
"I thought it would just be that one time," says Craig of the resulting interview with Faulds, which included a bonus tour of Laurier's football headquarters. "But Michael just kept raising the bar on what he could do for our group."
Craig says that included tickets to Laurier home games, Golden Hawk football swag, and conversations with Faulds over Twitter. But opportunities for meaningful face-to-face socialization, like the training day experiences (the group also attended last August), are what Light House members relish most.
Faulds and his staff, true to their 'football-as-family' philosophy, have always delivered.
Assistant defensive backs coach Austin Reusch has used his vacation to lead workouts and physical activity sessions for members in the park near the centre's River Road location. Faulds has also visited the centre, greeted with smiles and treated to food prepared by members as part of the independent living skills program.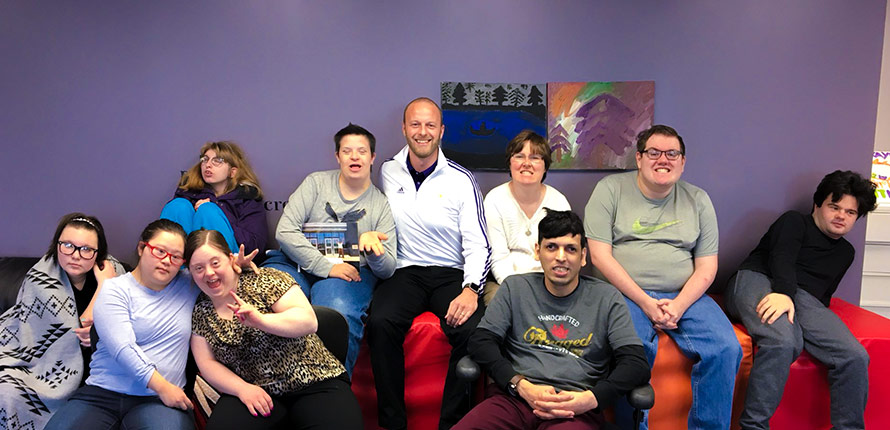 Faulds say that community outreach is an important part of his players' student-athlete experience.
"It feels great to have the Light House group as part of our community," says Faulds. "It's also a good for our players. They see how lucky they are to go to university and play a game and how much joy that game brings to some people."
Hutchinson, a third-year arts student, says spending time with Light House members at training camp is "an honour." He has a teen-aged relative with a brain disorder and knows how important inclusion is to those who are often left out.
"As long as Light House keeps coming out, I'll do what I can," says Hutchinson, who offered up one of his game jerseys so Light House participants could run their drills in official Laurier football gear. "If it makes their day, it makes my day."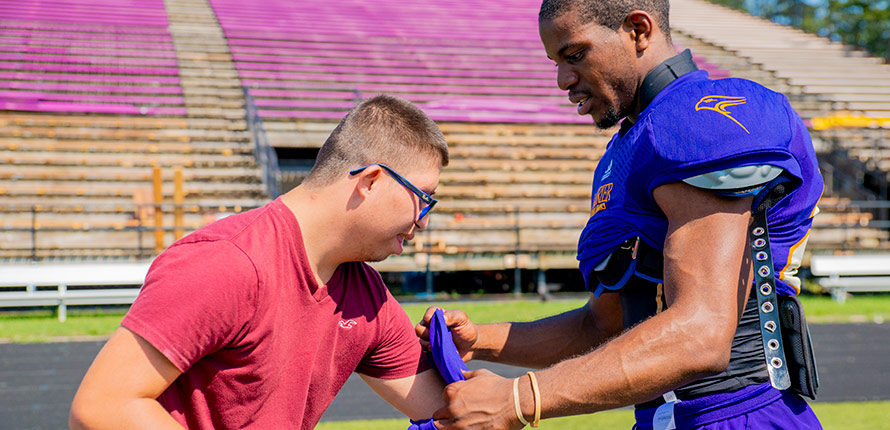 The Laurier-Light House group didn't even need dessert after lunch was finished. Morrison, who loves dancing almost as much as he loves football, treated the group to a series of sweet dance moves at Hutchinson's request.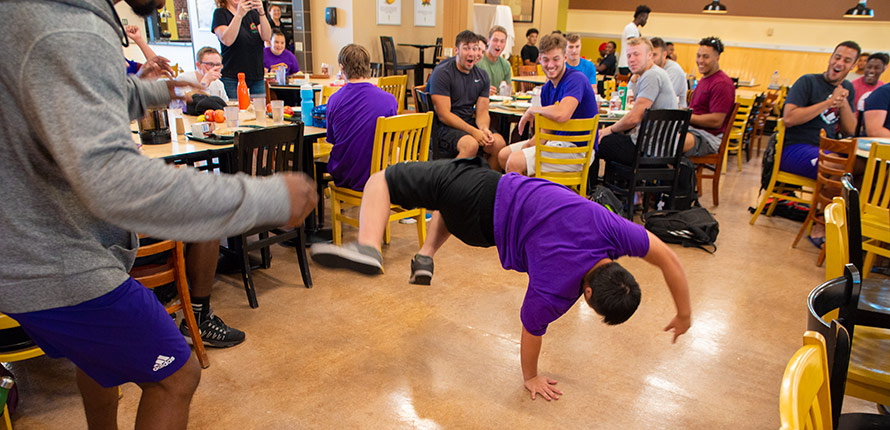 "That made everyone's day," says Faulds.