Spending the first week of summer holidays in a classroom is the last thing most students would want to do. But for a group of seventh graders, there is no place they would have rather been.
Nine Indigenous students from across southern Ontario kicked off their summer in Wilfrid Laurier University's classrooms and lab spaces as part of the first-ever Mama Aki: Mother Earth Science Camp. Aki means earth in the Indigenous language Anishinaabemowin. The overnight camp, developed by Laurier's Office of Indigenous Initiatives and the Faculty of Science, focused on connecting topics from Ontario's Grade 7 science and technology curriculum with Indigenous knowledge.
"Summer camps give us an opportunity to bring Indigenous children to the university, helping them see themselves studying and succeeding in higher education," says Jean Becker, senior advisor of Indigenous Initiatives at Laurier. "University outreach to Indigenous youth is critical to closing the gap in post-secondary education for Indigenous people."
Science Through an Indigenous Lens
Indigenous student outreach coordinator Jessica Duke and a group of Laurier biology instructors collaborated to design the indigenized camp curriculum, which featured hands-on investigations of plant- and water-based ecosystems on and around Laurier's Brantford and Waterloo campuses. Mary Ann Caibaiosai, an Indigenous elder in Waterloo Region, also contributed to the camp's programming.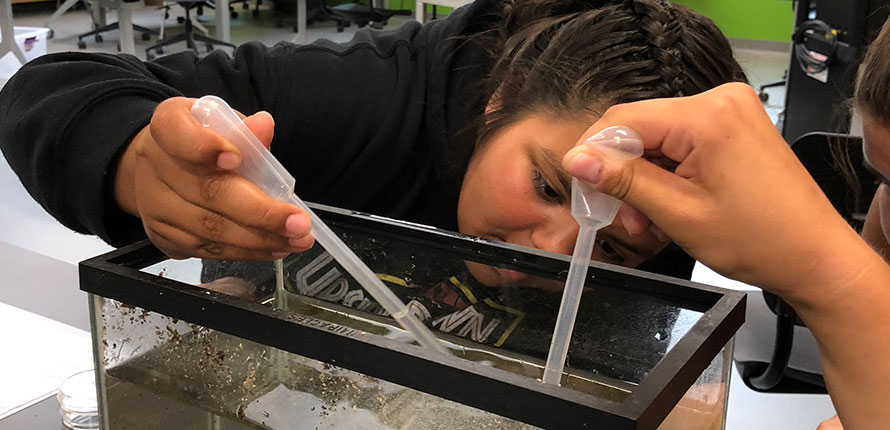 "The camp curriculum elevates the intersection between Western theories and Indigenous knowledge," says Duke. "Our campers get to experience the fusion of learning and use it in their everyday lives."
Campers dug in to learning about plant life at the Indigenous Student Centre at Laurier's Brantford campus, where more than 15 types of plants and flowers are grown in a community garden. They learned about the importance of garden ecosystems to species like the endangered yellow-banded bumblebee and harvested garden herbs to make a traditional ointment for treating skin irritations.
At Snyder's Flats Conservation Area in Waterloo, Caibaiosai taught the campers about the significance of water in Indigenous culture, encouraging campers to protect and respect the irreplaceable resource. With hip waders and nets, campers and leaders collected insects and other life forms from the ponds to further examine them using microscopes in the Biology department's lab spaces.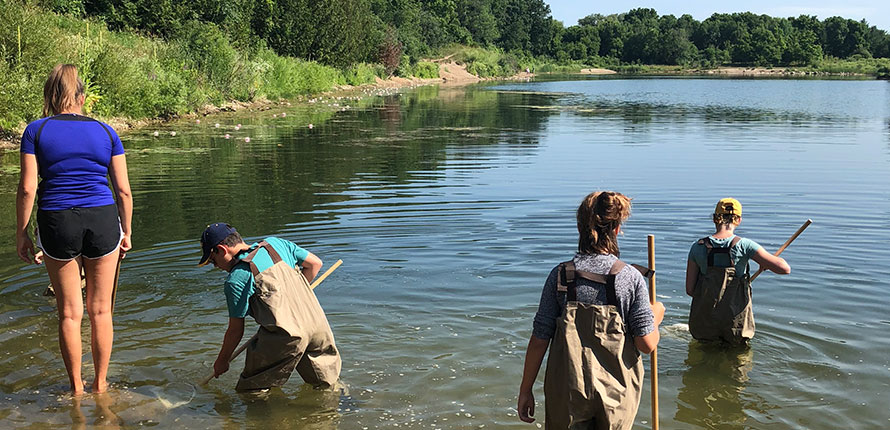 Biology professor Frédérique Guinel says witnessing the excitement of the campers was a highlight.
"To be with the kids and see how enthusiastic they were while looking at things in the water or while observing insect larvae under the microscope was a pleasure," says Guinel, who co-led much of the camp programming with Duke. "They were so curious and happy to discover and so knowledgeable about the world that surrounds them."
Campers also planted tree saplings at Laurier's Northdale campus in Waterloo and learned first-hand about sustainability and recycling during an operations tour of the Region of Waterloo landfill.
Although learning was the focus, campers did not miss out on classic summer camp activities. A swim in Laurier's Olympic-length pool, games of ultimate Frisbee on Alumni Field, movies, campfires and s'mores rounded out the four-day itinerary. There was even a visit from Rosie, the pet tarantula of animal biology technician Tony Straus.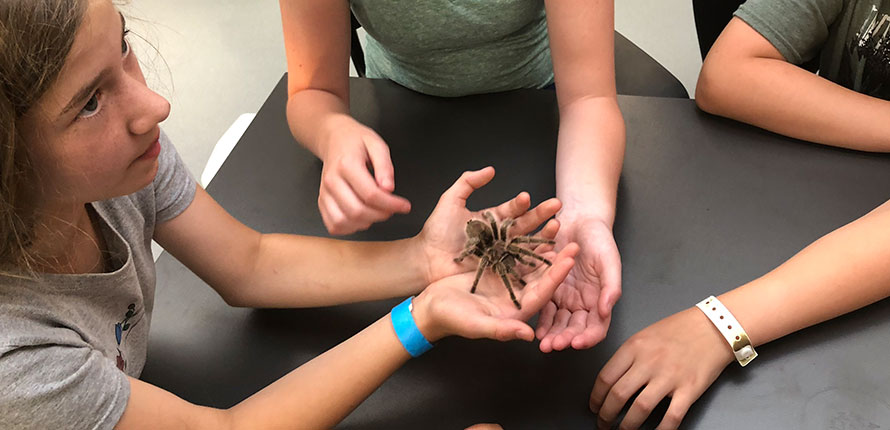 'Motivating, Inspiring and Grateful'
Narsiesse Paul says his daughter Phoenix, 12, benefited from participating in a program built on an indigenized approach to teaching and learning.
"Interacting with Laurier's Indigenous staff and science faculty members at Mama Aki has helped Phoenix to see what is possible when old and new worlds of knowledge and teaching overlap," says Paul, a member of Adams Lake Indian Band. "It's motivating and inspiring and I am grateful to those who organized the camp."
Phoenix shares her father's enthusiasm for the camp, citing awesome counsellors, great activities and learning new things as reasons she would return next summer. Duke and Guinel are also eager to offer the camp in summer 2019.
"This is an experience I hope to repeat," says Guinel.