Ice Origins
SkateABLE started after Himmelman saw the need for such a program while coaching figure skating across Canada and running her own skating academy.
"I could see children with disabilities who wanted to skate. There just wasn't an opportunity — no program existed," says Himmelman. "There wasn't the equipment, the one-on-one support or the knowledge of how to teach skating to children with disabilities."
She developed SkateABLE so that all children could learn and enjoy ice-skating in a welcoming, caring, and stimulating environment. The program began almost five years ago with only 13 children, and has grown to filling all of its openings with close to 40 children each session.
Connecting with Laurier
In a typical skating program, there are about 10 children per coach.
"I knew that wasn't going to work — we need to provide one-on-one instruction to our kids," says Himmelman. "So I started to wonder where we could get a large number of volunteers from one spot?"
Himmelman posted volunteer opportunities through Laurier's volunteer webpage and was approached CSL staff, who connected SkateABLE with courses and departments at the university that could provide volunteers.
SkateABLE has also attended Laurier's Community Volunteer and Engagement Fair, where the organization has been able to recruit students outside of CSL courses.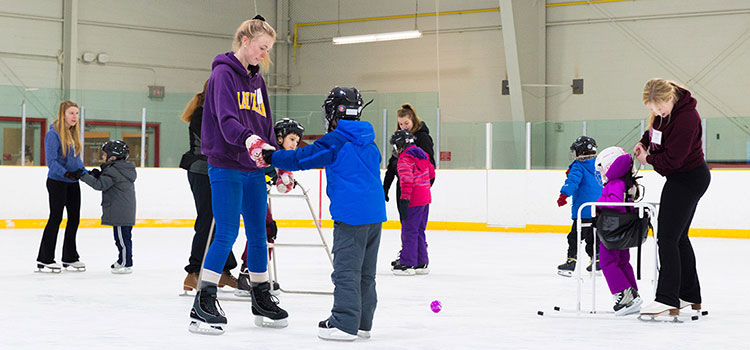 Since those early days, all Laurier students enrolled in CSL courses now have the option to spend close to 10 weeks volunteering with the skating program. Anyone from the Laurier community — including students, faculty and alumni —with skating experience and an interest in community engagement can also volunteer with SkateABLE.
Himmelman and her staff provide training at Laurier twice a year — once in each of the fall and winter terms.
"We can give students a unique experience through hands on involvement working with children who have disabilities, and at the same time we get the volunteers we need to be able to offer our program," says Himmelman.
Ideal Placement
A CSL placement with SkateABLE was ideal for Kameron Evoy. The third-year Laurier Psychology student has been skating since he was four years old, and also has experience working at hockey camps.
"It's really rewarding — we empower these kids to learn at their own pace, and I get to understand what teaching techniques and approaches kids respond to," says Evoy. "It's a really healthy and inclusive environment."
Himmelman stresses the influence that Laurier's volunteers have on the children in SkateABLE.
"The kids relish in the opportunity to work with an individual who is genuinely interested in helping them succeed," she says. "The partnership ends up being a really strong."
SkateABLE has had several Laurier students continue their involvement with the program after they finished their CSL placement.
The program runs once a week in Waterloo and has recently expanded to Toronto, using the partnership with Laurier as a model.